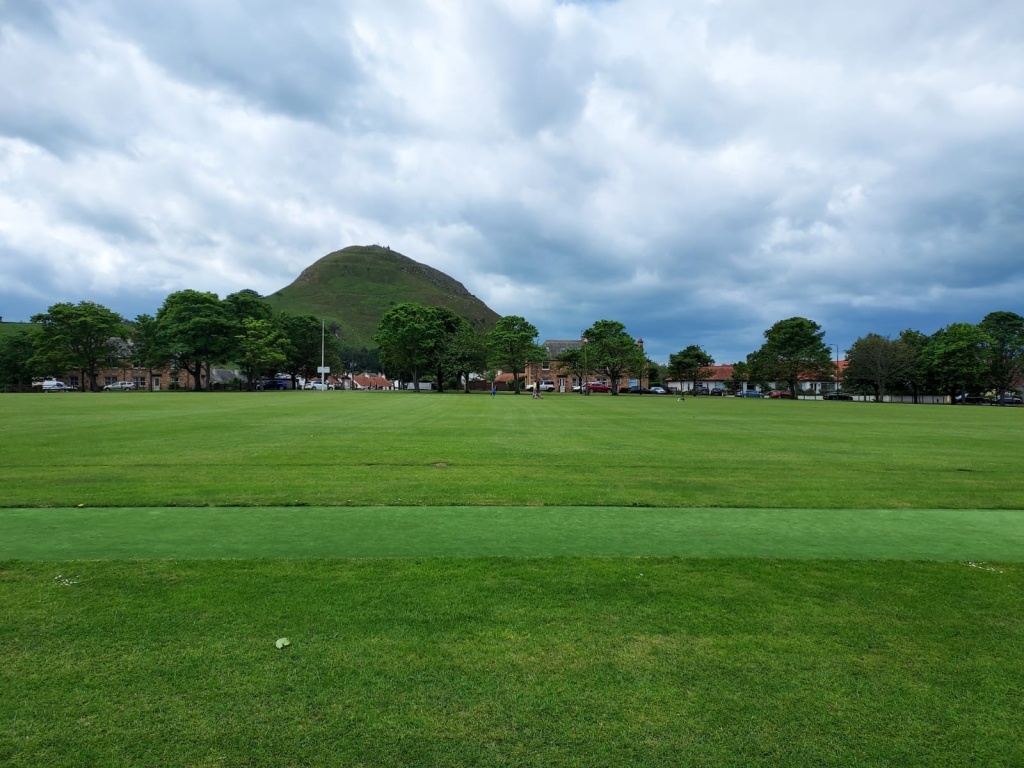 The Famous Fives gathered at a rather chilly and wind-swept North Berwick for their latest titanic Division 7 clash with Bass Rock 2s. To give a flavour of conditions, not only were the heavy bails on duty but the spring stumps were jauntily adorned with dumbbells to stop them from blowing over… perfect early June conditions for cricket, indeed.
Undeterred, Skipper Keith won the toss (impressively without the coin being ripped into the North Sea on the gale), and elected to field first – his usual tactics, to be sure, but also in recognition of the fact that Bass Rock were struggling a little with numbers and were expecting a few late arrivals. Still, a potentially brave call against a side which had racked up plenty of runs and individual centuries in the league so far.
Stu Dawson and Hamish Turner were entrusted with new-ball duties, and what a start they made. Stu's high action was tailor-made to take advantage of the wind, as the Bass Rock skipper discovered to his cost when a ball which started well outside off clattered into his leg stump; a vignette which was to be repeated thrice more in rapid succession. Superb bowling from Stu, perhaps helped along by some rather injudicious shot selection given the match situation – but from a middle order that could only watch Hamish T reeling off maidens at the other end. Finishing with 5-4-2-1 this was a spell of control, threat and class from the younger Turner, exceptionally well bowled. After 10 overs, Bass Rock were five down and barely into double figures; a tough start indeed.
Looking to maintain the pressure, Skipper Keith turned to his two debutants – Dan Mowat and Lewis Broster taking over. After some understandable nerves in their first few balls as they settled into senior cricket they both found good rhythm – Dan shaping the ball nicely past the bat on several occasions and extracting some lively bounce without quite making a breakthrough, while Lewis found a good line for his left-arm seamers and was rewarded when getting it nice and full. Two more direct hits on the timbers, and one acrobatic catch from his own bowling, were enough to take the remaining three wickets, the opposition still men down. Bass Rock only able to muster 35/8 (a.o.) from 17.3 overs, literally and figuratively blown away.
Given the speed at which the first innings was done, there was a gap before tea could be served – so the Fives played on for a few non-competitive overs to allow Bass Rock's umpire for the day (more usually to be found officiating in the Yorkshire leagues, but up visiting his family) to have a bat alongside his grandson. A lovely bonus of a few overs' practice for Lewis and Dan to bowl out in the middle to a field, and a genuine pleasure to help fulfil a family wish and encourage promising young cricketers; what more could the lower leagues be about? With that, a fantastic tea which even featured burgers from a football club event – much to the junior contingent's pleasure – was enjoyed by all.
With only 36 needed, Skipper Keith elected to forego his usual spot at the top of the order and invited Brian and John Gill to open. As regular readers of this column will be aware, deep in the shadows of familial batting partnerships for the Famous Fives lurk calamitous, years-long-grudge inducing run-outs … would there be a repeat to offer Bass Rock hope of saving what looked a lost cause? Happily, not on this occasion – Brian settled quickly into his preferred role of quiet accumulation, while John looked to set a brisker tempo at the other end. Although he couldn't quite see the match through, John's 14 was easily enough to take the game for the Fives for the loss of a single wicket.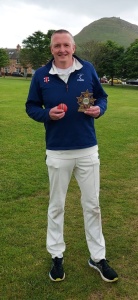 The records will show the Fives' most comprehensive win, and a difficult loss for Bass Rock 2s. However, both conditions and circumstances were set against them, and this must go down as just one of those days where you hope to be on the right side of it; they will certainly be back stronger. As ever, many junior positives, and not just for the Fives – the young Murden brothers for Bass Rock were in no way overawed by their first senior game and did their Club proud. Dan and Lewis made very promising debuts, with good support from John – never easy to open, and those quick runs sealed the game without mishap. And old-timers James S and Hamish continue to do exactly what we know they are capable of, great to see. Many thanks to Bass Rock for their hospitality, and for a game which might have been more one-sided that we would all have liked but was played in the very finest of cricketing spirit.
Euan Murray