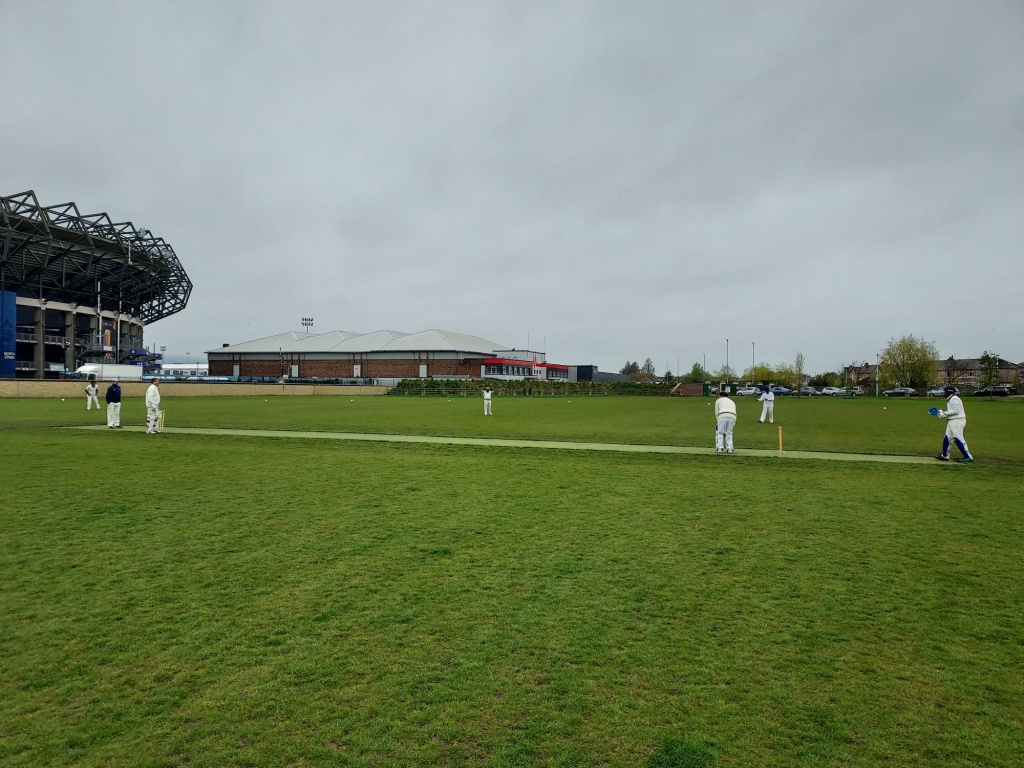 "Six degrees it says on my car. Six. That's the coldest I've ever seen it coming to a cricket match".
M Kennedy, 29 April 2023
Such indeed were the perils faced by the Famous Fives as they gathered at a distinctly un-springlike Roseburn for their first titanic Division 7 clash of the season against MDAFs 4s. A fresh breeze, jauntily carving its way down the East coast from somewhere around the North Pole, took the perceived temperature down another few degrees. Not one to waste a marketing opportunity, Martin Robertson advertised the effectiveness of his eponymously titled outerwear – no fewer than two layers of Robertsons atop various other woollen and thermal underpinnings giving Martin both valuable protection from the cold and the appearance of a particularly finely tailored polar bear.
Untroubled by anything as insignificant as weather entirely unsuitable for cricket, skipper Keith showed the value of a good pre-season with a commanding victory at the toss; looking at a very long batting line up, Keith elected to break with established Fives doctrine and have a bat. Keith and young Tom Hathorn shivered their way to the crease; things quickly warmed up though in the face of some excellent fast bowling from S Madavarapu. Keith (3) was undone early by a quick ball which leapt up to armpit height and which he could only top edge to slip, and Tom's helmet came to the rescue from another lifting delivery. The elder Hathorn joined his son at the crease and they settled into an excellent 50 partnership, only broken in the traditional Fives manner with a parent-induced run-out. Tom (15) found himself just short of his ground to a direct hit from deep fine leg; no doubt the wisdom of Iain's call will form the basis of spirited discussion at Hathorn family gatherings for the next 10 or 15 years. The error might have played on Iain's mind as he holed out to midwicket next ball for 35 when otherwise looking in fine touch. Young Shreyas Tekale (16), on Fives debut and playing against his former club, joined Martin at the crease and fashioned some lovely late cuts before nicking off, Martin joined by Mike Kennedy. The two elder statemen (sample conversation between overs – how to claim free bus passes now that both are eligible) showed the value of all that experience and complied another good partnership of 64, featuring a surprising amount of running between the wickets. Martin (30) was foxed by a low full toss and Mike (36) fell to a very good catch on the boundary shortly after – an important double blow for MDAFs as both were striking the ball well. From experience to youth, Aadi Khadse and Hamish Turner taking over with a good platform to build on at 150/5. Aadi (10) batted sensibly and turned the lion's share of the strike over to the younger Turner who showed impressive intent for a rollicking 48* from just 31 balls – joined at the end by his dad Angus (4*) but just running out of time to complete what would have been a well-deserved half century.
Taking stock at tea the Fives could be well pleased with a good batting performance – contributions all down the card and that excellent late acceleration from Hamish taking the total to a useful 214/7. Still work to be done though, with the Roseburn Astro playing true and a quick outfield offering value for shots.
Late injury replacement Jake Heller and your regular utility correspondent / umpire / unused batter Euan Murray took the new ball. Early success for Jake (5-0-26-2) as catches were well bagged at square leg and mid-on by Shreyas and Euan – less joy for your correspondent at the other end (5-0-29-0), with a couple of half chances going begging and fine drizzle making the transition underfoot from grass to Astro a dicey prospect. The family Turner were summoned into the attack, and Gus quickly found the awkward line and length which so dominated the league last season. No wickets for Gus but a miserly return of 5-1-9-0 forced the required rate upwards and put pressure on the batters. Hamish bowled with his customary zip and pegged back the aggressive P Singh's middle stump, with Aadi and young leggie Tom taking the ball and facing the well-set N Reddem and MDAF's own promising youngster N Verma. Tom's (7-0-40-1) persistence and willingness to give it some air was rewarded with an uppish drive from Reddem which was pouched on the dive by the skipper, but Verma was now purring through the gears at the other end. Iain (2-0-23-0) replaced the luckless Aadi (5-0-29-0) for a short spell, but with 30 needed at a run a ball and the match in the balance Keith turned back to his juniors and brought Hamish and Shreyas into the attack. Both youngsters performed admirably in what was a pressure situation – Hamish (8-0-29-1) keeping a tight line which proved awkward to get away, and Shreyas making the critical breakthrough by inducing a miscue from Verma, well caught by Gus low to the turf for a mature and composed 64. Aadi then turned the screw with a direct hit run-out from the ring, a clutch piece of fielding with only one stump to aim at. With 11 needed from the final over Shreyas (3-0-15-1) followed up with another, keeping his head and removing the bails as the MDAFs batters scrambled for every run. MDAFs could only find four from the last and finished on 207/7; the Fives running out victors by seven runs.
The cold certainly felt a little less biting at stumps – this was a fabulous game which ebbed and flowed, with the result uncertain until the last ball was bowled. Under pressure, the death bowling from Hamish and Shreyas was of the highest quality and a true testament to their skills. Those of us fortunate enough to play for the Fives have the privilege of regular front-row seats to standout performances from our cadre of Carlton juniors, but it is always a pleasure to see other clubs nurturing exciting young talent of their own – N Verma most unfortunate to find himself on the losing side after his contributions. Skipper Keith felt it impossible to choose between Hamish and Shreyas so both received the Arrow award for outstanding match contributions. Our sincere thanks to MDAFs for their kind hospitality and a brilliant game; we'd only ask that they arrange for some slightly warmer weather next time!
Euan Murray