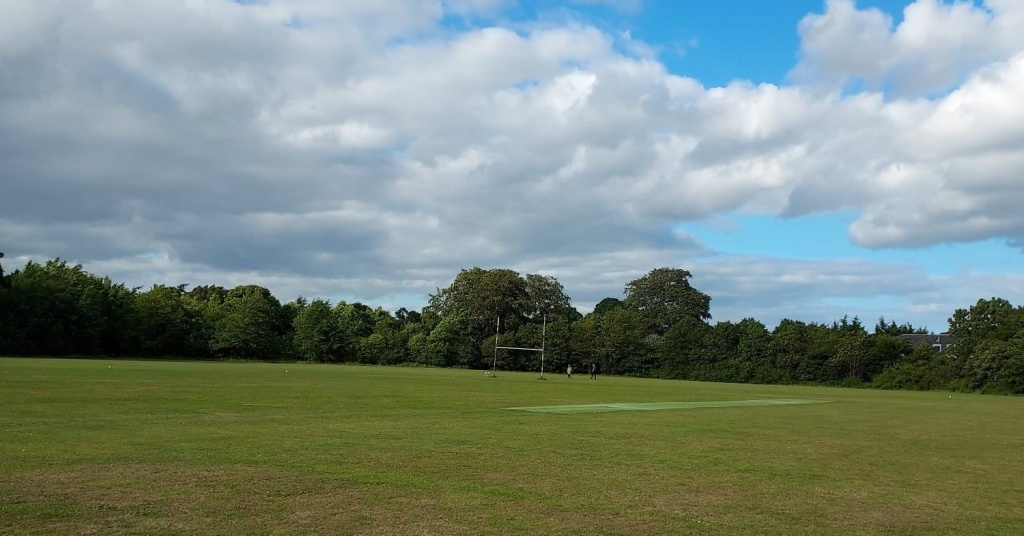 Another week, another venue for the Famous Fives; but in common with the previous outing at Bass Rock, this top-billing Division 7 clash would be played out into the teeth of a wind which would have made Francis Beaufort seriously consider adding a 13th category to his eponymous scale ("Conditions on Land – bails continuously and frustratingly dislodged; spring stumps blown over regularly until rigged with improvised water-bottle weights; everyone thoroughly fed up after 20mins."). Unhappily for the Fives, this week's gale had elected to orient itself directly in the direction of the pitch; conditions at Cav Park were particularly challenging from the famous "big clump of trees" end, where the bowler would be required to run uphill and straight into the wind. Skipper Keith – disdainful as ever of the general mutterings of his attack – had little say in the matter, however, losing the toss but to his delight being invited by the MDAFs captain to have a bat.
Regular opening partnership Keith and Martin Robertson made a brisk, although not chanceless, start and moved the score along to 47 before Martin was castled for 23 by a superb in-ducker; Keith rode his luck a little to 42, but having done the hard work was unfortunate to mistime a pull when looking to accelerate away. This rather set the tone of a Fives batting display which offered plenty of good starts but no truly defining contribution. Hamish Turner continued his fine run of batting form with 18, while Stu Dawson mustered 24 before being stumped while coming forward to the spinner. Hector Murray (13), Hamish Foley (12) and Freddie Charman (6) kept things moving along after a middle-order wobble when Robbie Murray (1) and Martin Firth (2) fell in quick succession. With the score 166/9 and three overs to play, the tail wagged nicely with a final partnership of 23 mustered between Dan Mowat (15) and your correspondent (17*); the Fives registering 189 a.o. from 40 overs.
A somewhat windswept tea gave a chance to take stock – 190 a challenging target for sure, but some short boundaries, that very difficult looking uphill-into-the wind end, and a surprisingly quick outfield would give MDAFs plenty of reasons to think that a chase could well be on.
The two younger Murrays shared new ball duties. Robbie settled into another of the tight and effective spells which have been the hallmark of his season so far, knocking back the off stump with his second ball. Sadly, this brought MDAFs S Modi to the crease… at the other end, things were much tougher and neither Hector nor Hamish F could make any sort of headway into the gale. Alas, this meant that Skipper Keith was forced to summon your correspondent from his grazing duties and make the highly attractive offer of an eight-over spell uphill and into the wind to a very good batter. Switching ends, Hamish F accounted for the dogged G Watson, while Modi eventually nicked off for an aggressive 76 featuring eight 4s and five 6s – well snaffled by Freddie, who had a difficult time with the windy conditions. The Fives might well come to rue a couple of earlier missed chances… At drinks MDAFs were 104/3 – well up with the rate, but with Modi back in the hutch the match was delicately poised.
Rotating from the pavilion end, Hector, Robbie and Hamish F continued plugging away, while Stu came on to try his luck into the wind. Robbie picked up his second wicket and Stu accounted for three in the MDAFs middle order (his uncanny knack of encouraging batters to miss full straight balls on impressive display) – however, runs continued to flow and at 176/7 and only 14 needed the momentum was with MDAFs. Hamish T replaced Stu and conceded only a handful of runs; while in only his second senior match and in a high-pressure situation Dan produced a beauty to bowl N Verma and keep a glimmer of hope alive for the Fives. Martin R chose this moment to effect a brilliant run-out, surprising the MDAFs batter and his own teammates in equal measure with a gazelle-like sprint in to break the wicket ahead of a despairing dive. MDAFs had subsided to 183/9 and were now reliant on two of their roster of youngsters to find the final few runs. In something of a reversal of usual fortune for the Fives it was the opposition juniors who led the way over the line – the final wicket pair survived one chance which, agonisingly, didn't quite stick, and MDAFs were home on 190/9 in the 38th over.
Despite the loss this was a fabulous match which ebbed and flowed – all three results were possible coming into the last few overs, and each side gained, and lost, momentum throughout. Ultimately a game which the Fives would definitely have fancied winning having set a stiff target of 190, but the bowling and fielding (rather down on their usual standards, in no small part due to the difficult conditions) were just not quite good enough. Congratulations to MDAFs on a very hard-fought victory, and some succour at least for the Fives in a maximum haul of 10 losing bonus points.
Euan Murray