Fives revel in the Newfield sunshine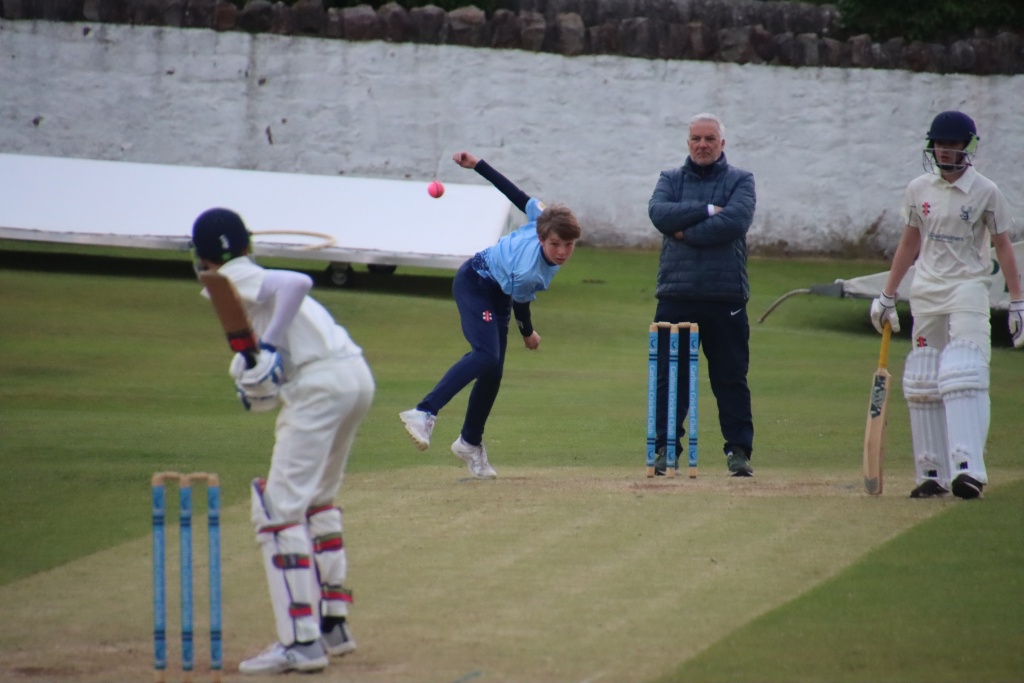 The Famous Fives assembled at a sunny Newfield for their sixth league match with newly formed Drummond Trinity 5s, who joined Carlton as being the only other Scottish club with five senior league teams. The match had been put back to a 2pm start due to a scheduling mishap and the captains had agreed to reduce the overs to 35 a side. The Fives included regular father/son combinations of Keith & Robbie Murray and Angus & Hamish Turner. They were strengthened by Mike "Boom Boom" Kennedy and Joe "Warney" Ward, who have been regularly plying their trade with the Fours in the dizzy heights of Division 4. Fives' regulars Martin Robertson, Rahul Khadse and Stu Dawson were the other seniors and James Stronach and Hamish Foley completed a strong looking junior contingent.
The skipper admired the flat looking Arti, fast outfield and reasonably short boundaries, wistfully recalling the previous week's experience at the Meadows, the Home of Dandelions. Ideally, he would have preferred to bat first, but the home side won the toss and were of the same view, so they batted first. The Fives opened with the junior combination of Robbie and Hamish F. Robbie bowled very accurately to his 6:3 field, ably supported by the fielders and DT struggled to get going. Joe buzzed around in the field like a demented mongoose, generating fantastic energy, which lifted the whole team. Hamish also bowled well and quickly picked up the wicket of Modi, who skied one to a fine catch by Stu at short third man (H.Foley 5-0-16-1). Robbie continued to tie down one end and finished his five over spell with five maidens, an extraordinary performance on such a flat wicket. After 10 overs, the home side had only amassed 17 runs. This brought the regular introduction of senior pair Rahul and Gus, who bowled with their usual accuracy and threat. Gus quickly got in the wickets clean bowling the No.3 bat and Rahul removed the No.4 in the same fashion. When Gus then got an lbw and also bowled the DT skipper, who had looked good, the home side were in real trouble.
After 20 tidy overs James swapped the gloves with Mike, and the skipper turned to the combination of big Stu's medium pace and Joe's left arm spin, who both continued the good work. Stu had the dangerous Bhaskarla brilliantly caught by Joe running in from long off, a sure contender for catch of the season (S.Dawson 5-3-9-1). Joe meanwhile bamboozled the batters at the other end (J.Ward 5-2-16-0). After 30 overs, DT then had to deal with the return of Robbie and Gus, Robbie picking up his first wicket, well caught by Martin at mid off, and Gus bowling another (A.Turner 7-2-12-4). Robbie finished with outstanding figures of (R.Murray 7-5-3-1). There was time for a superb direct run out from James, prowling at fine leg, and Rahul bowled the final over, his first five dots rather marred by a huge six off the last ball of the innings, but great work nonetheless (R.Khadse 6-0-23-1). The Fives had restricted DT to 87/9 off 35 overs, a fantastic performance in such batter friendly conditions. The bowlers were all very accurate, the ground fielding solid and 3 good catches taken, with only one very difficult half chance missed. If one was to be hyper critical, there were three run out chances that were not taken, but they were the only blots on an otherwise near perfect bowling and fielding performance.
After tea in the pleasant June sunshine, Keith and James strode out to get the chase under way.The pitch continued to play well and both batsmen started confidently, before Keith was adjudged lbw (K.Murray 8). James was joined by Hamish T and both juniors moved the score on quickly, running well and hitting bad balls, and even some not so bad balls, to the boundary. The score rattled along and with victory in sight, James was rather bizarrely stumped off a wide one, prematurely ending another fine knock (J.Stronach 32). Martin joined Hamish and they quickly knocked off the remaking runs in the 19th over for an excellent 8 wicket win (H.Turner 34*)(M.Robertson 5*). The only disappointment was not getting to watch Boom Boom Kennedy in full flow, as his batting was not required.
This was without doubt one of the most complete Fives victories in recent memory, against a team that had only lost one other match in the league so far this season. The foundations were laid with the excellent bowling performance, very well backed up by great fielding, but credit also to James and Hamish for their solid batting. We asked DT who the Five Star award should go to and they nominated Robbie for his remarkable opening spell, with honourable mentions to Gus, James and Hamish T. Many thanks to them for hosting us and playing yet another game in great spirit. They were particularly encouraging to our juniors and it was a real pleasure to play them. Many thanks also to Paul Bailey for umpiring. He noted that he has been present for all of our three wins this season, so he will just need to umpire every week!
Keith Murray