Carlton Cricket Club Committee structure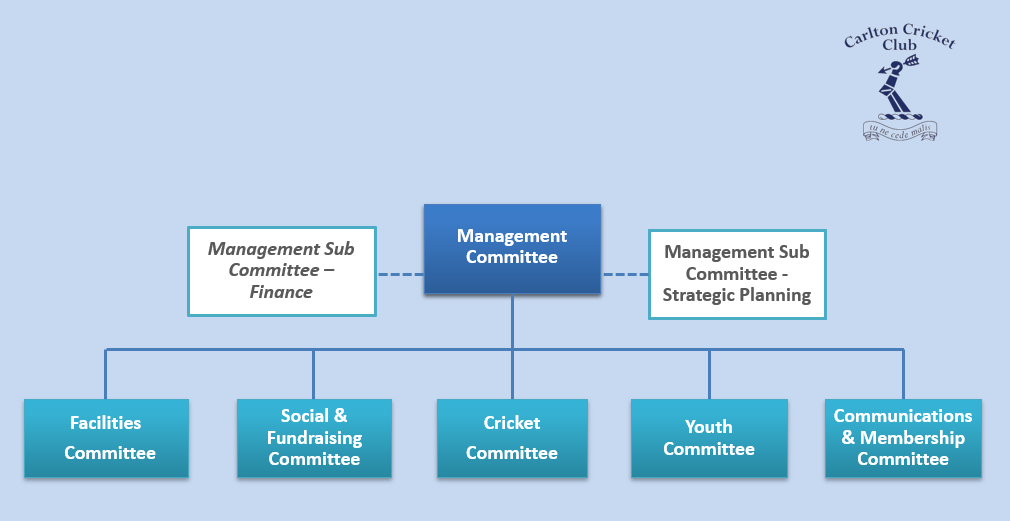 The new Carlton Cricket Club governance structure, approved by the members at the March 2018 AGM, involves forming five Club Committees, detailed above, to largely run the key day-to-day aspects of the club.  A new Management Committee has been formed which the Club Committees will report to and be guided and overseen by. Ultimately the Management Committee will be the body responsible for running the club.
The roles performed by the Club Committees should allow the Management Committee to spend more time on longer-term strategic planning involving interaction with those committees, the wider membership and the local community.
We are very grateful of the time and effort given by our volunteers but are very mindful of the need to spread the workload better for their sake and importantly to involve newer members for the long-term future of the club. We therefore wish to encourage new volunteers to get involved and use the time they can give in efficient ways by taking on smaller specific roles and making better use of modern communication methods to help. Our hope is that the new structure will encourage this type of volunteering with more members being willing to get involved on a smaller scale.
The changes to the governance structure are significant and will take time to bed in but with the backing and support of the membership we are confident that in due course the new framework will better serve the club and help put it on a surer footing for the future.
Any further updates to the structure will be posted here in due course.
Andy Macpherson, President 2014-2020