Fives tie in Clack thriller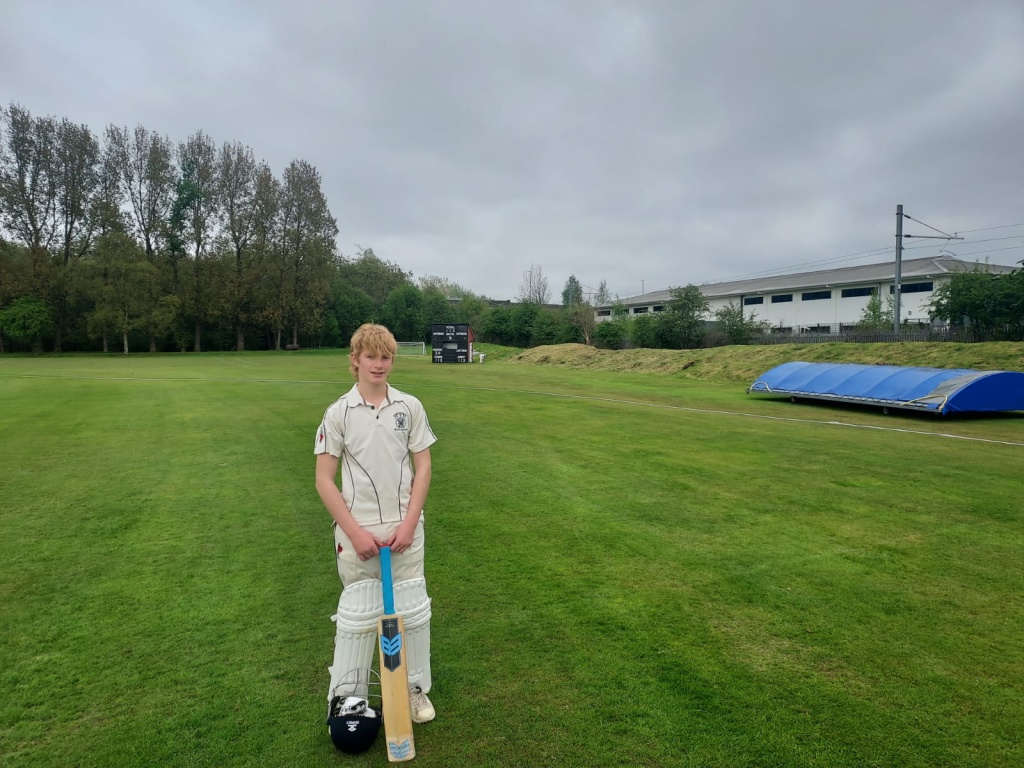 The Famous Fives travelled to the Arns for their second league fixture of the season against long time friends, Clackmannanshire 2s. The weather forecast in Alloa looked a bit better than Edinburgh and the sun was doing its best to shine was the Fives arrived. The captains inspected the pitch, which looked uncharacteristically mischievous for a Clack track, and when skipper Keith Murray won the toss he took little time in returning to 5s orthodoxy and asked Clack to bat.
Lewis Broster opened the bowling and the pitch immediately began to show variable bounce and movement that indicated batting was not going to be easy. He bowled a number of unplayable deliveries. Josh Cully, debuting for the 5s, opened at the other end and got immediate reward when dangerous opener Bennett smashed an uppish drive at Aadi at cover, who took a superb catch low down. However, extras began to mount up and after 8 overs Clack had moved to 36 for 1. The skipper then turned to Aadi who bowled a much needed maiden in his first over, and then had the other experienced opener, Oliver, trapped LBW in his second. Gus Turner replaced Josh and also applied the brakes to the scoring, before he clean bowled the powerful Clack No.3, Anderson. At drinks the Clack scoring had been slowed to 59 for 3.
Rahul replaced Aadi and further turned the screw with a masterclass of accurate slow bowling on the helpful surface, clean bowling three Clack batters before Iain Hathorn took a wonderful one handed catch to give him his fourth wicket. Rahul finished with superb figures of 8-4-8-4. Tom Hathorn also kept things tight at the other end, with his well pitched up leggies, and picked up two deserved wickets, bamboozling the Clack batters with his turn and flight. Tom Dweck, who had kindly agreed to play at short notice, kept very tidily behind the stumps, conceding just a solitary bye despite the tricky variable bounce. Aadi returned to finish the innings and also orchestrated a run out for the last wicket in the final over. Clack were all out for 113.
As the Fives pondered how they should set about chasing the relatively modest Clack total, they were treated to a sumptuous tea by their hosts. The teas at Clack have had a well earned reputation over the years and they did not disappoint with a typically excellent spread enjoyed by all.
After tea, Keith and Tom H strode out to open the batting against the Clack openers Arshad and Crumpton. Tom went early, unable to keep a lifter down and parrying a straightforward catch to slip. He was replaced by his dad, Iain, who hit a couple of glorious cover drives before being trapped LBW off a ball that kept low. Keith was joined by Aadi and decided that the 5s could ill afford to lose any more wickets early on and they both set about seeing off the Clack openers. They successfully achieved this, but at the cost of making little forward progress towards the total. After 16 overs the 5s were only 27 for 2. Keith was hoping the change bowlers might be easier to get away, but fell to the first ball from Fraser, edging a sharp chance to Arshad who took a very good catch at slip. When Aadi edged a ball that bounced prodigiously to the keeper, Martin was caught at backward point and Ian T was strangled down the leg side, the 5s were looking in real trouble at 39 for 6.
However, Josh coming in at No.7 had different ideas. Unlike any of the other batters, he quickly got to grips with the pitch and hit anything wayward for runs. He and Tom D ran well between the wickets too, until Tom hit one in the air and was caught at mid off. Josh was joined by Gus and they began a productive partnership, which quickly pushed the score on to 70 in the 30th over before Gus was adjudged LBW and had to go for a useful 15. Next up was Rahul, who also supported Josh well, sensibly giving him the strike and letting Josh continue his excellent work punishing the bad ball. The score moved forward steadily and after 35 overs, the 5s were up to 88 and only needing a further 26 runs for the win off 30 balls. Then disaster struck as Rahul went for a big sweep and was plumb LBW. This brought last batter Lewis to the crease, with still a lot of work for Carlton to do. After a couple of early scares, he settled down and also supported Josh well. Josh skied one, but it was put down and Lewis survived a likely run out when the bowler broke the bails without the ball, but the youngsters kept the scoring rate up and arrived at the last over with just 8 runs required for the win. Josh hit two. Then there was a wide, then a dot. Josh took a single. Another single from Lewis. Josh back on strike. A good ball that he hit straight to a fielder, sensibly declined for a dot. Now three required off the last ball. Josh connected well to long on and the pair scampered through for two, but with no chance of a third, the game was tied. Both sides incredibly level on 113 after 40 overs! Josh finished with a vital 36*.
What a remarkable game of cricket, which for the second week in a row, went down to the last over. Aside from our extras total, it was a fine fielding and bowling performance, with Rahul in particular bowling quite beautifully and two superb catches from Aadi and Iain. Batting was never going to be easy, but Josh showed great composure to take the game to Clack. He got fantastic support from Gus, Rahul and Lewis and the lower order stuck to its task brilliantly to get us a result that at one stage looked most unlikely.
Many thanks to Clack for a wonderful game of cricket, which was played in fantastic spirit by both teams. As ever, it was a pleasure to play them at the Arns and we look forward to the return match at GL in July. The last word has to go to Josh, who played a magnificent innings on debut to get us in position to possibly win and in the end secured the tie. No doubt to whom the arrow award goes this week – very well done Josh Cully.
Keith Murray