Fives back to winning ways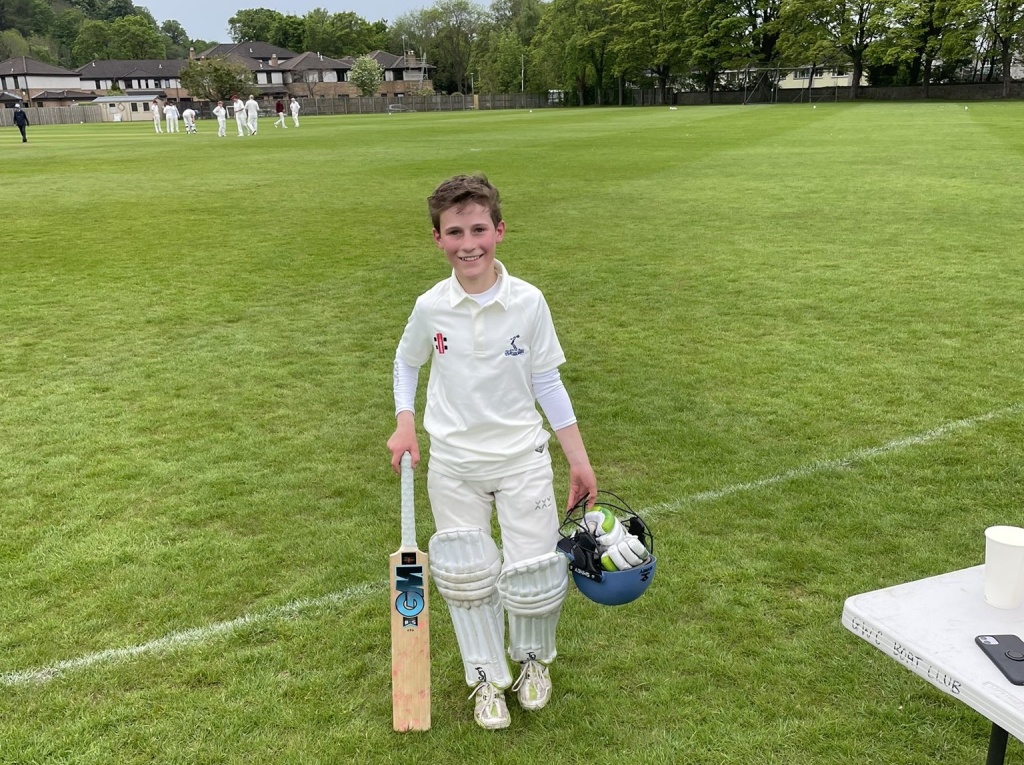 The Famous Fives assembled at Craiglockhart for their next eagerly awaited league match against old friends Watsonians 4s. The Fives' ranks were boosted by the inclusion of Oli Stones, John Beattie and Stu Dawson, along with regulars Iain & Tom Hathorn, Rahul & Aadi Khdase, Martin Robertson, Kartic Subr and Tom Dweck. The temperature was a balmy 18 degrees and both skippers were impressed by the excellent looking pitch. Watsonians won the toss and duly elected to bat.
Stu Dawson opened the bowling and after an early loosener than nearly decapitated the opening bat, settled in to an excellent rhythm, picking up an early wicket with a solid catch from Oli at point. Kartic kept things tight at the other end and after 10 overs Watsonians had only amassed 24 for 1. Khadse junior and senior were then introduced to the attack and they also bowled well, Rahul in particular unlucky not to get a wicket. Despite their efforts, a solid partnership began to develop and at drinks, Watsonians had moved on to 62 for 1.
After drinks, the skipper turned to Oli to see if he could make a breakthrough and he duly drew the obdurate Borthwick into an uppish drive that was brilliantly caught by a tumbling Iain at mid on. The standard of catching this year in the Fives has been excellent and more was to come. Watsonians No.3, Cox moved to a well constructed 50, but shortly afterwards he hit one off Oli in the air over Kartic, who managed to back peddle and take a great catch over his head to remove the danger man. The third fantastic catch was from Aadi (and his third of the season so far) taking a powerfully hit shot low down at mid wicket off Tom Hathorn's bowling. Two run outs then followed from Oli and John, both tidily finished off by Tom Dweck, and Watsonians were restricted to 131 for 6 off their 40 overs, an excellent bowling and fielding performance on a very good deck. Tom D kept very well again and the Carlton extras total of just 18 was a big improvement on previous weeks.
After a superb tea of sandwiches, pies, cream scones and cakes, the Fives set about their chase. The skipper opened with Tom H and looked to be in the mood from the get go, hitting four early boundaries, while Tom manoeuvred the ball in to gaps and ran well. The 50 partnership came up in the 10th over and Keith progressed to 39 off 41 balls before playing on off a wide one to end a fine 74 run opening stand in the 14th over. Tom was joined by his dad and continued his fine form progressing to an impressive 45 before being adjudged LBW, cruelly denied back to back league 50s. Oli and Iain knocked off the final runs in the 25th over to complete an excellent 8 wicket win.
This was a very pleasing all round performance. Tight accurate bowling, tenacious fielding, brilliant catching, and two solid partnerships to get the runs without any alarms. The skipper considered the arrow award could have gone to Tom for his fine 45 or Oli for his wickets, but opted to recognise Kartic for his superb catch that removed the key Watsonian bat. Many thanks to Watsonians for another thoroughly enjoyable match played in great spirit. We wish them well for the rest of the season.
Keith Murray