Fives on the Silver Screen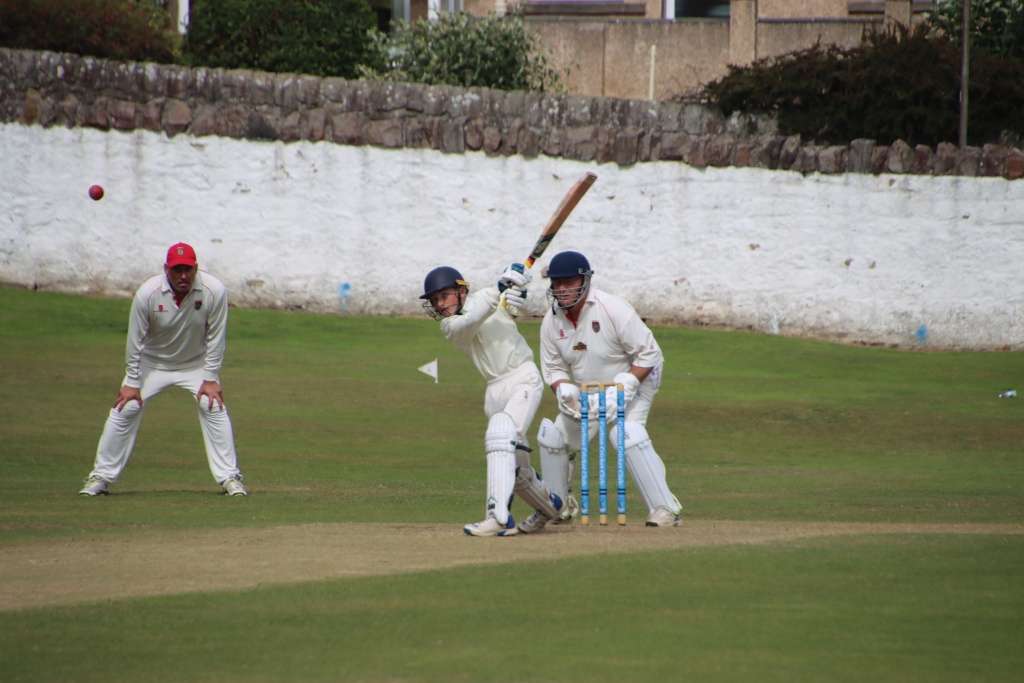 Sunday brought a rare treat for the Famous Fives, lining up at the hallowed turf of Grange Loan for a genuinely home home match vs Watsonians 4s. Not only that, but this would be the Fives' first home game since the implementation of FrogBox live streaming… so the entire world* was welcomed to watch the skill, intensity and sheer physical prowess of a Division 7 tussle live on YouTube.
Not one to shirk his moment in the limelight, skipper Keith won the toss and invited Watsonians to have a bat. As well as being close neighbours, a frisson was added to the occasion by each team fielding a number of school classmates in their roster of juniors – so both points and bragging rights would be up for grabs.
Robbie Murray and Hamish Foley opened the attack for the Fives and found initial going in the summer heat a little tough – the wicket looked a good one for batting, and the Sonians openers were willing to take their time. Robbie adjusted his line nicely to snare A Borthwick via a well-pouched nick, lovely work from James Stronach behind the stumps; no joy for Hamish in his opening spell but he would be certainly be back later. Angus Turner took over and did what he has done all season – relentless accuracy on off stump to which Div 7 batters have had no answers. At the other end, Hector Murray offered a different challenge, finding some pace and carry. Gus with the rewards again though, three wickets in quick time (including an honoured Fives tradition, caught H Turner, bowled A Turner for a happy car journey back home) and at 50/4 from 16 Watsonians needed to rebuild. Ollie Stones came into the attack to offer some variation, and although the surface looked conducive to spin he could find no joy. At the halfway mark Watsonians were reasonably well placed on 75/4 – G Mawdsley, well set on 35, looked a threat; Stu Dawson and your correspondent into the attack. A period of excellent fielding and bowling pressure after drinks eventually told when Mawdsley looked for a single that was always tight, sent back by his partner with no hope of making his ground to be run out by that man Gus for a well-made 40. Stu added an lbw before Hamish F and Gus returned to the attack – Gus picked up yet another clean bowled for four, while Hamish F ripped through the tail to finish with an excellent 3/16 from 5.5.
From a decent start Watsonians had rather subsided to 98 a.o. – an excellent display in the field from the Fives, keeping scoring opportunities to a minimum and forcing a key run-out which arguably turned the tide of the innings.
Post tea, skipper Keith and James S opened the Fives' reply. Keith immediately looked in the mood on his home turf, even going so far as to smite glorious back-to-back cover drives for four. The Watsonians team looked rather shell shocked at the ferocity of Keith's strokeplay; nothing, however, compared to the looks of surprise on the faces of regular viewers of Keith's innings at the sight of the ball disappearing to the fence on the off side. At the other end James kept his captain ideal company with a perfectly paced innings, finding the gaps with ease and regularly turning over the strike. At the end of the 10th over the score had rattled along to 78/0; Keith clearly had other places to be and smashed off the remaining runs in the 12th over, including a first ever 6 at Grange Loan (struck, reassuringly, over midwicket). J Stronach 24* and Keith a dominant 64* from just 45 balls; Fives win by 10 wickets.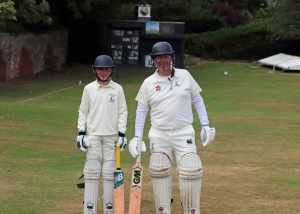 A super win for the Fives built on the foundations of accurate bowling and excellent ground fielding – Watsonians could easily have got away after drinks and posted a much more challenging total, but a great collective effort in the field really put on the brakes. Fabulous knocks from James and Keith to chase down the total with ease, and well played to Watsonians who kept up the energy in the field right to the end despite looking at a certain defeat.
* Well, 340, based on the number of views to date. Readers are invited to peruse the rest of this report, hear the tale of an innings of impressive, aggressive strokemaking from skipper Keith, and conclude for themselves how many of these 340 are random (but extremely dedicated) lovers of all things cricket, and how many times Keith has watched it on replay…
Euan Murray