Fives Castle Contemptibles at the Castle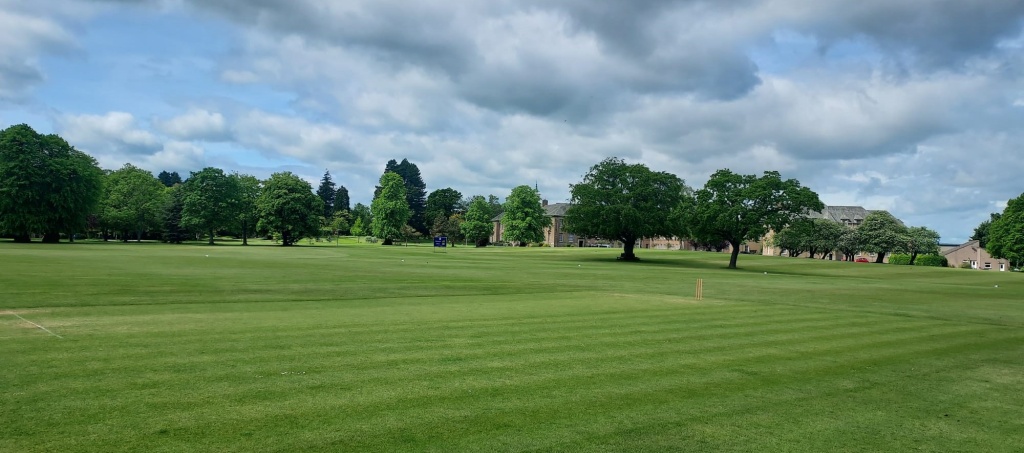 Round 5 of arguably the premier league in world cricket beckoned, with a welcome double boost for the Famous Fives ahead of their latest titanic Division 7 clash against table-topping and undefeated Old Contemptibles Cricket Club.   First, the forecast offered the tantalising prospect of sunshine and temperatures edging fractionally away from absolute zero.  Second, thanks to some fixtures wizardry from Amelia B the Fives would be hosting OCCC in the rarefied parkland grounds of Merchiston Castle School – without casting any aspersions, a rather more traditionally upmarket venue for a game of cricket than the Fives' more regular stomping grounds of the Meadows, Peffermill or Cavalry Park.
Skipper Keith lost no time in securing another crushing victory at the toss, and despite a lovely looking pitch and bowling green outfield had no hesitation in inviting OCCC to have a bat – one eye, no doubt, on a strong opposition batting line up which might be well suited to chasing.  Limbering up (very, very slowly…) your correspondent (5-1-7-2) and Kartik Subr accepted new ball responsibilities, each finding something to like on a surface offering just a hint of nibble with the ball pitched up – OCCC struggled to find scoring opportunities and both openers were sent back early.  Keith then turned to the family Khadse – Rahul (8-1-27-3) and Aadi with a double both turned the screw on a middle order which was now under serious pressure to get the scoreboard moving.  Rahul's removal of previous week's centurion V Mohanan looked as if it could be a key moment.  On the cusp of drinks, John Gill swooped from square leg to complete a run-out; refreshments taken, and OCCC reeling at 45/8.  Keith summoned his two-pronged leg spin attack, John G (3-0-23-0) and Tom Hathorn (3-0-25-0) into the action and looking to close out the innings.  However, the OCCC ninth wicket partnership was not for throwing in the towel; the pitch was one for the seamers and this just wasn't a day for the leggies to shine.  Aadi (7-1-2-12) and Kartik (8-0-11-0) returned in an attempt to break the stubborn resistance, but it took the introduction of Josh Cully (2.5-0-10-2) to remove the last two wickets in two balls.  An excellent 52* from M Reynolds, well supported by B Mowat (22), had advanced OCCC to 123a.o. in 36.5 overs – no doubt fewer than they would have wished, but nevertheless a good recovery from a precarious position.
Tea taken – surrounded in the pavilion by the annals of Merchiston sporting history – and the Fives set about chasing 124 to win.  In-form opener Tom H accompanied skipper Keith to the crease, and both looked comfortable in the early exchanges – serene progress made through the first 10 overs with runs flowing and little in the way of alarm.  The introduction of A Watson's off breaks had a marked effect on the game however – immaculate length and some very respectable turn caused Keith in particular a number of anxious moments.  However, it was Tom (31) who was first to fall, unluckily short of his ground from a direct hit having been called through for a single that always looked tight. Again.  Just say "no" Tom…  Drinks taken, the Fives were in complete control on 89/1.  Marc Dweck (13) joined Keith at the crease and looked in good touch, striking a number of flowing drives and crunching pulls until feathering one behind.  Aadi kept Keith (38) company until the skipper looked for his familiar drive of Gower-like elegance through midwicket but could only top-edge to fine leg, shortly followed by Aadi (8), caught at the wicket.  Martin R (4) fared little better – unfortunately hampered by a nasty blow to the index finger while fielding – leaving Josh and John to take the reins and just the slightest tremor of concern running through the ranks.  John (3) lost his middle stump looking to deposit a full straight one somewhere into the Pentlands (and giving those of us missing Mike's presence while he is cycling round Japan a poignant reminder of what we're missing), Tom Dweck (0*) heading out to support Josh with just a couple needed for the win.  Josh (12*) made no mistake, wrapping up a very good win for the Fives in 31.2 overs.
Always good to take a win against an unbeaten, table-topping side and this was a very good all-round performance from the Fives.  It can be easy to focus on stats but there were a couple of things which the numbers don't show – another excellent outing behind the sticks for Tom D, whose tidy, composed keeping raises the whole team's level;  tigerish displays in the field from John G and Tom in particular; and a spectacular diving catch from Aadi which will live long in the memory. Rahul's 3 wickets, including the key scalp of their skipper, were rewarded with the Arrow Award this week – very well deserved. And just as importantly, a thoroughly enjoyable match played in the perfect spirit of fun and competitiveness – a genuine pleasure to play OCCC and to have the chance to host them at such a lovely venue.
Euan Murray