Fives' charge falters at Cavalry Park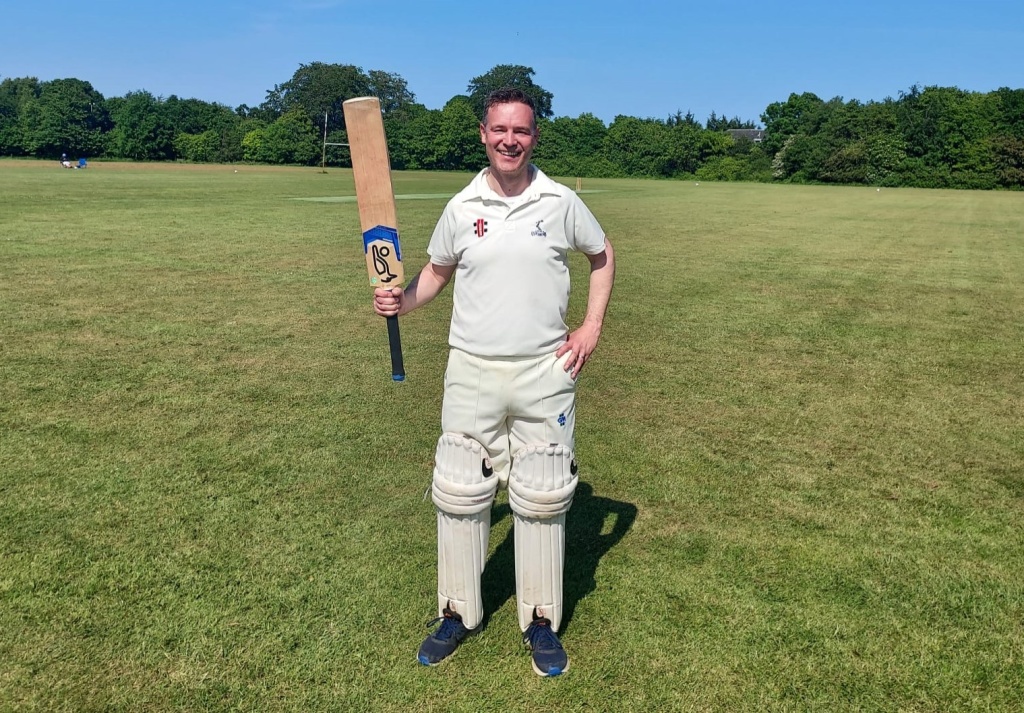 The Famous Fives assembled for their latest two horse race against Marchmont 3s at the familiar location of Cavalry Park 2, where they have played many of their home games in recent seasons. The Fives were in the unfamiliar position of sitting second in Division 7 after a string of impressive performances and were hoping to continue their fine start to the season with another win. The creation of a fourth team for Marchmont has limited the availability of the equine related ground this year, famed for its sheltering of Bonnie Prince Charlie's cavalry the night before the battle of Prestonpans in 1745. However, the Astro traditionally offers good running and the fast outfield and small boundaries indicated the prospect of a high scoring encounter in the glorious June sunshine.
With confidence high from recent wins (and some of the team still to arrive) Keith won the toss and boldly elected to bat. This proved to be a questionable decision as the skipper fell at the first hurdle, out for a duck, top edging a high full toss into the stratosphere that was caught behind. Tom and Iain Hathorn began rebuilding in the face of some accurate Marchmont bowling and Iain began to find the boundary with some powerful shots. Shortly before drinks, Tom was unlucky to bottom edge a pull shot on to his stumps and had to depart for 13. Aadi joined Iain and hit a glorious cover drive for four off his first ball. At drinks Carlton were reasonably well placed at 78 for 2, with Iain well set, already having reached his 50.
However, the Marchmont change bowlers were if anything even more accurate and the Carlton batters found it hard to get to the gallop. Aadi was bowled for 13 and Iain was joined by Josh, who briefly upped the scoring before picking out the cover fielder and being caught. This prompted a clatter of wickets as John, Rahul and Euan all departed in quick succession, leaving the prospect of the Fives not batting all their overs. Undaunted by the situation, Tom Dweck got his head down and defended solidly while Iain continued to play his shots at the other end. Their partnership pushed the score on and allowed Iain to get to a thoroughly deserved century, full of cover drives, pull shots and shots down the ground. Tom eventually was caught and Iain fell within sight of the finish line for 105, but they had got the team to a potentially defendable total. Lewis was run out off the last ball of the innings and Carlton finished on 160 all out.
The players put on the nose bag and enjoyed a pleasant alfresco tea, before turning to the job of bowling out Marchmont. Early wickets were likely to be needed and Lewis and Gus were trusted with the new ball. Lewis bowled well, with good pace and movement, and Gus duly provided an early breakthrough when he had one of the openers well caught behind by Tom D. Lewis then removed the other opener, courtesy of a superb catch at mid on by Euan. Marchmont were wobbling at 13 for 2, with more chances coming, but unfortunately these were not taken and the home side began to score more freely, finding the short boundaries. Gus then picked up a second wicket, Rahul taking an excellent catch on the run, but a solid 4th wicket partnership developed and despite accurate bowling from Aadi and Rahul, at drinks Marchmont had their noses in front at 86 for 3.
Eventually, Rahul broke the partnership with a deserved caught and bowled, but Marchmont were nearing the final furlong. John was introduced to the attack and picked up a wicket LBW, and Tom D effected a brilliant direct hit run out. Josh was also unlucky not to get another run out with a direct hit. However, Marchmont cantered to a 4 wicket win in the 33rd over, and undoubtedly deserved the winning rosette.
Despite the loss, there were numerous positives for the Fives. First amongst them was Iain's masterful ton, only the third in Fives' history. Very well played Iain and no question to whom the Arrow Award should go this week. Tom D also provided him with much needed support, whilst also keeping tidily once again. Lewis produced his best bowling performance to date, unlucky not to get more wickets, and it was great to have Gus back bowling his accurate grenades, whilst Euan and Rahul both took excellent catches. Aadi also bowled really accurately too. Ultimately, Iain didn't get sufficient support from the other batters for us to post a big enough total, and although some very fine catches were taken, four other chances went down, which rather let Marchmont off the hook. However, 8 losing bonus points was no disaster and credit also to Marchmont for bowling so well. Many thanks to them for another enjoyable game. We will saddle up again later in the season for another fun encounter.
Keith Murray