5s latest nail-biter in the High Veldt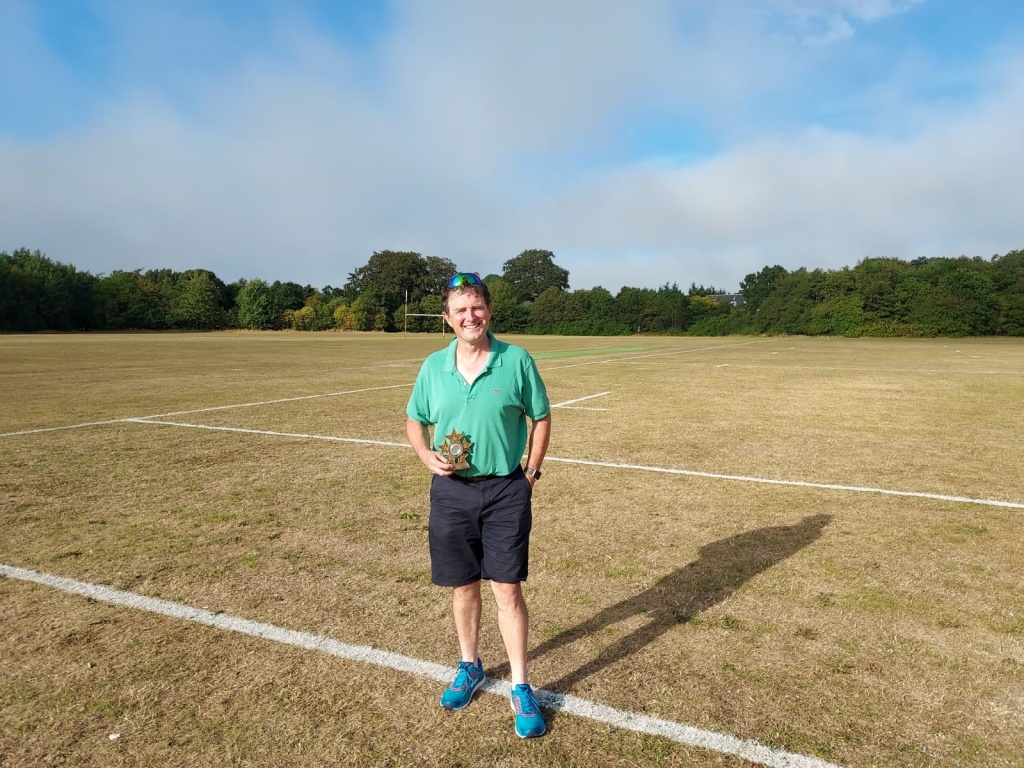 The Famous 5s assembled for their 16th scheduled Division 7 league encounter of the season against Bass Rock 2s, which in this extraordinary summer was the 16th to be played. The fields of Cavalry Park were a most unusual straw colour, more resembling the South African High Veldt than the usual lush Scottish public park. The barren yellow outfield look to be lightening fast and very challenging to field on, and so it proved. This week the 5s had a fairly familiar look with father and son combos of Keith & Robbie Murray, and Rahul & Aadi Khdase, along with regulars Martin Robertson, Gus Turner and Stu Dawson. The 5s also welcomed back John Beattie, who has largely plied his trade in the 4s this season. The junior contingent was completed by talented trio, James Stronach, Zaara Dancu and Hamish Foley.
The visiting skipper advised that he had a somewhat stronger team than the previous match, which had been a one-sided affair, comfortably won by Carlton. He duly won the toss and had no hesitation in opting to bat first. This looked to be a good decision as a very strong opening partnership developed, which the Carlton bowlers struggled to break. Anything short was despatched to the nearby boundaries, and it was only down to some tigerish ground fielding, especially from Aadi and Robbie in the covers, that prevented Bass Rock getting away completely. After 20 overs, Bass Rock were 92 without loss and in a very strong position. Rahul eventually got the breakthrough in the 24th over, inducing a mistimed shot that was well caught by Zaara at mid off, with the score on 123. An excellent opening partnership for the visitors. Hamish then bowled the Bass Rock skipper and the 5s began to make inroads. Hamish picked up another, as did Rahul. Hamish also took a very fine catch at mid wicket off Aadi's bowling, the ball after he had been placed there by the skipper. Zaara and Robbie returned to bowl the last four overs, which they did well, Zaara picking up two wickets, the last being a sharp stumping by James off the final ball. Bass Rock were restricted to 227 for 7 off their 40, a decent performance by the 5s in the searing heat, with both possible catches taken and a lot of runs saved in the field.
After a fine tea, the 5s set about their chase, knowing that a strong batting performance would be required. However, matters did not start well, with both regular openers, Keith and James, out cheaply from accurate bowling and John quickly following. This brought Robbie and Martin together with the score on 34 for 3 in the 8th over. They both got their heads down and started to claw the 5s back in to the match. Robbie played very straight, rotating the strike with Martin well, who in turn hit regular boundaries to keep the score advancing. After 20 overs the score had moved on to 110 and Martin was really starting to motor, getting to his half century very shortly afterwards. This prompted Robbie to attempt an ambitious sweep shot off a straight ball and he was bowled for a very valuable 23 to end their 80 run partnership. Gus joined Martin at the crease and continued the good work, sensibly getting Martin on strike whenever possible. He accelerated further, smacking a straight six and regularly hitting boundaries, before hitting another six and a four to bring up a magnificent century in the 34th over. At this stage, Carlton were up to 192 and closing in on the Bass Rock total, before the game took another twist as Martin was bowled by the last ball of the over for a round 100. Zaara joined Gus, but was bowled by a good ball in the 37th over, before Gus was trapped lbw for a very useful 30 in the same over. This brought Hamish and Stu to try and see Carlton home in the last few overs. They got tantalisingly close, with Stu hitting a great four in the final over to set up a last ball finish, with six required for the win. Unfortunately, he couldn't make contact with the last delivery and Bass Rock edged out Carlton by 5 runs.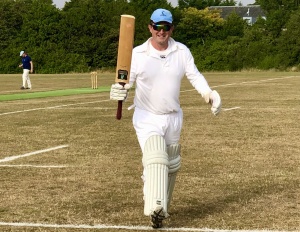 It was a fantastic game of cricket in glorious sunshine that went down to the last ball. The game was played in great spirit by both teams and it is hard to ask for much more than that. The Carlton bowling in very difficult conditions was largely accurate, and the bowlers stuck to their task very well despite the excellent start from the Bass Rock openers. Zaara in particular bowled consistently well. The Carlton fielding was very good, with Robbie in particular saving at least 20 runs with diving stops. He also had a very fine partnership with Martin to get us back in to the match. Gus also supported Martin really well and got us close. However, there was no question who the player of the match was. Martin's superb innings was a joy to watch. Aggressive, without being reckless, and full of great shots. It is hard to believe that was his maiden century, but there will hopefully be many more. Very well batted, Martin.
Many thanks to everyone for their efforts. The whole team contributed to a great match that could have gone either way. Many thanks also to Bass Rock, who typify the spirit in which almost all games are played in this Division. Two more games left to play and only 25 points between 3rd and 9th in the league, so all to play for. Let's hope the weather holds for two more weeks…
Keith Murray