Fives rock it at the rock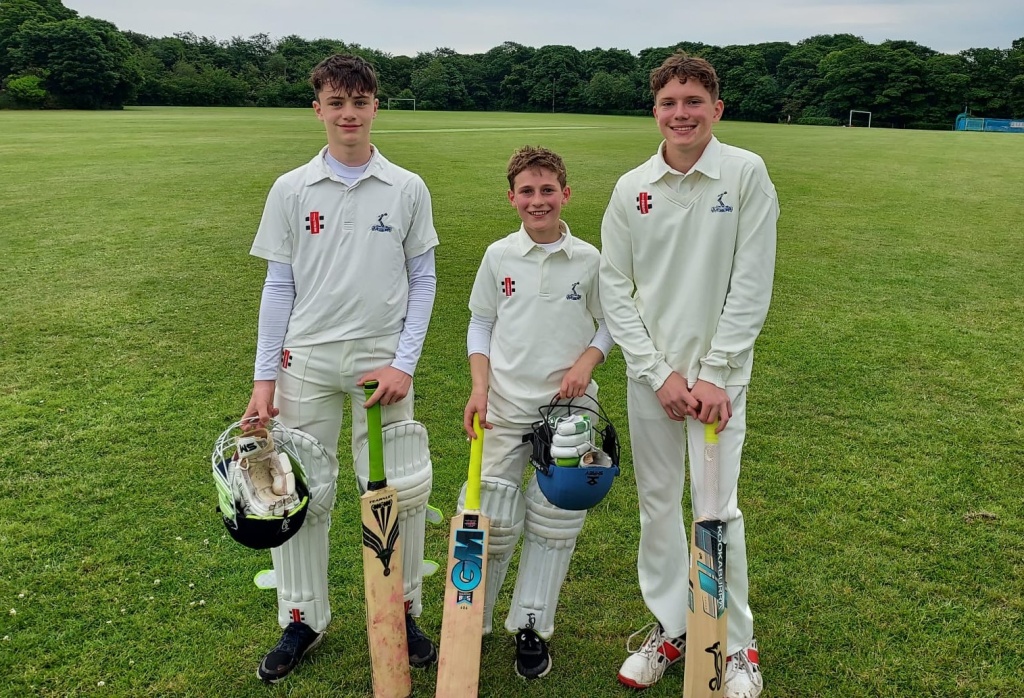 A particularly youthful Fives assembled at Recreation Park in North Berwick for their eighth league match of the season against Bass Rock 2s in the shadow of Berwick Law. The team comprised seniors Keith Murray, Rahul Khdase and Eliot Ambrose on league debut. The rest of the team were juniors Tom Hathorn, Benji Risi, Tom Dweck, Jake Heller, Kieran Glass, Theo Griffin, Lewis Broster and Atreya Subr. All the juniors had some previous league experience, but it was almost certainly the youngest ever team to play for the 5s in their history.
The skipper won the toss (again) and had no hesitation inviting the home side to bat. Lewis and Theo opened the bowling and both bowled an excellent line and length, albeit without getting a wicket. They were replaced by Rahul and Kieran, who also kept it tight, but without success. At drinks, Bass Rock had accumulated 63 without loss, restricted by excellent Carlton fielding from the multiplicity of juniors. Atreya and Eliot then entered the attack and Atreya induced the home skipper to mishit a drive towards mid off, where Rahul took a fine running catch. Shortly afterwards Atreya clean bowled the dangerous No.3, good reward for his full, straight bowling. Rahul returned to pick up the other opener caught and bowled, and Eliot secured a direct hit run out to take the fourth wicket. Bass Rock finished on 143 for 4, a total that would have been significantly more, but for a great team fielding effort, with Jake in particular producing a stand out performance riding the boundary and Tom D keeping really well again behind the stumps.
After a fine tea, the Fives set about their chase. They suffered early misfortune when the skipper gloved a ball on to his stumps, leaving the junior batsmen with a mountain to climb. However, Tom Hathorn has been in brilliant form this season and he was joined by Benji, who has been playing well too. They began a fine partnership, with Benji hammering any wayward balls to the boundary and Tom defending redoubtably. At drinks, Carlton had moved to 75 for 1, ahead of where Bass Rock had been, and well on track to chase down the total. Benji got to a fantastic maiden league 50, but was finally removed in the 25th over by the introduction of Weatherhead, who also bowled Jake in the same over. With the score on 88 and 56 runs still required, Tom Dweck joined his fellow Tom at the crease, with Carlton under some pressure. Tom H started to increase his scoring rate and Tom D also played some excellent shots as the Tom-Toms slowly clawed their way towards the target. Both youngsters showed great game management to take singles and find the occasional boundary and Tom D crashed two boundaries off the 37th over to bag the win. He finished on 22* with Tom H securing a second league 50 of the season finishing on 52*.
A truly outstanding win for the Fives. An incredibly young team, who bowled well and fielded tigerishly to keep the home side to a manageable total, despite not taking many wickets. The chase however was extraordinary. For two young juniors to both hit 50s and for both Toms to manage the final chase so well is unprecedented. Very well done to Tom, Benji and Tom. It was very hard for the skipper to chose who should get the Arrow award, as Lewis & Atreya had bowled so well, Jake fielded brilliantly and Tom H anchored the Carlton innings. However, he chose Tom D for his keeping and batting, and Benji for his brilliant 50. Many thanks to Bass Rock for another great game, played in superb spirit. The Fives incredible adventure this season continues….
Keith Murray