Coetzer shines for Benwell Hill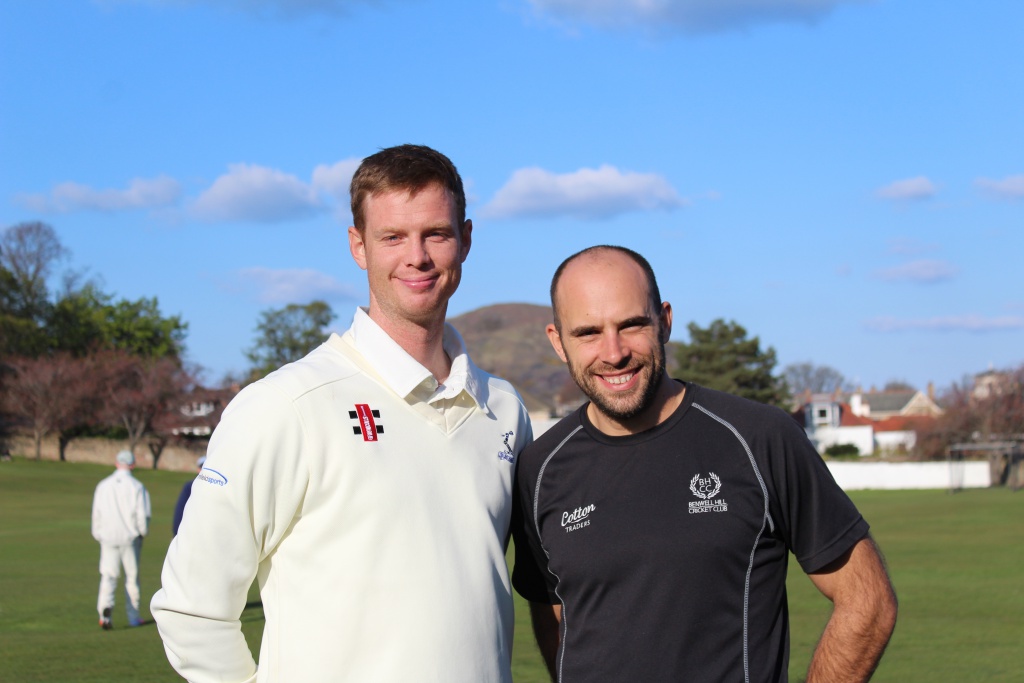 Conditions for playing cricket in Scotland have never been optimal especially in early April. Hands were kept firmly in pockets at the toss, apart from the unlucky candidate who had to toss the coin. One international cricketer in the form of Ali Evans tossed said coin and another, Kyle Coezter, called correctly and opted to bowl first. This proved to be an important decision.
Kyle Macpherson and Charlie Maxwell strode to the crease prepared for the first bit of outdoor cricket Grange Loan had seen in a while. The openers looked solid on a slow pitch until Charlie unfortunately nicked off to a Harding delivery. A debutant was replaced by another debutant, Will Hardie. A slow start continued and in the fifth over Hardie was wrapped in the pads by Harding and Allan Haggo raised the dreaded finger, Carlton 5 for 2 after 5. Kyle rebuilt well with Tom Simpson rotating the strike nicely at the other end. As things were looking on the up Kyle was bowled by offspinner Williamson in the eleventh over. Ali Shah got going quickly with a flurry of boundaries off McCreath's first over and planted Williamson's full toss out the ground in the following over.
The promising partnership of Shah and Simpson was broken as Ali Shah was surprisingly bowled by Coetzer just before drinks for 32 off 33. Simpson followed in Coetzer's next over for a hard earned 26. Parker hit 3 quickfire boundaries then was bowled by guess who? None other than Coetzer once again. Cheeky stayed solid as wickets fell steadily around him. Carlton ended on 126 all out Shah and Simpson top scoring.
After a scrumptious tea the young Carlton side headed out to warm up before they attempted to defend the 126 they had mustered up. 14 year old Murray Johnson injured himself bowling through to Pete Steindl (his beanie being worn appropriately for once) and was only able to watch on and keep the scorer company.
Shiv Gupta showed no signs of his hampered knee and castled Musset in his first over. Evo steamed in from the top end and yorked Schofield 3 overs later and Benwell Hill were restricted to just 11 runs in the powerplay (first 7 overs). McCreath and Heather made good progress rotating the strike off Ahmad Shah and Cheeky and were 51 for 2 at the halfway stage.
Harry Simpson came into the attack and made an impact in his second ball forcing McCreath to spoon up a catch to Ahmad Shah. Coetzer strode to the crease and played some competent strokes despite the challenging conditions. Harry picked another wicket, bowling Heather for a valuable 24 runs. Coetzer motored on nicely despite Evans coming back on. Moore did not fare so well with Ali as McLean raised the finger after the ball cut in and hit him square in front. Halliday joined Coetzer and took the game away from the inexperienced home side who looked a bit flat in the field as the bad ball was consistently put away. With three runs required off thirty deliveries Coezter made short work of it and crunched Simpson junior into the D'Ulisse garden. Having won the game the both batsmen retired and two new ones came in to replace them and bat out the remaining twenty nine deliveries. Unfazed by this Simpson took an athletic caught and bowled two balls later and claimed his third wicket to the delight of the club's social media manager as he was allowed to try out one of his new toys via twitter. Charlie was then peppered with high catches out at long off and took anything that came near him. Harry Simpson ended with figures of 8-0-42-5 the highlight of the match.
Overall it was a great learning experience for a young developing Carlton side in rather challenging conditions. Thanks to Benwell Hill for a great pre-season run out despite the temperature, the ground staff for preparing a good early season pitch and quick outfield, the tea team and bar staff.