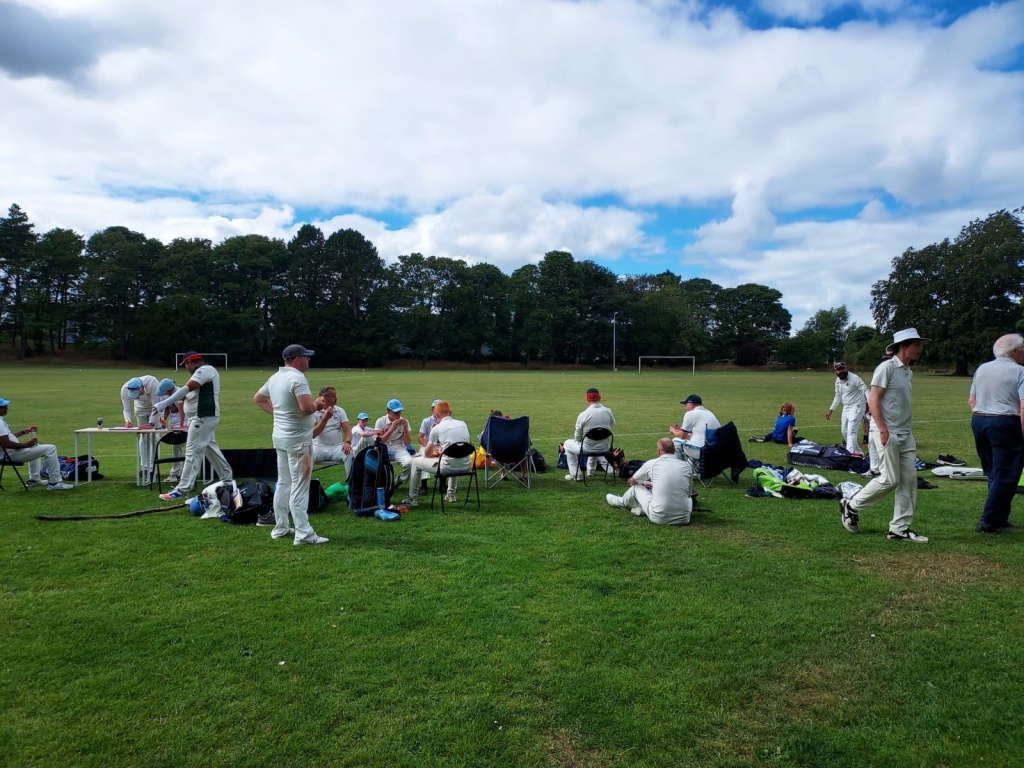 The Famous Fives gathered in the familiar surrounds of Inch Park for a league match against table-topping and promotion-chasing Edinburgh South 3s. Memories were still fresh (and not a little raw…) from the agonising 6 run defeat suffered by the Fives at the "home" fixture on a Meadows minefield earlier in the season; could a modicum of revenge be extracted against Jas Singh's formidable looking lineup?
Skipper Keith won the toss and elected to have a bowl – chasing certainly seemed the better option against a very deep batting lineup featuring a No.11 averaging 20 in the league with a top score of 50. Undaunted, Stu Dawson and Hector Murray took the new ball. Both kept tight lines and found well-deserved breakthroughs, and after 10 overs South had advanced to 36/2 – a position which the Fives would certainly have taken if offered. Skipper Keith turned to a Fives-tradition parent/child combo, Rahul and Aadi Khadse taking on the attack. Aadi has filled the key "kid that adults think it will be easy to hit, but actually he's far too good for you" role for the Fives with considerable aplomb during the season, and he continued in that vein here with three middle-order wickets in quick succession, keeping it full and straight and trusting in the wicked dip on his stock ball to breach unsuspecting defences. Rahul bowled no less impressively, but the dangerous looking S Rupani was well set and starting to find the boundary with ominous regularity. Kieran Glass and your correspondent were summoned into the attack – Kieran bowled a lovely set of five overs, undeservedly for no reward, but conceded only 14. Rupani was eventually undone for 46 by a horrendous daisy cutter which pitched on a good length and shot straight along the floor to remove his middle stump; a delivery worthy of the Meadows and one which he could do nothing about. At 107/7 the innings was finely poised; unhappily for the Fives the South tail was in wagging mood. Ollie Stones found a little bounce but no appreciable turn, and it took a run out, completed by more good work from James Stronach with the gloves, and the two-pronged Khadse attack to close out the innings with a final wicket each – but South had advanced to 179 a.o. in a flurry of late hitting.
In response, skipper Keith and James started with purpose – Keith in particular looked to continue his fine form based on aggressive intent and crunched several fours. However, he was snared in the deep for 16 thanks to a superb running catch from R Hunt – a difficult chance, very well taken. When James was bowled by another treacherous skidder and Martin R could only find mid-on with a drive the Fives were in early trouble; could the family Stones mount a sly rescue? They certainly gave it a good go; Ollie advanced quickly to 14 before skewing a drive to cover, while Paul was the third batter of the day to lose his off stump to indifferent bounce. Hector fared no better, a seriously good delivery coming back to nick his off bail third ball, while Stu and Aadi were both bowled by Jas, keeping it full and straight. Rahul and your correspondent were unable to find any answer to the left-arm-round darts of S Roberts, and the Fives had quickly subsided to 58 a.o. from 25.1.
Not a vintage batting display from the Fives, but credit where it is due – this is a really good South side, boasting depth and variety with bat and ball, and very well-marshalled by their impressive captain. The door was perhaps just ajar for the Fives before the South tail pushed them on to a good score, and with only a couple of double-digit contributions the chase was always going to fall short. Still, as ever when we have the pleasure of playing our friends at South this was a fine game played in superb spirit – and hopefully another step towards promotion for them, perhaps so the Fives can avoid another two defeats next year!
Euan Murray