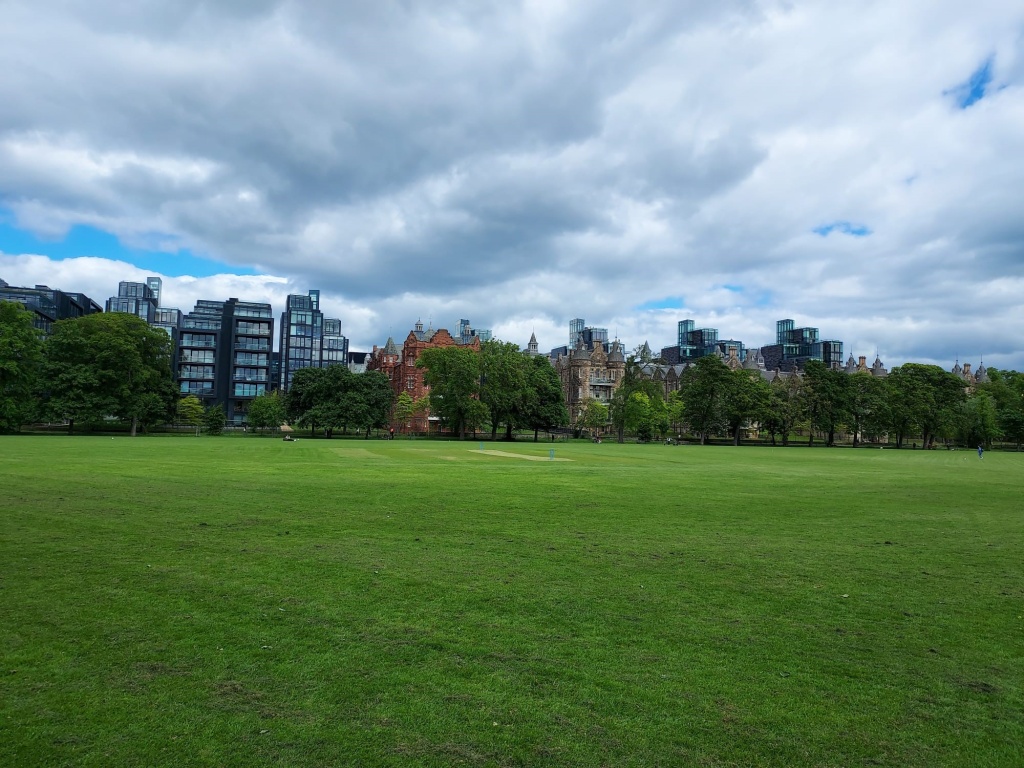 With the tantalising prospect of some lovely early summer weather and a game at the other Home of Cricket – adored by batters everywhere – the Famous Fives gathered for a home game vs Edinburgh South 3 at the Meadows. Skipper Keith, noted for his particular enjoyment of matches in the leafy (not to mention dandelion-y, doggy, and barbeque-y) surrounds of EH9, cast a sceptical eye over the gently undulating furrows of what, after some discussion, was generally agreed as constituting the pitch. Winning the toss, he hesitated for all of a New York second[1] before electing to field.
Surveying the array of bowling talent available to him, skipper Keith elected for an all-junior-Murray opening salvo; Robbie and Hector sharing the new ball. The youngsters immediately hit their strides and it was obvious that this would be no run-fest – James Stronach called into athletic action with the gloves as the ball alternately shot along at ankle height or reared alarmingly past uncertain defensive prods. Robbie struck gold – or, possibly more realistically, a good-length dandelion – first for one clean bowled. Good lines and excellent ground fielding piled enough pressure on South to cause a run out (note to other Div 7 teams – it might look like there should be, but there is *not* a single to Hamish Foley at cover) before Hector was rewarded with the last delivery of his spell, his slower ball clattering into middle stump. 10 down and South 24/3… not the most promising of starts… and worse was to come for South with skipper Keith's calculated deployment of Hamish F and "deadly" Gus Turner, whose brand of accurate, arrowed-in, cutter variations looked tailor-made for the conditions. Hamish proved extremely difficult to get away, bowling with lovely control and conceding only 9 from his five overs, and with the pressure so well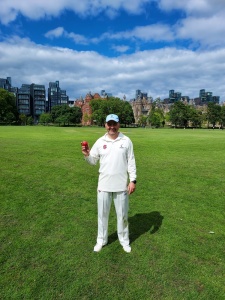 maintained from his end Gus was free to make hay with the unfortunate South middle order, rattling the timbers time after time. At drinks, South could only limp to 39/6. Rahul Khadse's mystery spin proved no more palatable and, bowling in tandem with your correspondent, another 10 overs went by for the addition of only 13, South losing another wicket to a ball which jagged back from well outside off and kept very low to flatten middle. The younger Turner joined his father in the attack but the other junior Hamish couldn't find any joy; a happy household however as his dad racked up a second consecutive, and very impressive, five-fer featuring four clean-bowled. Robbie was recalled to polish things off with his second wicket of the day, leaving South 75a.o. from 36.
Taking stock at tea, the Fives felt confident in chasing a small total… but with plenty of evidence of the legion of demons in the pitch it was clearly going to be a challenge. 75 might well prove to be above par on this deck. On the plus side, a jazz festival had started in the Meadows pavilion and several dozen spectators were lounging around the boundary in the sunshine – irregular, but very welcome, additions to a Division 7 outing.
Skipper Keith and James strode out to face the music; a good start, in the circumstances, with some singles on offer and Keith smashing a very rare poor ball to the (regular readers will be surprised to hear) long-on boundary. However, a bad mix-up which nearly led to a calamitous run-out had much the same effect when an unsettled-looking James uncharacteristically played across a straight one. Martin Robertson could only middle a trademark late cut directly into the hands of gully – a fine catch – before the skipper was sent on his way when adjudged to have nicked a wickedly-lifting delivery; unfortunate, he might have struck rather more ground than ball. At 13/3, Stu Dawson and Hamish T had a lot of work to do. Stu – perhaps at a disadvantage on this pitch given his height and the number of balls keeping very low indeed – looked to use his feet, but lost his off bail in the process before he could get going. Robbie fared little better, with no chance at all against one which jagged back and scuttled onto middle stump, and Hamish T suffered the exact same fate a few balls later having done well to muster 7. Gus couldn't find any way to defuse the pitch either, caught at the wicket for a couple. 16 overs in and at 29/7 the Fives were hanging on the ropes. 76 looked a very long way off, and the South attack had clearly learned the lessons of the first innings – everything full and straight, waiting for the pitch to do its worst. All was not lost, however, as Hamish F and Hector set about building a partnership. They safely negotiated the period until drinks, and then worked the score along nicely to 48 in the 24th over when Hamish was finally offered some width and looked to hit over the top, but could only find a man in the ring – a hugely creditable knock of 9, in the circumstances, and an innings-high partnership of 19 for the 8th wicket.
In a sign of the desperate straits in which the Fives now found themselves, Hamish's departure brought your correspondent to the crease – with considerable justification this was not necessarily with the ringing sound of the confidence of his team behind him. The second pair of Murrays (mostly via Hector's shot-making and much dogged defence and frantic scrambling from your correspondent) managed to eke the score along to 63 in the 36th over, when Hector was cruelly undone within sight of the line for a maturely compiled 15 – a jaffa which clipped the top of off needed to get the better of him. 13 needed from 4 the equation, and Rahul the last man in. In the face of some excellent death bowling from South the score was nudged to 70 with 7 balls left – the pressure on both sides increasing by the ball. Alas, your correspondent was unable to take it into the last over, bowled off his pads trying to work one round the corner and only able to bag the Fives a painful 5 run defeat.
A hard match to call, this one – arguably a defeat grasped firmly from the jaws of victory, but the old adage of calling a pitch after both sides have had a bat rather suggests that a challenging Meadows surface was the victor. Still, as ever there was plenty to be pleased about in the performances of the juniors, with the ball and in tigerish fielding as we have come to expect, but also in Hamish F and Hector's work in staging a recovery from the depths of 29/7 that was agonisingly close to being enough. Very well bowled once again by Gus, rewarded for his relentless accuracy. And of course this was a richly deserved win for Jaz and his Edinburgh South team – they bowled and fielded magnificently to defend a small total and never gave the impression that they thought it was beyond them – really well played.
Euan Murray
[1] Per Terry Pratchett – this is the shortest unit of time in the known universe, and is defined as the period between the lights turning green and the cab behind you honking.