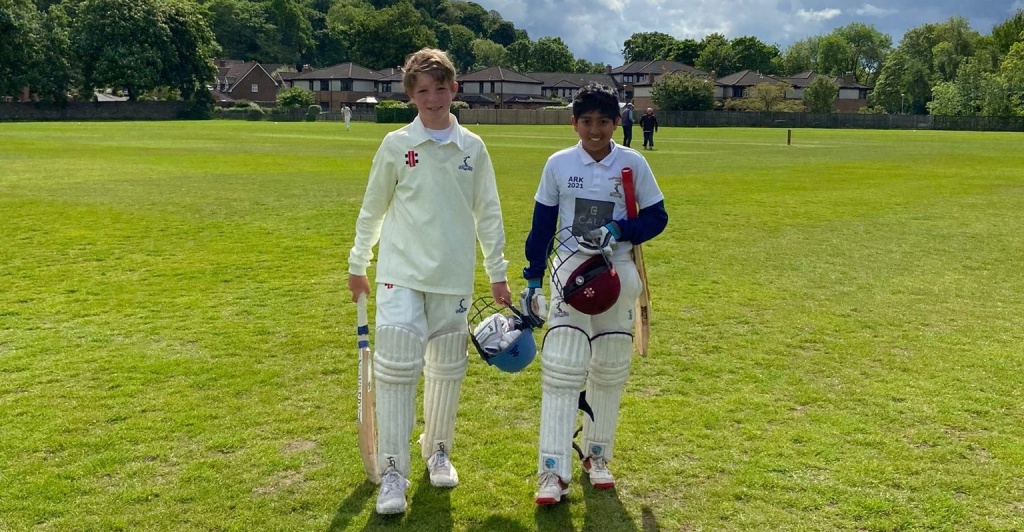 The 5s assembled for their fourth league match of the season at a blustery, but warm, Craiglockhart against local rivals Watsonians 4s. The home side had kindly agreed to move the game to the Sunday to avoid playing at the Meadows. The 5s had a rather more familiar look this week with father/son combos of Keith & Robbie Murray, Angus & Hamish Turner, and Rahul & Aadi Khadse. The other senior was keeper Alan King. The remaining juniors were James Stronach, Freddie Megaw, Hamish Foley and Tom Hathorn. Paul Bailey helped out with the umpiring, which was very much appreciated, and several of the u13s were fresh from their emphatic Cup win earlier that day, so confidence was high.
The skipper lost his first toss of the season and Carlton were asked to bat, also for the first time this season. The pitch looked decent and the outfield was fairly quick. Keith and James opened and made a good start, the skipper hitting a big 6 early on off a chest high full toss, and crunching a couple of powerful fours on the leg side. James defended carefully and then began to accelerate well. The openers reached 49 off 11 overs before Keith missed another full toss and was given out LBW (K. Murray 26). James was joined by Hamish T and began to play really well, striking boundaries and punishing anything wayward from the bowlers. Hamish looked to be positive, but maybe went a bit too early and hit a simple catch to cover (H. Turner 4). James then also mistimed a cut shot and was caught at point, ending a fine innings that could and perhaps should have been even more (J. Stronach 32). This brought Angus and Tom to the wicket, but unfortunately neither lasted long, Tom hitting a short ball to square leg and Gus gloving one in the air to the keeper. (T. Hathorn 0)(A. Turner 5). The early good work from the Carlton openers was in danger of being squandered.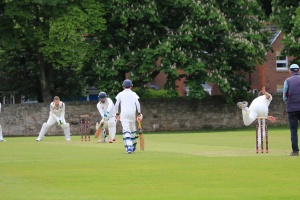 Robbie arrived in the 17th over and was shortly joined by Alan, but the keeper also edged one in the air (A. King 2) leaving Carlton on 83 for 6 and in real trouble. This brought Freddie to the crease and he and Robbie both got their heads down and batted sensibly, defending good balls, leaving well outside of off stump and picking up any singles and extras on offer. However, Freddie got a great ball that moved and flicked the top of off stump and had to go (F. Megaw 1). Hamish F then came out and began a solid partnership with Robbie, who was starting to find some fluency. Hamish hit a cracking hook shot for four, before being unfortunately run out by an unwise call from Robbie. This was a great pity as he had looked in very good touch (H. Foley 8). However, the score had moved on to 117 and a decent recovery was now well under way. Aadi joined Robbie and he too defended solidly and looked to get Robbie on strike, who was now playing his shots, mainly through the off side, but also down the ground. The boys ran well and pushed the score on brilliantly to get Carlton to a decent total of 152 for 8, far more than had ever looked likely after the earlier clatter of wickets. Robbie played a really mature knock to get the team out of trouble (R. Murray 28*) and both Hamish and Aadi supported him very well (A. Khadse 14*).
The players enjoyed an Al fresco tea generously provided by the hosts. The skipper munched on pakora and some of the juniors even ate the oranges that were on offer. When play resumed, Robbie and Hamish F opened the bowling and both bowled excellent spells that kept the dangerous Sinclair in check. Robbie had a couple of excellent LBW shouts narrowly turned down by Paul, but after 10 overs Watsonians had only amassed 32 runs, albeit without the loss of any wickets (R. Murray 5-1-16-0)(H. Foley 5-1-13-0). The skipper then turned to the senior pair of Rahul and Gus. They both produced wickets in their first overs, Rahul getting the key wicket of Sinclair who hit an uppish drive straight to Keith at extra cover, and Gus clean bowling the newly arrived No.3. Gus then claimed the wicket of opener Borthwick plum LBW, before getting two more wickets in the same manner. Excellent reward for bowling stump to stump on a pitch that offered just enough. At drinks, Watsonians were in big trouble at 47 for 5.
The skipper gave the senior bowling pair one more over after tea, and they rewarded him with another wicket each, Rahul producing a fantastic ball to clean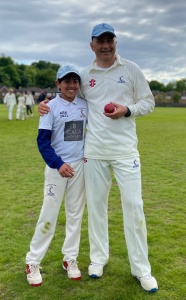 bowl the Watsonians No. 6 (R. Khadse 6-2-11-2) and Gus completing a brilliant fivefor in similar fashion (A. Turner 6-2-4-5). Truly remarkable figures for Gus, who bowled with great accuracy and control, and the second fivefor in the Turner household this season, after Hamish's great performance against Stew Mel. The skipper then brought on Aadi, who immediately picked up a wicket thanks to a brilliant diving catch by Freddie. James bowled a tidy over at the other end (J. Stronach 1-0-3-0) and Aadi took the final two wickets in his next over, Freddie and Keith both picking up straightforward catches (A. Khadse 2-0-3-3). Watsonians were bowled out for 53 in the 25th over.
A very impressive win for the 5s, which looked far from likely when they were 83 for 6. Excellent knocks from James and Robbie held the innings together, and the value of batting the entire 40 overs was once again demonstrated. However, the application of Freddie, Hamish F and Aadi in supporting Robbie when we were in big trouble was also essential to securing a defendable total. All the Carlton bowlers were incredibly accurate, with a remarkable extras total of a mere 6 and just one solitary wide. Without doubt, our best bowling performance of the season to date, spearheaded by Gus and his great performance. The fielding was also excellent, with some great ground fielding to back up the bowlers, Tom, Hamish T and Robbie particularly catching the eye, and four out of four catches taken. All in all, an outstanding win. We asked the Watsonians team who should get the Five Star Award, and they were clear it should go to Robbie for his innings, which they felt took the game away from them, although both Gus for his fivefor and James's top score of 32, were also in contention. Many thanks to Watsonians for hosting us and playing yet another match in such excellent spirit, with numerous acts of sportsmanship from both teams. We look forward to hosting them at Grange Loan later in the season.
Keith Murray