Fives Cant's Crack Clacks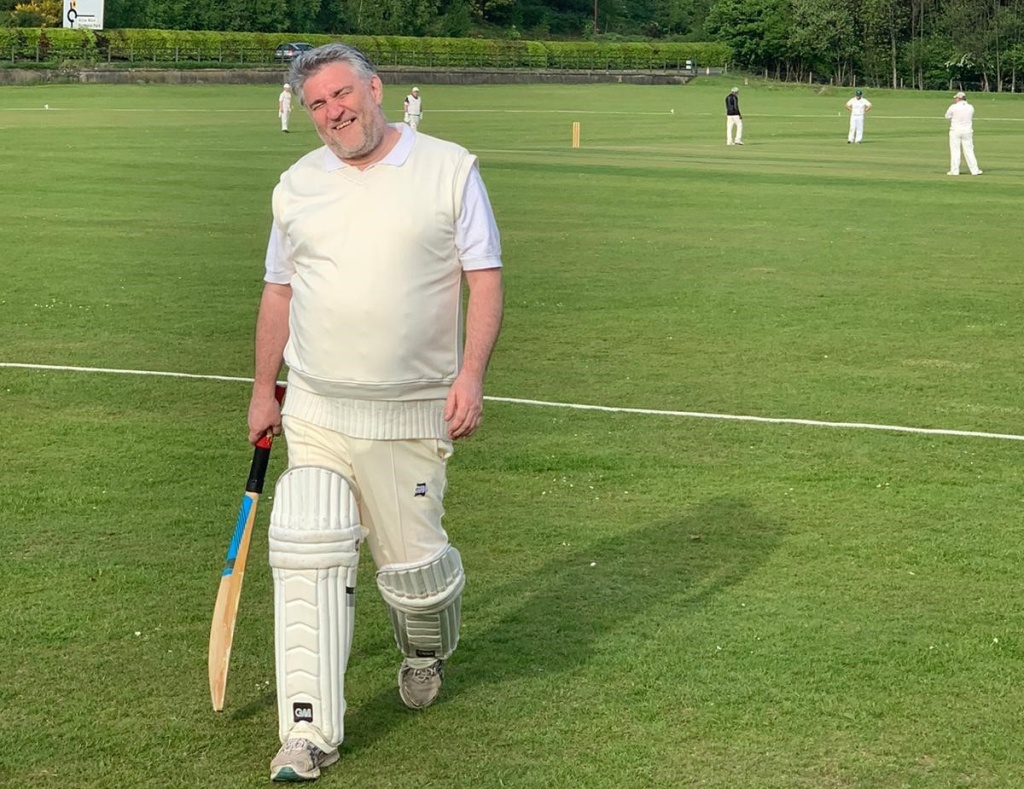 As readers of this sometime column will be aware, it takes quite something to keep Skipper Keith away from a match in his customary position, pads on, at the helm of the Famous Fives. Alas, domestic issues required his presence – and his absence neatly coincided with one of the Club's worst weeks for selection headaches in living memory. Aside from the usual challenges of a match at traditionally strong-at-home Clacks, the Fives would face two others: (i) a team that owed a great deal to willingness and enthusiasm and perhaps slightly less than usual to youth and athleticism; and (ii) slightly trembling, the rookie hands of your very own correspondent upon the reins.
So bad were the Club's selection woes that the Fives were honoured with guest appearances from two of our close friends Edinburgh South's growing contingent – Anura Suriyapperama and Ramona Kallamadi. Our sincere thanks to both of them for agreeing to travel all the way to Alloa to help us fulfil the fixture – a hugely generous commitment from them both, and one which we hope we can reciprocate in the future.
Assembled safely at the beautiful Arns, your correspondent undertook his first duty as skipper and failed, resoundingly, to win the toss. No matter; the Clacks skipper saw runs in the wicket and elected to bat, neatly aligning with your correspondent's desire to have a bowl. Opening up for the Fives were U12 John Gill and undisclosed-multiple-of-12 Stu Dawson. Both went into good work, John bowling with some great wheels and causing problems in the channel, but already the pitch looked benign and the outfield slick. In the absence of the Fives' usual contingent of gun U14 fielders there were definitely scoring opportunities, but Stu enticed an uppish drive which was neatly snaffled by Shuaib Farooq in the covers. Alas, this was to be the high point for the Fives – the arrival of J Smith at the crease to partner G Oliver led to a brilliant partnership of 133. This despite Shuaib bowling a lovely spell of 8-2-19-0 which deserved so much more; Ramona having the courage to give it some air but finding set batters very happy to get down and sweep; and your correspondent failing to find any joy despite a couple of LBW shouts. Finally, the mystery spin of Anura accounted for Smith, snared for an impressive 46. One brought two, Anura's second shout of the over answered in the affirmative. A word here for Brian Gill and Martin Firth who put rather more yards in the outfield than they might necessarily have welcomed, unfortunately resulting in a nasty looking pulled muscle for Martin, and some very tidy keeping from a just-back-from-injury Alan King. Your correspondent had a measure of revenge for being whacked round the park by picking up the hard hitting Bharwadi, another excellent catch from Shuaib. Stu and John bowled well without further reward, and in the last throes of the innings (not to mention with the last throw of the dice) Martin Robertson was unable to prevent Oliver from hitting three figures. A superb 110* for Oliver, and nary a chance given up in 40 overs – just excellent batting and a great understanding of how to hit a gap and run. Chapeau. Clacks racked up 238/4.
To tea – and the pleasure of a superb spread kindly laid on by Clacks, just like the good old days. Official Fives mascot/auxiliary scorebox operator Alexander Murray, in no way at all dragged along to the cricket for the day so his dad could play, declared his first ever cricket tea "amazing, is there always this much cake?". If we can manage it in Div 7, then maybe a few more Championship clubs could have a go? Just a thought.
The Fives knew that 239 would be a serious ask – but with a strong looking middle order and a lovely quick outfield there was definitely a chance to give it a go. Martin R and Paul Stones went out to see what could be done. Paul started with some fluency, playing attractive shots square of the wicket, but Martin was well marshalled by the impressive Bharwadi and in looking to attack at the other end could only glove one tamely to the keeper for a couple. Anura joined Paul and made a watchful start, until Paul was undone for 18 by a truly brilliant catch from the Clacks keeper, somehow flinging himself the wrong way to a healthy inside edge and scooping it millimetres from the turf. Stu brought more impetus and was joined by Shuaib on Anura's departure for a solid 10, well batted and a shame he couldn't go on. Stu and Shuaib brought up the first batting points and moved the score along to 94/4 – the Fives main goal now to hit 150 and take home the maximum bonus. Looking well set, both Stu (27) and Shuaib (22) fell to the canny Fraser. Brian refused to say definitively how long it's been since he batted, but it certainly didn't look that long ago judging by his willingness to get forward and solid defence. Alan's batting relies rather more on all-out attack and he crunched a couple of boundaries in a brisk 10 before a swing and a miss and a hit for the bowler; your correspondent started promisingly (amazingly enough) but fell for 6 to a marginally controversial bump-ball-or-not that based on his observed batting talent was probably just a dollied return catch. Ramona batted with great intent but was under the guns of the returning Bharwadi – only a couple, scant reward for a defiant showing. With Brian also winkled out for 4, John and Martin needed a partnership of 20 odd to get the last couple of batting points. The two put on a great show for the last wicket – especially impressive given Martin's inability to run – and with a combination of deftly placed shots into the gaps and some hefty blows from John the Fives were guided to 152/9 from 40; John with a really well made 12 and Martin an impressively-hobbled 7.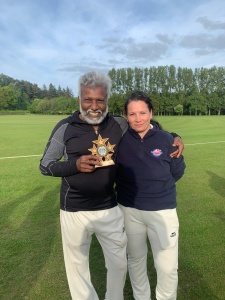 The records will show a comprehensive 86 run defeat; but as ever with the Fives there is a rich tapestry of story underlying the headline figure. Seven bonus points in the losing cause are not to be sniffed at; and a game of cricket in these lovely surrounds and with opposition of the warmth and good humour of Clacks was a pleasure in itself. While the Fives might have been shorn of our regular cast, John did the juniors proud with a display of genuine all-round promise. The Five Star award would, in a more normal week, have been his on the nod – but today, it was given jointly to Anura and Ramona in recognition of our gratitude for turning out and making sure that we could fulfil the fixture.
Euan Murray