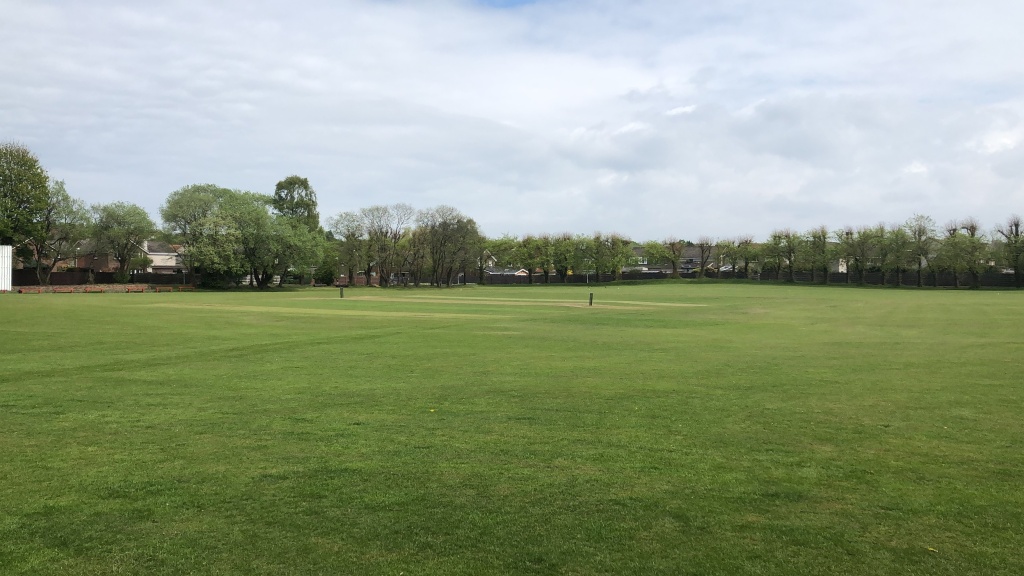 The quote "the definition of insanity is doing the same thing over and over again and expecting a different result" is often attributed to Albert Einstein. There is, however, no actual evidence that the great German physicist ever said it, but that doesn't take away from the underlying truth of the message. Fortunately for the 4s we managed to find new ways of coming up short, so that was a relative positive.
The 4s arrived at Boghall, home to Linlithgow CC to take on their 2nd XI. It was nice to be at a proper cricket ground – covers, sightscreens, an outfield that had been cut within recent memory and changing rooms with showers! There was even a rumour of proper drinks breaks and teas. Skipper Al Murray called correctly and heeding the advice of Director of Cricket and all round cricketing legend Fraser Watts opted to bat first. Nothing to do with opening bowler Andrew Lang's domestic commitments meaning he was currently sampling the delights of Scotrail's weekend service.
Murray & John Beattie headed out to the middle but found scoring difficult in the face of some accurate bowling from the home side. Murray fell in the 7th over and Bruce Smith joined Beattie and the pair almost reached drinks before Beattie played round one for 25. That brought Ben Stronach to the crease who took his time to get in as Smith began to open up. A change of pace did for Stronach and Joe Griffin joined Smith, but he too perished trying to up the pace. Mike Kennedy was the next man in and he and Smith did get the scoreboard moving but a change of bowling induced a false shot from Smith and he skied one to fall for 44. Kennedy was out caught soon after and Lang looked good until he chased a wide delivery and could only spoon a catch to cover. With wickets running out Joe Ward's unorthodox approach proved quite effective, all that practice in the nets paid of as pulled out the reverse sweep to get the 4s past 130 and a potential extra batting point. In the end we were bowled out for 133 in the 39th over which looked well below par. The top order hadn't been able to impose itself on the bowling and although we had kept wickets in hand, every time we tried to accelerate we lost wickets.
We adjourned to the clubhouse for an excellent tea – extras points for the Scotch Eggs in this correspondent's opinion.
Lang and Smith took the new ball but were unable to find their lengths with any consistency. The strong opening pair for Linlithgow got them off to a flier so skipper Murray turned to youth. Harry Charman replaced Lang and after a slightly loose first over settled into an excellent rhythm. Stronach came on for Smith and got the breakthrough in his second over, Euan Murray with a comfortable catch at extra cover. The scoring rate dried up and eventually the pressure told on the other opener who having faced successive 5 dots from Charman holed out to Lang at cow corner. At drinks the home side were 82 for 2 and well placed but a few quick wickets could turn things around. Joe Ward replaced Stronach as the fourth left arm bowler on show and in his second over a pinpoint throw from Stronach on the deep square boundary saw the home skipper run out going for a second. Charman finished his spell with the excellent figures of 8-4-12-1 and was replaced by Hector Murray. Ward picked up the 4th wicket with a full ball hitting the batsman in front of all three while Murray bowled a good set, inducing a few false shots from the batsmen, but to no avail. In the end the home side got over the line in the 32nd over with 6 wickets in hand.
In order to defend that total we needed to bowl exceptionally well, and we didn't do that despite the best efforts of Harry, Ben & Hector.  Which was a shame as the game was played in excellent spirit, at a proper cricket club and deserved a more competitive conclusion.
Al Murray