5s cut to the chase at Inverleith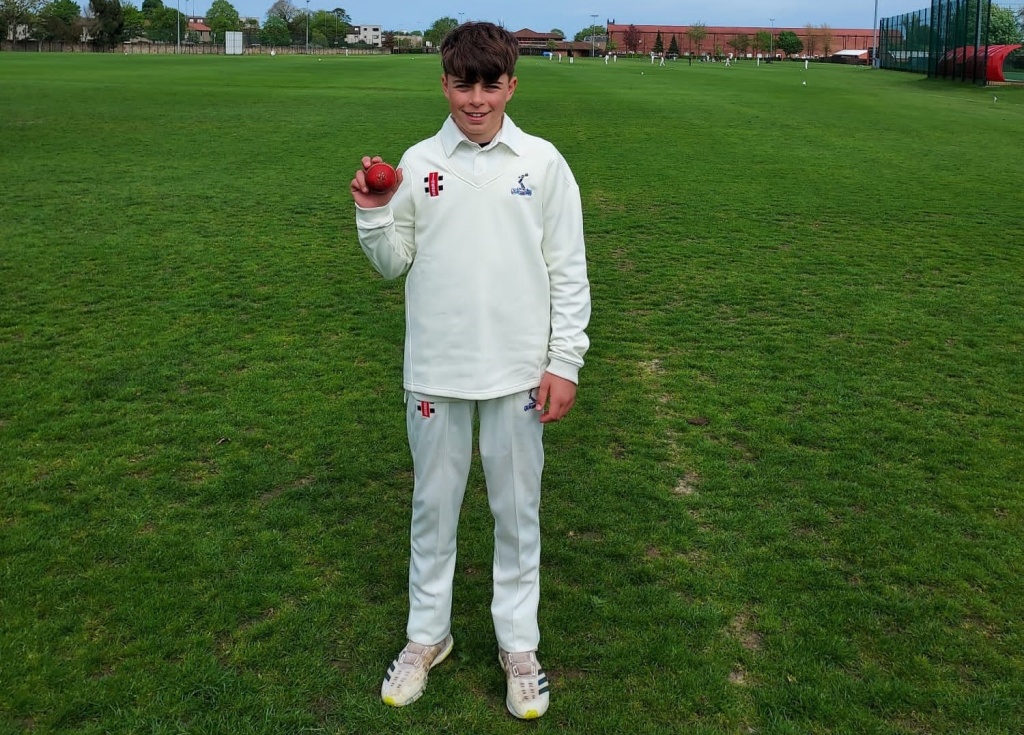 The 5s assembled at a dry, but windy Inverleith for their second league match of the season against old friends Stew Mel. There were a number of changes from the previous week and the team had three father/son combos with Keith & Robbie Murray, Angus & Hamish Turner, and Rahul & Aadi Khadse. Veterans Martin Robertson and Paul Bailey completed the senior quota, Paul having kindly agreed to step in on Friday night, and Tom Hathorn returned again after his solid performance last week. Juniors, Kieran Glass and Harrison Fontenla completed the team, both on league debut.
The toss was negotiated as two of the Stew Mel team were running late due to unforeseen transport issues, and the skipper was very happy to agree to bowl first. He opted for the 13 year old pairing of Robbie and Hamish to open the bowling, as they had done last week. Hamish immediately had success, bowling the useful opener Robertson in his first over with a beautiful ball that moved and clipped the top of off stump. He then repeated the feat in his second over and Stew Mel were quickly under pressure. Robbie then got in on the act and clean bowled the home No. 4, and Hamish picked up another wicket when Martin took a fantastic catch low down at mid off from a powerful drive. Things got even better for the 5s when Hamish got his fourth wicket in his fifth over, Robbie taking a spectacular tumbling catch at point. A dream start for the visitors and after 10 overs, Stew Mel were 39 for 5 and in all sorts of trouble.
However, the Stew Mel No. 3 Grace has been in good form and he had played very well so far, despite the carnage going on at the other end. Robbie and Hamish having completed the maximum overs allowed for their age in one spell, the skipper then turned to Angus and Rahul to keep the pressure up. They both bowled accurately and Gus was unlucky not to get the dangerous Grace when Hamish put down a difficult chance at midwicket (A. Turner 5-0-20-0). This was the first blemish on an otherwise outstanding fielding performance so far. However, Rahul induced a skier from the home No. 7 and Martin gratefully took the catch (R. Khadse 5-0-15-1). At drinks, Stew Mel were 74 for 6 and Carlton were looking to get them out cheaply.
Tom swapped the keeping gloves with Rahul, after a very tidy 20 overs behind the stumps and the skipper turned to the debutants, Kieran and Harrison to see if they could get the breakthrough. However, a strong partnership developed between Grace and No. 8 bat Anderson for the 7th wicket that frustrated Carlton despite the best efforts of the bowlers (K. Glass 3-0-26-0)(H. Fontenla 3-0-29-0). The bumpy outfield made life difficult for the fielders and the Stew Mel total began to grow alarmingly. After 27 overs they were 139 for 6.
The skipper then decided that it was time for Hamish to return and this proved a good choice, as he produced another wonderful delivery to bowl Grace for an excellent 86 that had swung the match back in Stew Mel's favour. This completed Hamish's thoroughly deserved fivefor and he finished with superb figures (H. Turner 8-1-14-5). He was ably supported by Aadi, who had the obdurate Anderson dismissed LBW, and who also picked up a second wicket, a straight forward catch at square leg to Robbie (A. Khadse 4-0-18-2). This left the final pairing of latecomers Chisty and Higgins, who stubbornly pressed on. Tom bowled one over (T. Hathorn 1-0-7-0) and after being hit for a couple of thumping boundaries by Chisty, Robbie decided enough was enough and bowled him to end the innings in the 36th over (R. Murray 7-1-37-2).
Stew Mel had managed to amass 173, a lot more than looked likely when the early wickets were tumbling. The Carlton fielding had been excellent to begin with, but had got a little untidy as the innings progressed, although both Tom and Rahul kept well throughout. Aadi looked quite at home fielding in the covers and Harrison gamely rode the boundary at fine leg, but the best bit of ground fielding was undoubtedly Paul's one handed stop of a powerful pull shot at square leg that had looked destined for the boundary for sure. The bowling was much improved on last week, with only 13 wides, and was spearheaded by Hamish, who bowled quite beautifully.
After tea, stalwarts Keith and Martin marched out to start the chase. The Stew Mel openers were initially very accurate and it took the batters a while to adjust to the pitch. However, Keith started to get going and plundered 17 off one wayward over to push the score on. He and Martin completed a 53 run opening partnership, before Martin was well caught at short extra off the awkward bowling of Chisty in the 16th over (M. Robertson 12). Keith was joined by Hamish, promoted up the order after his exploits last week. He started carefully and sensibly played himself in. Both batsmen were particularly watchful of the tricky leg spin of Chisty. At drinks Carlton were 63 for 1. A decent start, but a lot of work still to do.
After drinks, Keith decided to up the pace and hit a number of powerful shots down the ground and through midwicket for boundaries. He got to his 50 in the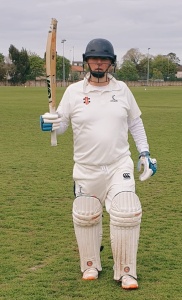 27th over, whilst hitting Robertson for three consecutive fours. Hamish rode his luck somewhat and was fortunate to be dropped on several occasions. Keith accelerated further and Hamish did well to take singles to get the skipper on strike. Stew Mel responded by bringing the field in to Hamish, who in turn responded by taking the opportunity to hit boundaries himself. The scoreboard now began to really motor with both batsmen in good touch and Stew Mel unable to stem the runs. The required rate was dropping all the time and even when Keith nicked off chasing a wide one in the 36th over for a career best score of 88 (K. Murray 88), the victory was in sight. Gus joined Hamish in the middle and was able to watch his son hit the winning runs in the 37th over, with a glorious straight drive down the ground for 4, to complete an excellent chase (H. Turner 36*) (A. Turner 4*).
The 5s were delighted to get their first win of the season. Hamish's fivefor and Keith and Hamish's partnership of 114 were decisive, but every member of the team contributed to the victory. The match, as ever with Stew Mel, was played in fantastic spirit. The teams know each other very well, having played so many league and friendly matches, and it is always a great pleasure play them. We eagerly look forward to our next encounter.
Keith Murray