Carlton's special relationship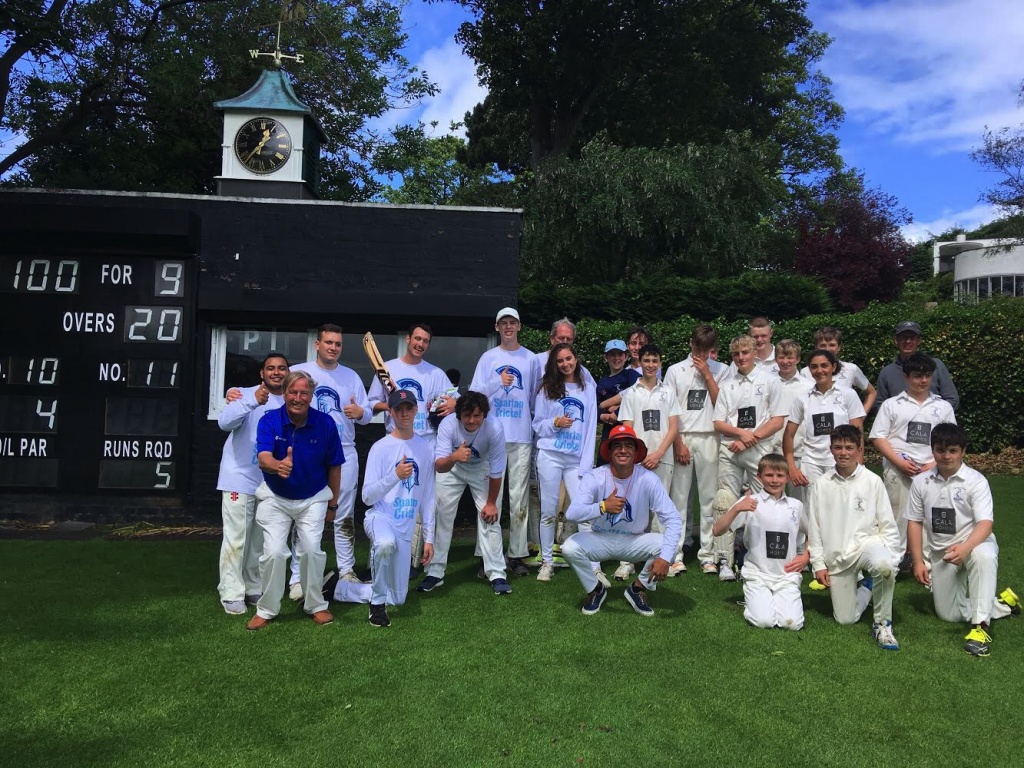 Carlton Alligators 104-6 (Thomas Robertson 22no) bt St Johns Spartans 100-9 (Mark McKay 3-15, Gaby Taylor 3-16)
Churchill is sometimes mis-credited with describing the UK and USA as two nations divided by a common language (Wikipedia thinks it may actually have been George Bernard Shaw), and nowhere is that more marked than in our sports.  In winter, we play a game with an oval ball that looks nothing like the oval-ball game the Americans call football, which in turn looks nothing like … football; in summer we play a game with a small, hard, round ball and bats which looks nothing like baseball.  Even the one game we do both play is known by different names on each side of the Atlantic.  So it was with some surprise that we received a request to host a junior cricket team, the St Johns Spartans from Florida, one Sunday late in June.  Carlton cricketers are nothing if not adventurous (although our adventures seldom take us further than Aberdeen), and having checked that Grange Loan was booked for a Scottish Cup reserve day that Sunday (and when do we ever need a reserve day in Scotland?), we said yes, and set about recruiting a junior XI to play these mysterious visitors.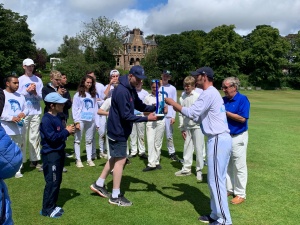 And so it was that a star-studded Carlton junior team (immediately dubbed the Alligators in honour of some Florida fauna better known than cricketers) assembled at Grange Loan on a delightfully sunny and warm (to us, at least) Sunday morning.  Grange Loan was a picture: the grass greened up nicely by the overnight rain; Arthur's Seat looming ominously in the distance (1); ancient trees looking languidly down; and the almost-as-ancient houses of Dick Place gazing imperturbably on at proceedings below.  More transatlantic differences became apparent: our visitors marched in as one, introducing themselves enthusiastically to one and all, and immediately became best mates with our onlookers.  Our players meanwhile loped in with that studied careless teenage stroll which apparently denies the fact that all of them would rather play cricket than almost anything else.  Some kit was rustled, warm-ups enjoyed or endured (another transatlantic difference, it appears), and Captain Ivan negotiated an order of play in lieu of a toss.  More differences surfaced: just as it seemed likely that cricket would magically happen, both teams were ushered back into the clubhouse, marched out together for ritual handshakes and photographs.  This morning was already turning out better than I'd imagined, and no-one had bowled a ball yet.
The Spartans took their place on the field, and Thomas & Gaby strode out to open the Alligators' innings.  A combination of the Spartans' fielding, the damp outfield and long boundaries made runs hard to come by.  The Spartans rotated four bowlers through the innings: medium-paced and accurate, which meant the Alligators had no pace to take advantage of.  Our batters had to work for their runs, leading to the unusual appearance of two 3s in Thomas' ledger.  Thomas and Gaby sailed on smoothly for 3 overs, until Gaby lofted a catch, well-taken at mid-on.  The levels of noise and encouragement on the pitch, which had already been higher than we usually encounter, rose another notch.  This was a team that was thoroughly enjoying itself, and sharing in each others' successes.  Kyle replaced Gaby and settled into his well-established rhythm of careful blocks and cannily-stolen singles.  Thomas continued to hit the ball cleanly, and retired for a fine 22 after 20 balls.  Jack T came and went, clean bowled by an absolutely delighted Spartan.  Freddie joined Kyle, who retired and was replaced by Dougie.  Freddie & Dougie accumulated calmly and looked in complete control, until Freddie lofted a catch, which ushered in a flurry of wickets (and further Spartan delight) in the final overs.  Dougie was run out attempting to beat a baseball throw from the boundary; Zaara looked comfortably set until she unaccountably missed a straight one; Mark clattered a quick-fire 6 at better than a run-a-ball; and Ivan scrambled a run-a-ball single.  Jack C meanwhile had watched all this coming and going in some bemusement from the other end, carefully preserving his wicket while all around him were losing theirs.  The Alligators closed on 104-6.
So, we asked at the interval, how come a school in Jacksonville Florida comes to be playing the national summer sport of Britain?  Their coach/history teacher, Josh, spent a year in Britain, fell in love with our favourite summer sport, and decided to introduce it back at his school when he returned home.  That's probably the least surprising aspect of the tale: he has subsequently enthused a group of youngsters into taking up cricket, presumably as well as baseball, then found enough of them willing to take a tour to the UK to try it out.  Their problem is … there are not many other school cricket teams in Jacksonville, hence the trip the the UK.  Two days ago, they played Worsley CC in Manchester, then visited Headingley to watch Pakistan v Afghanistan, and now find themselves in Edinburgh playing … us!
The Alligators took to the field, and the Spartans padded up, and the opening pair marched in to bat to a chorus of cheers and encouragement from their team-mates.  The cheers grew even louder when they scored four byes off Billy's first over.  Mark took over from the Lover's Loan end – and bowled the Spartans' number 2.  To our astonishment, the cheers grew even louder as he was ushered back to the sidelines by his team-mates applauding his efforts.  The Spartans are turning out to be a unique and seriously likeable team.  Number 3 settled in, and Thomas & Dougie bowled uneventful and parsimonious overs.  Gaby took over, and the Spartans' number 1 scored a 3, greeted by tumultuous applause, which redoubled when number 3 hit a 4!  Gaby retaliated by bowling number 1, but a pattern was set: hard hitting by number 3, doughty support from his team-mates on the pitch, vociferous support from his team-mates off it.  The pattern continued: Billy, Freddie & Ivan all bowled maidens; wickets fell occasionally; but number 3 carried on accumulating chancelessly, more-or-less keeping up with the run rate, all the while being cheered on by his team.  Even the weather joined in; squally showers drifted across the ground, only to be replaced almost immediately by sun.  Floridan supporters were heard to commend our wind (we don't get cooling breezes like this) and our rain (we don't get gentle rain like this).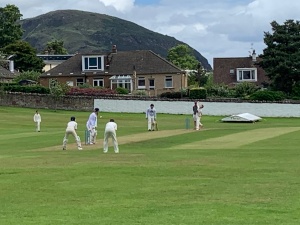 Suddenly, the match changed (I wonder how often I've written that in match reports).  Half way into the 19th over, with only 11 runs required for victory, Mark finally bowled number 3.  After an hour & 10 minutes at the crease and 54 balls faced, number 3 was finally defeated, and left the pitch with 45 runs (including 6 4s) to his name, a consoling hug from Billy, and raucous applause from team-mates and opposing supporters alike.  45 runs at any level is a good return, but to post that in only your second ever match, against a bunch of cricketers who've been playing since they were 7 years old, is a magnificent achievement.
This match-turning event ushered in the final, chaotic, over: 10 runs needed to win.  Gaby bowled number 8 off the first ball; number 7 was run out off the next.  A dot ball allowed us to draw breath.  A single (9 to win off 2), then a terrible running mix-up and associated run out.  Off the last ball, history teacher, coach and number 10 Josh hit 4 runs to bring up the Spartans' 100 to monumental applause all round.
The teams repaired to the clubhouse for presentations, photographs and a "traditional" Scottish mid-morning snack: Tunnocks Teacakes, Irn Bru, Tablet, Caramel Wafers, and probably more.  The chat was lively – when would the return fixture be?  Before long, both teams had repaired to the outfield for a hastily-invented but unrecognisable oval-ball game, which resulted in a healthy transfer of Grange Loan mud and grass stains to hitherto white trousers.  Just like cricket, really.
Many many thanks to our visitors for a truly unique and hugely enjoyable game of cricket.  Thank you too to our supporters, who briefly practised loudly supporting the team, only to decide that perhaps that was a bit un-British.  Thank you too to Colin and Alasdair for a grass pitch; and to David for umpiring (and not looking too bemused).
There are lies, damned lies, and statistics (definitely not Churchill).  With that caveat in mind, here is a hastily-made-up statistic: Carlton juniors now have a 100% record against opposition from Florida.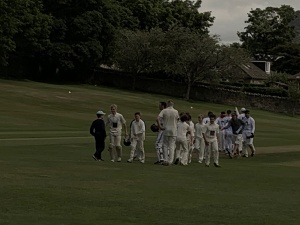 (1) Fun fact: Arthur's Seat is well over twice as high as the highest point in Florida.