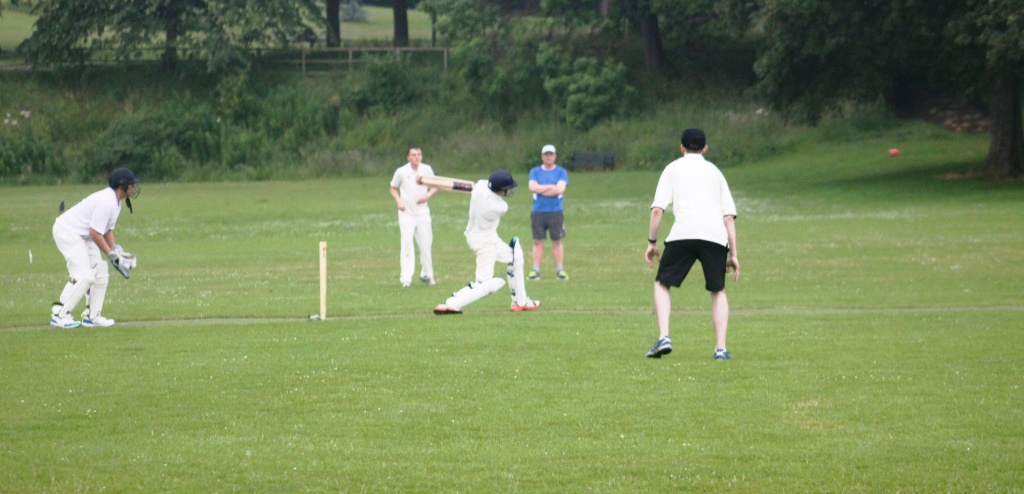 The verdant surrounds of Inch Park provided the backdrop the Famous Fives' latest outing in the heady heights of ESCA Division 7.  Who needs grass to play cricket when daggy old astroturf surrounded by a lush field of daisies can do the job equally as well?  In the absence of Keith (on holiday, the only real surprise that he hadn't arranged to fly back for the day to take the reins) stand-in stand-in skipper John Beattie would be directing the multi-faceted talents of the Fives to one goal: another step towards a record-equalling fifth league victory of the year.  And this would be a good game to win – solid opposition in the form of Edinburgh South 2s, and even by the Fives' standards a lineup long on cricketers from the more youthful end of the experience spectrum.
John's first act, of course, was to engage the opposition skipper in that most elegantly refined of gladiatorial contests: the toss.  It might look a simple action with a (broadly) 50/50 outcome, but veteran skippers know that psychology, physicality and mentality must perfectly align for victory to be secured.  John cunningly invoked at least two of the three by engaging in some constructive negotiation – resulting in a rare (and philosophically complex) outcome of both captains simultaneously winning the toss: Edinburgh South electing to have a bat; while the Fives decided to take the field.
In Keith's absence, fancy new-fangled tactics of opening with spin were discarded in favour of more traditional seam-up opening salvos from Rory Ledingham and your correspondent – a good call from the skipper given the humidity, warmth and leaden skies. The early exchanges offered up some very good cricket – two highly capable batsmen at the crease and tight, testing spells from the bowlers.  After 10 overs, the score was 35/0; honours marginally with the Fives but Edinburgh South happy that a couple of half chances hadn't led to a wicket.  Needing a breakthrough, who could skipper John turn to if not the Maxinator himself?  But it was Rory who got there first, beating the bat a couple of times in a row before skilfully sliding one the other way to remove middle stump (R Ledingham 7-0-26-1).  Max sent down a couple of testing overs and was withdrawn for later, leaving Nahum Appleton and Ivan Dawson to take up the attack.  Nahum found success almost immediately, disciplined line and length inducing a feather behind for Mike "Boom Boom" Kennedy to hoover up.  All eyes turned to young Ivan at the other end.  Not having enjoyed the best of outings last match, Ivan clearly felt he had something to prove – and how well he did it here, immediately finding the consistently fuller length which has sometimes eluded him and causing no end of trouble for the batsmen.  A fine maiden to start, immediately followed by a virtually unplayable wicket maiden next up – quick and straight; a deliberate bumper to induce doubt; the batsman helpless against the follow-up full one; furniture liberally distributed amongst the daisies.
At absolutely-not-drinks, a necessity in the sticky heat, Edinburgh South had amassed 60/3, with set opener D Dey looking good value.  Ivan and Nahum completed their successful spells (N Appleton 7-0-25-1) and made way for Dougie Firth and Jack Taylor, the colourfully-booted Taylor twin given some more time with the ball this week.  The youngsters had a difficult task with Dey playing very nicely and joined at the crease by a left-hander – all of the line adjustment and field re-positioning hard work in the muggy conditions.  Jack and Dougie stuck at it and eventually were rewarded for a good bowling partnership, the wicket taken by Dougie but just as much a result of pressure applied by Jack at the other end (D Firth 5-0-26-1; J Taylor 4-0-20-0).  Still facing the problem of an opener now well into the sixties, John summoned the golden arm of Max from his station patrolling in the covers and was rewarded with yet another crucial wicket; Dey pinned in front by a quicker one and sent back LBW for a fine 66 (M D'Ulisse 4-0-18-1).  Over to Ivan and your correspondent to close things out – Ivan finishing with a beautifully bowled 6-2-8-1, your correspondent winkling out a wicket (E Murray 7-2-14-1) and a comedy run-out completing proceedings.  Edinburgh South 146/7 from their 40.
A leisurely tea was taken al fresco (or as the skipper's finest "French" would have it – dejeuner a l'air) just as the first drops of rain began to fall from increasingly ominous clouds.  Undeterred, John and Max (relishing a batting all-rounder role in the day's formation) strode to the middle to begin the Fives' reply.  Not for the first time this season the opening partnership was a solid one, 30 on the board in the first 9 overs and the South skipper obliged to shuffle his pack.  The introduction of infernal left-arm-around slidey-skiddy-spin from J Blood (sometime father of Carlton's very own D Blood) was enough to do for both openers – John most unfortunate to take one that was going miles down leg on his back pad and deflect it onto the stumps (J Beattie 17) and Max trapped in front by one which skidded straight on and kept low (even on Max) (M D'Ulisse 14).  Martin Robertson was joined at the crease by Gaby Taylor, but Gaby was immediately sent on his way when bowled round his legs by another evil leftie (G Taylor 0).  Shouldn't be allowed.  There was, however, something of a buzz from the stands as next up for the Fives was Mike – the prospect of a Robertson/Kennedy partnership enough to shake fans of attractive attacking shots (and/or massive swipes to cow corner) from their torpor.  Neither were to be disappointed as the run rate was given a heave almost as mighty as some of Mike's swings.  It didn't last too long, with Mike aiming a big hit at a good one that came back at him and removed off stump (M Kennedy 18), but the score had taken a leap forward to 103/4 from 20 – and with the clouds darker by the moment the rapid scoring might be the difference if rain were to stop play.  Nahum joined Martin, still purring away effortlessly. Alas, the pesky left-arm over angle also did for Nahum and with five down things were looking a little less secure (N Appleton 1).  Ivan went out to join Martin but could only add a few singles before being the fifth wicket to fall bowled (I Dawson 3).  Rory headed to the middle with 38 still needed – surely not an issue with Martin still at the crease?  And with that thought, Martin was also clean bowled (M Robertson 36), Jack walking out to replace him.
With equation 38 needed from 16 and three wickets in hand, the heavens opened and shelter was sought in the delightful confines of the Inch Park pavilion/shipping container.  A huddled consultation of the ESCA rain calculator round John's phone concluded that the Fives were 12 runs ahead of the rate and would win with a cancellation.  As the rain eased a little, the South skipper was understandably keen to get back out, knowing that a win could only be secured by bowling the Fives out (not realising of course that in the shape of Dougie and your correspondent at 10 and 11 the Fives still boasted a batsman eminently capable of scoring plenty to win a tight game, plus your correspondent) – a pitch inspection concluded that the astro had absorbed the worst and there was no reason not to play on.  Jack and Rory knuckled back down to their task and were keen to get on with it – Jack smiting a huge six over long-on and Rory also finding the rope with deft touch behind square.  The two youngsters serenely mustered a lovely unbroken partnership of 38 to see the Fives over the line (R Ledingham 14*; J Taylor 15*).  Carlton Fives win by three wickets.
A great win for the Fives, especially so with only four responsible-ish adults in the ranks. Fantastic showings from all of the younger contingent, as we've come to expect this year. Particular plaudits for Jack and Rory's unbeaten 38 to take the Fives over the line (so much more satisfying than winning on a rain calculation); Max's all-round contribution; two spells of consistent, threatening, high-quality fast bowling from Ivan; and generally for the whole team keeping up the hard work and energy levels in the field in hot and humid conditions.  Edinburgh South 2s were fantastic opponents who were appreciative of the efforts of our youngsters throughout and offered a competitive, fun and exciting game to play in.  And a big thank-you too to Martin Firth who scored immaculately sans table (and frequently from under an umbrella) and Paul Bailey who umpired, similarly immaculately but without the benefit of an umbrella, throughout.
Euan Murray