Carlton Octopods at the Merchiston 8s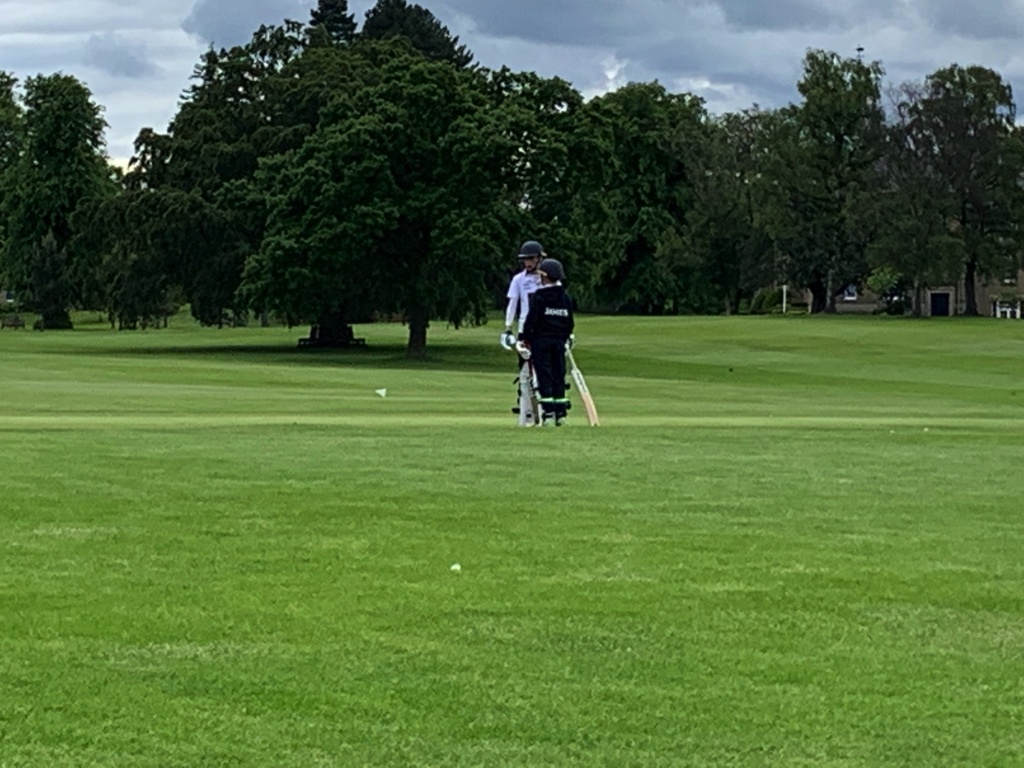 Sunday 16 June: off to the bucolic uplands of Merchiston Castle School for their inaugural MCS 8s festival.  Just when rule books and scorers are creaking under the variety of different game formats in use across the myriad junior competitions in Scotland, along comes another.  The key defining characteristics of this one are:
– teams of 8 (hence the name)
– batters bat in pairs for 3 overs, losing 5 runs for every wicket
– bowlers all bowl 1 over, and may bowl 2
– a wicketkeeper is nominated and cannot change
– wides and no-balls count 2 runs, and are not re-bowled.
Merchiston had invited three teams to join them: Carlton, Belhaven Hill and Cargilfield, which presented us with an unusual opportunity to play some new opponents.  And so the hastily-named Carlton Octopods geared up for a Sunday of cricket.
Dougie: The overall Merchiston tournament was great fun, each game packed with entertainment, big shots, important wickets and a tense atmosphere coming down to the wire every time. The food, the ground and the social aspect topped it off when two teams come together at the end of a match to celebrate the victorious team.
Jack: ''It was a great experience to play in such lovely grounds and the home team, Merchiston, were very welcoming
First up was a vocal Belhaven Hill side, played on Merchiston's under-14 square, which is characterised by shortish boundaries and a sharp drop down to third man (or fine leg for Gaby).  Early in their first over, it became clear that Belhaven Hill had played here before: their opening batters were quite skilled at exploiting the slope. Rudy's first over, I'm pretty sure for the first time while I've been writing match reports, required more than one hand to count the runs scored.  Matthew pegged the batters back by bowling the harder-hitting of the two, but they cut loose in their third over to score a fine 24. The second pair were not as strong: Dougie restricted them to a handful of singles; Max clean bowled number 3; and Kyle held them in check in the all-important third over to restrict them to 14.  The third pair set off strongly, once again finding that pesky slope at third man, but Rudy returned to form (I didn't even need my thumb), and Matthew repeated his wicket-taking from his earlier over to hold them to 15. The final pair started carefully, but collapsed spectacularly in Dougie's (11th) over – one batter being smartly run out by Kyle, the other caught by Rory.  They recovered to hit out in the final over and reach 17 runs. Belhaven had scored 95-5, or net 70, in 12 overs.
Could we better that?  We had no idea! This format was entirely new to us: we know we can score at around 6 an over, but can we do so without losing too many wickets?
Matthew and Rudy set off carefully, scoring only 3 runs in the first over.  They soon got the measure of the pitch though, and scored more freely thereafter to finish on 17.  So far, so good. Dougie and Rory carried on in this vein, scoring 22 without losing their wicket. So far, so even better.  Jack and Max set off as if determined to outshine their predecessors. 9 runs came off their first over, 13 off their second, including a towering 6 from Jack.  Another 6 followed in their third over when their luck took a turn for the worse. First Jack was bowled trying to repeat the 6, then Max was stumped trying to recover the lost runs.  Still, they'd scored 18 runs, we were on 67-2 (net 57), 13 runs required off the last three overs. Ben and Kyle couldn't quite keep the scoring rate up, and lost a couple of late wickets in the search for the winning runs.  The Octopods had scored 85-5, net 60.
Lunch was served – great pots of noodles and aromatic soup, followed by cake!
Jack: The lunchtime noodles were a brilliant idea.
Rory: Once again Merchiston prevailed in providing the best lunch that the team has had in a very long time. 
Rudy: The carrot cake was nice and tasty.
Fortified, we moved on to our second game, against Merchiston, this time playing on the first XI square, a slightly larger and flatter pitch.  Despite my earlier claim of new opponents, this team looked strangely familiar – as did many of the spectators. A quick audit of our opponents revealed 4 current and 1 ex team-mate from Carlton – Edinburgh cricket is indeed a small world.  The Octopods' by-now-established opening pair of Rudy and Matthew strode out to bat. Disaster! Rudy was smartly run out off the first ball. That was quite a test, but they didn't panic, and rebuilt steadily thereafter to score a net 19 runs, including a rare sighting, possibly for only the second time this season, of the lesser spotted junior 3.  Max and Ben followed and batted sensibly; Merchiston's bowling was straight, and their fielding was sharp, but they preserved their wickets to add 18 runs. James & Rory followed, and accumulated another 20 runs. Dougie and Gaby followed, and unfortunately Dougie repeated Rudy's trick of being bowled by his first ball. Despite that setback, they added another 10 runs, to leave the Octopods on 77-2, net 67.
Could we defend that?  We still didn't really know.  Judging by the previous game, it was around par, the key would be how many Merchiston wickets we could take.
The strangely-familiar pair of Fergus and Nicholas walked out to open the batting.  Once again, Rudy opened with a fiery and parsimonious over, but Matthew and Dougie couldn't keep the pressure up, and the first pair ended with 23 runs.  We needed wickets. The strangely-familiar pair of Harry & Ruairidh strode out to continue Merchiston's innings, and were particularly brutal on the Octopods' bowlers.  50 runs. We really needed wickets now.  Ben & Gaby duly obliged by bowling the new (unfamiliar) Merchiston batters with the first ball of their respective overs, and Matthew added a run out, leaving the match interestingly poised: Merchiston on 71-3, net 56, 11 to win.  The half-strangely-familiar final Merchiston pair (Isaac & ANO) were more than up to that task, and batted relatively untroubled to a final total of 94-3, net 79.
Gaby: Out of the three games, I enjoyed the one against Merchiston the most. We played our best in this game and there was some good play from both teams. Isaac and Fergus bowled well for Merchiston and on the Carlton side I remember Matthew batted well and Max did some great fielding.' 
Max: We bowled very well against Merchiston, very tight lines leading to few runs being scored and lots being scored off byes.
Our final game was against Cargilfield, back on the off-glance-friendly under-14 square.  In adding their players' names into my scoring app, I realised just how small Edinburgh cricket's world really is: half their players were already there, courtesy of playing for Grange or Stew Mel.
Cargilfield's opening pair set off at a rapid rate, scoring 20 runs off their 3 overs.  Their second pair raced along even faster, reaching 28 before James bowled one of them off their very last ball.  Their third and fourth pairs carried on similarly, interrupted only by Rory taking a smart catch off Gaby's bowling.  Cargilfield ended on a challenging 95-2, net 85.
Our chase got off to an excellent start.  Matthew & Rudy purred along to an unbeaten 27.  Our second pair found scoring runs harder than losing wickets … but Ben and James batting together (brave move by coach Charles) reignited the innings with a powerful 31 – Ben was particularly hard on the bowlers, hitting a huge 6 and several 4s.  This left our final pair of Dougie and Jack in a tantalising position: 65-2, net 55, 30 runs needed. Certainly a challenge, but not impossible. They set off well, after two overs they'd reached net 71. 14 runs off one final exciting over? Unfortunately Jack was caught on the boundary trying to get them, Dougie scored a fine 6 but was bowled trying to repeat it, and Jack was caught off the last ball in the forlorn pursuit of the winning 16 runs.  The Octopods finished on 89-5, net 64.
Kyle: Competition between the teams was excellent and games were close. We performed well in bowling but our batting in pairs was a bit inconsistent.
Rory: Great performance from everyone all round, taking chances and scoring runs when needed – sadly just not enough this time. 
We hope that next time we will come out on top.  
That was a grand day out.  Merchiston put on a welcoming and entertaining day's cricket, which our players and supporters certainly enjoyed.  In the end, we couldn't quite find the balance between risk and reward in our batting, and our bowling wasn't quite penetrative enough to significantly trouble our opponents.  We weren't far off though – had one or two key moments swung the other way, pretty much all of the results could have been different.
Matthew: "It was a great experience and a lot of fun to play a different format of the game. A fantastic day out at a well organised event in a lovely location."
Rudy: I'd just like to say that I thought the umpires were fantastic. They were really friendly and chatty and remembered our names as well. 
Many thanks to Merchiston for hosting us, to our opponents for being challenging and spirited opposition, to Charles for patiently umpiring all day, and to the legion of supporters who made the trip to the western reaches of Edinburgh to watch, support, encourage and feed the players.
I'll leave the last word to Max.
Max: We had a great day at Merchiston.