Fives go forth to freeze in Fife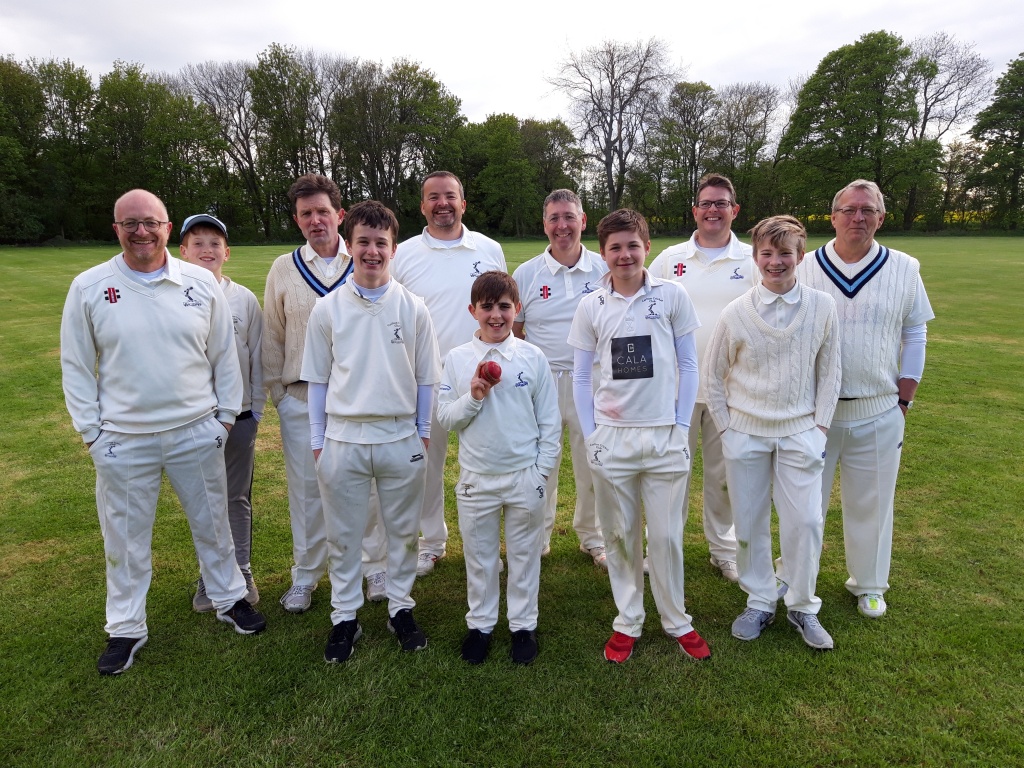 Cricket, in all of its myriad, glorious forms, has an identity – nebulous, perhaps, to all bar the true aficionado. Test matches, redolent of the Long Room, WG Grace and the still-lingering controversy of Bodyline. The modern iterations of the IPL, all Dilscoops, opening the bowling with mystery spin, and strike-rates in the 200s. And ESCA Division 7 clashes, featuring foot-high walls of nettles six inches past the boundary, temperatures soaring into the mid-single digits Celsius, and stunning displays of John Beattie's skill in persuading itinerant spaniels to vacate the outfield.
The Famous Fives gathered at GL HQ, steeling themselves for a tricky test away to Broomhall 2s. Alas, the fixture was off to a tough start – word came of troubles on the Queensferry Crossing, forcing the travelling circus to divert via the Kincardine Bridge. Happily, a full complement of the Fives assembled (in an entirely non-Avenging manner) at the beautiful Cairns. Skipper Keith, first on the scene, excelled with a rare win at the toss, inviting Broomhall to have a bat.
Your correspondent had borne something of a burden for the last week, following his decision to send skipper Keith back lbw (when plumb lbw) while umpiring the Fives' previous match. Of course, no grudge was borne – this made entirely clear when your correspondent was invited to bowl an unbroken opening 8-over spell uphill and into a stiff northerly breeze. Young Jamie Beattie took the new ball from other end. Post-match examination of the scorebook revealed that the Broomhall scorers regarded both your correspondent and Jamie as operating "Right arm medium". The Broomhall opener who nearly had to remove a savage Beattie bouncer from his left nostril might beg to differ. Your correspondent is perfectly happy to be bracketed equally. In any event, the opening salvos belonged firmly to the visitors. No joy in the wickets column for young Jamie, but the season's first serious appeal (a top-drawer 11-man effort) rewarding your correspondent with an early breakthrough (E Murray 8-3-21-1). Rory Ledingham took over and picked up exactly where he left off last season – a bit of extra height and strength adding some extra pace to his customary unerring accuracy. Quality support came from Craig Burgess, guilefully mixing up pace and flight and keeping the batsmen guessing (C Burgess 4-0-18-0).  At contraband ESCA-prohibited refreshments, Broomhall had advanced to 64/1.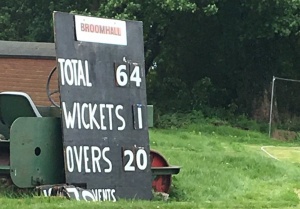 Properly-spelled Euan Keatinge was introduced post-interval, the young leggie a sight to quicken the pulse of all real cricket fans. Keats lost no time in producing a number of spitting, turning deliveries which had the Broomhall batsmen groping uncertainly for the ball. Fine reward for Euan, a ripping leg-break which kept down a little and trapped the obdurate S Harper bang in front (E Keatinge 6-0-19-1). Jamie returned to polish off his last two overs before taking the gloves from Max D'Ulisse (Ja Beattie 8-0-22-0 – and goodness only knows how those 8 overs ended wicketless).
That allowed Max into the attack – where else does he belong? Max's third ball was tossed up invitingly – the bait taken by Broomhall's dangerous-looking leftie No.4, who smashed a monstrous steepler to cow corner and straight into the grateful clutches of your correspondent. The b. D'Ulisse c. E Murray combo was at it again a few balls later before Max claimed his third – the batsman pinned back and only able to chop one onto his middle stump, a lovely double-wicket maiden for Max. Young Kyle Burgess followed his dad's lead from the other end and bowled two rock-solid overs – no mean feat with the batsmen looking to hit out and a short leg-side boundary to contend with, well bowled (K Burgess 2-0-17-0). Rory returned to mop up the remaining resistance, one Broomhall batsman clean bowled and two others only able to pick out the safe hands of John (fresh from resolving that dog-stopped-play incident) and Euan K (R Ledingham 8-1-16-3). Skipper Keith elected to bring some T20 tactics into the Div 7 arena and asked Max to close out the innings with an over of off-spin, the youngster obliging with a brilliant final set and conceding only a couple (M D'Ulisse 4-0-10-3). Broomhall finished on a respectable 139/8, but would probably have hoped for a few more.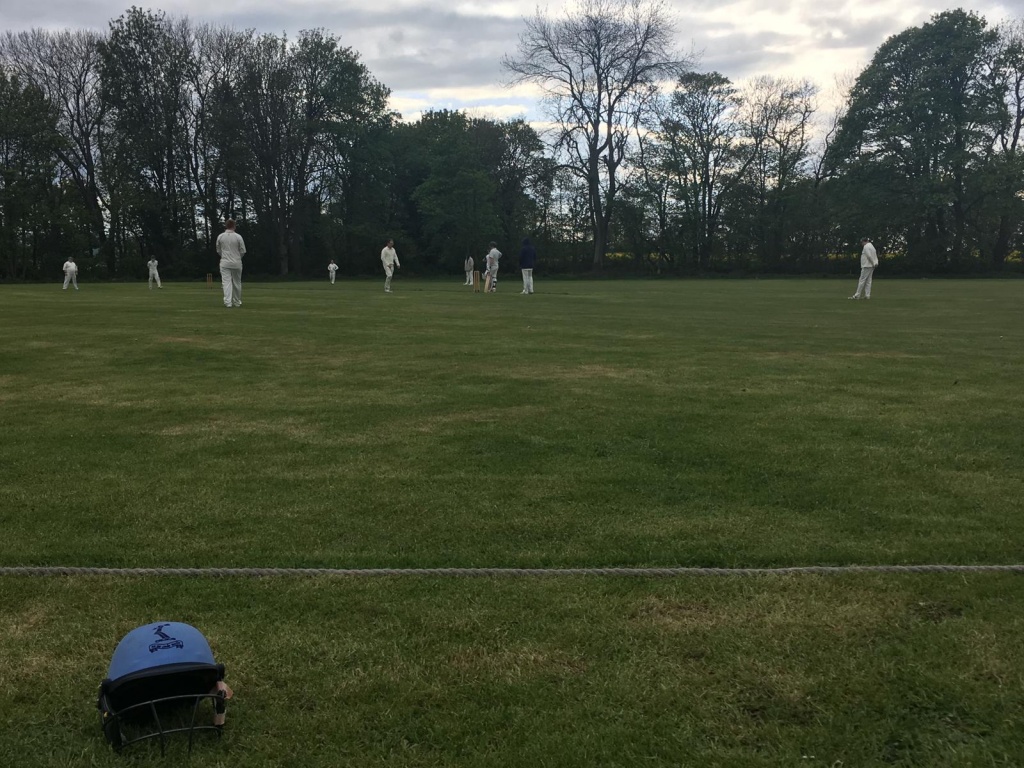 Innings break over, skipper Keith and Euan K strode to the middle – 140 looked eminently gettable. Euan was unfortunate to play around a loopy, swinging yorker from Hawthorne before he could get his feet going, stumps rattled in the first (E Keatinge 0). John Beattie, keen to display batting as well as dog-wrangling credentials, headed out. A solid partnership of 30 for the second wicket before John fell victim to an early contender for ball of the season – angling in, swinging away very late, and just kissing the outside of off stump (Jo Beattie 4). Nothing to be done about those, just well bowled. John's departure brought the swashbuckling Martin Robertson to the crease, although some tight Broomhall bowling kept Martin in check early on. However, he and skipper Keith gradually wrested control, and with some 4s and 6s available to the short boundary the score had ticked along nicely to 86/2 at drinks. Refreshed, the batsmen forged ahead until Nelson struck when Keith picked out deep extra cover while accelerating (K Murray 40; 111/3), a lovely 83-run partnership between the senior pros.
Jamie Beattie joined Martin in the middle and worked it around well before cutting one behind square to the lurking fielder (Ja Beattie 5). At 118/4 there weren't all that many needed, and with Martin set the game was there to win. Paul Stones came in and showed just the cool head the situation demanded, blocking the straight ones and rotating the strike to let Martin face. Fittingly, Martin smashed the winning runs over square leg for 6, the Fives finishing 145/4 from 30 overs (M Robertson 69*; P Stones 4*).
Broomhall 2s put up a strong fight and, ultimately, found themselves a little short of runs. Thanks to them for a match played in just the right competitive spirit, and for a sensational tea featuring, quite extraordinarily, more Bacon Frazzles than even the cadre of Carlton juniors were able to consume. And for the Fives, a really strong all-round performance with the bat and in the field. An extra year has clearly given this group of juniors some more snap in their bowling to go with existing control, and even experienced batsmen are now finding it tough to get them away. When coupled with an excellent fielding display (four out of four catches taken, and very little given away on the ground) that was enough to keep Broomhall to a manageable target, safely chased thanks to great knocks from Martin and Keith.
Euan Murray