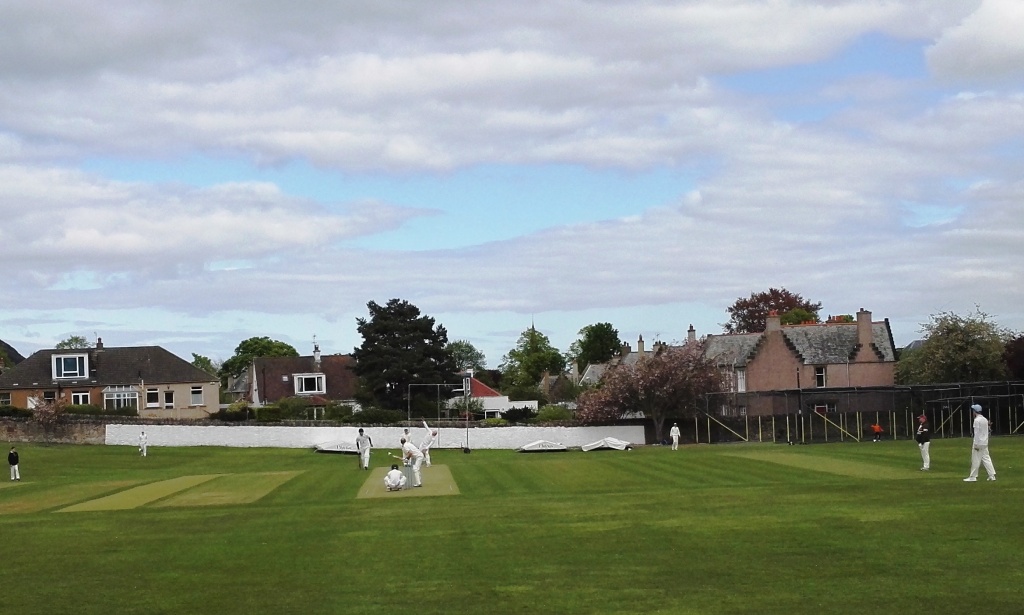 Series 12 Episode 2
*****
Fans of this long-running series have become accustomed to nail-biting climaxes as the team of CP4 (Carlton Positively 4th XI) follow every possible lead to gain vital clues to bring them further league points.  This latest episode delivered in spades.  Who can H be? At one point each member of the cast came under suspicion.
The audience had much to discuss after the frustrations of last week when the opposition failed to appear.  Was this further evidence of the malign influence of H, the head of a web of corrupt medium pacers in cahoots with the OCG? This was left hanging.  Under the merciless interrogation that has characterised the series, it came to light that Fauldhouse Victoria had sadly withdrawn from the league.  But had their communication been suppressed by H?  Could there be another no show this week?
The scriptwriters eased the audience's early anxiety. The opposition from Peebles arrived at a chilly Grange Loan well before the home team. The audience sat back to enjoy a classic as the all star cast limbered up.
Tension mounted as CP4's commanding officer went to the middle to toss and returned with the information that he had won the toss by a respectable early season margin.  CP4 would field.  It was an unlikely plot twist for him to have won the toss.  But to have won the toss and batted would have destroyed any credibility.  The injured looks of the Doughty Groundsman as week in week out he hears the same news are a feature of the series that the audience looks forward to.  The scriptwriters were wise to avoid stretching the audience's incredulity on this point.
Under interrogation later, the commanding officer admitted that he had styled his decision as a tribute to Mr Fraggle Watts whose engagement to what must be a plucky young lady had been announced the day before.  'Fraggle always welcomed warmly decisions to bowl first on a prime GL batting wicket like today's.  It is appropriate to honour his special day.'  Is this generosity enough to dispel lingering suspicion that he might himself by H?
Keatinge Major and Stronach Senior began the search for clues.  Peebles were soon in some trouble as Charles got his line and length and reduced them to 42-4 by the 14th over, taking the middle stump out 3 times.  At half way Peebles were 75-4, Stronach Senior 4-13 (could this be a double bluff to divert suspicion from his as H).  Evidence that a drinks break was taken in defiance of the latest ESCA rules of criminal procedure was being assembled and will no doubt feature heavily in future episodes.  Ewan Hutchinson and Anish Amin continued.  Peebles began to rally until Hutch struck twice, one a smart return catch off a full blooded thump.  Good reward for him – despite speculation that he could be H – excellent variations in line and pace.  In an interesting sub-plot , Hutch repeatedly confounded the umpire's call of one ball to go by putting down  increasingly outrageous wides.  Who says the scriptwriters of the series don't have a sense of humour? Hutch 2-33.  By now the Peebles innings was dependent on P Caddick, who regularly scores big against Carlton, and who was batting with calm assurance.  Caddick would finish undefeated and chanceless on 84. A fine effort.
Stronach Junior came on down the hill and showed great promise in a tidy spell.  He is too young to be H. He was unlucky to miss out on a wicket.  At the other end was the commanding officer.  By contrast with Ben, he showed no promise at all and was lucky to get the ball to the other end of the pitch, quite apart from taking a wicket.  But remarkably he did – as the scriptwriters were overcome by sentimentality to  test the audience's credulity to breaking point.   His effort contributed heavily to Peebles cause – evidence that he might be the head of the web of corruption after all.  Keatinge Major came back to finish his overs and got due reward in 1 wicket.
Peebles finished on 185-8 – a decent recovery from a sticky position made possible by Pete Caddick's excellent knock.  The Positivelys might have thought that they had left them off the hook a bit, but there were clearly runs in an excellent pitch and they looked forward to batting.
The scriptwriters lured the audience into a false sense of security.  Although Eric went relatively early as a thick edge sped into the hands of short third man (an H-like shot?), Anish soon took control with a series of big shots that accelerated the score.  A plot twist was required and it duly came. Anish had raced to 36 and having just thumped another 4 down the ground, tried again.   This was a big shot – unfortunately its only dimension of bigness was vertical, giving the wicket keeper time to saunter under the ball and pouch it safely.  77-2 after 14.  Kasz joined Ewan and they worked hard to maintain the momentum as the bowling tightened.  The asking rate was growing.  The audience began to feel a sense of unease.  Then drama, as only these scriptwriters deliver.  The audience was stunned as 4 quick wickets fell.  Kasz  (could OCG after all stand for Old Cricketer from Grange?) on 20 went after a wide one and spooned it to mid-off; Ewan's fine effort was undone 5 short of a deserved half century as he got a bottom edge and the keeper did well to hold on diving to his left;  Feds was honoured with the perfect Yorker  as he joined the primary club; and Clem was undone by being back when he might have been forward.  129-2 had become 139-6.  The tension was mounting.  The required total seemed a long way off.  There were gasps when the commanding officer of CP4 appeared with his pads on.  Had things got that bad?  Was H responsible? Thankfully he did not make his way to the middle.  He sat at the Pavilion watching anxiously.
David Simpson and Keatinge Major were at the crease.  They had a look.  The run rate mounted slowly.  They had another look.  Nails began to be bitten.  (Not easy through batting gloves.)  Then they decided they had looked enough and in a flurry of boundaries brought the episode to breathless conclusion.  David 30*, Cameron 13*.
The Positivelys win by 4 wickets an excellent real start to their campaign in the super-ultra-elite ESCA Positively 4th Division.
Several good starring roles – Charles' early wickets were telling, and Anish and Hutch's innings set up the victory which still had to be fashioned by good old fashioned detective work by David and Cameron.  There was also an excellent debut for Ben in his first role in a major drama.
As the credits rolled on another compelling episode, thanks must be given to Peebles who contributed much to the afternoon's enjoyment.  A match played with good humour and fine spirit – but not taking us much further forward in identifying the mysterious H.  What will next week's episode reveal?