Crushing win for Carlton 1s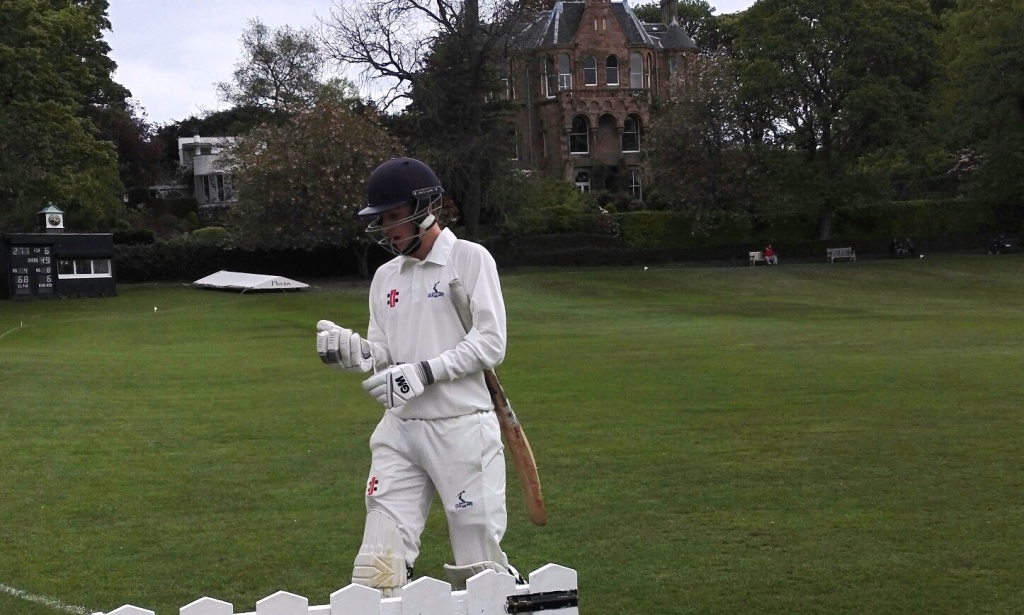 On a clear, but slightly cold morning, the 1st XI set their sights on sealing their first win of the season, at home to Stewarts Melville.
The day started well, with most of the team in the nets, preparing for the game ahead. Shiv set about completing his runs up the hill, whilst Ali Shah leant into a few length balls in the nets. After a brief, but important team talk, the players indulged in a light hearted game of football. Though there were nutmegs and some tough challenges on teammates, the guilty individuals turned out quite alright! Following the football and the cricket related warm up drills, it became clear that we had lost the toss and would be batting first.
As players started looking around for their beanie hats and extra layers, Kyle and Murray headed out to the middle. Pillay and Sweet opened up, hoping to force an early break through with seam and spin, respectively. With only 5 on the board, the first wicket fell. Kyle was unable to see off a tricky delivery from Pillay and prodded at one, allowing second slip to take a good catch to his right hand side. From this point on, Murray and Arun began to construct a solid partnership, with the latter managing to raise a few heart rates.
In response, Stewarts Melville were forced to introduce some new bowlers, which both batsmen negotiated well. Finally, with the score on 103, Arun fell to leg spinner Steel for a good 50. Murray and Simpson then started to rebuild, before the former found himself bowled by Amir for a promising 27. Ali and Simmo negotiated a tricky period, adding 45 to the score before Ali was stumped off the bowling of Steel. Will and Tom continued to apply pressure on the opposition bowlers, not necessarily with the middle of the bat. Will showed great self-discipline (surprisingly), batting well and finishing his innings with two sixes, before he was caught attempting a third.
As if inspired, Tom started striking the ball well and even hit a six of his own. Finally, he was dismissed on 68, a solid contribution that would see Carlton end on a very solid 284.
After another lovely tea, the second innings started out with Evo and Shiv bowling. Both started well, prompting false shots from both openers. The slip cordon did look very solid and, eventually, Evo brought about an edge from Bissett. Strangely, the ball dropped softly into Arun's hands at second slip. The first wicket had fallen. The Stewarts Melville innings then suffered a little disruption with injury problems causing a retirement and some tight bowling forcing a number of dots. Wilkinson showed promise, playing some strong attacking shots before being dismissed by Evo for 15. Some disciplined fielding and bowling placed Carlton in a good position and when Pillay returned to the crease after retiring hurt, with accurate bowling from Rory and Calum applying steady pressure. After a runout, courtesy of a great throw from Calum, Rory then created the next breakthrough, dismissing Pillay with a caught behind and shortly after, overseas amateur Sweet fell to a strong catch from Ali, off the bowling of Evo. The team then remained disciplined, dismissing the remaining batsmen and bringing home their first victory of the season.
Stewarts Melville have put in some good performances against Carlton in the past, so it was an especially good feeling to win in the manner in which we did. The team now looks forward to a good challenge next week, when they travel to Grange.
Kyle Macpherson