Weekend roundup – 7th/8th May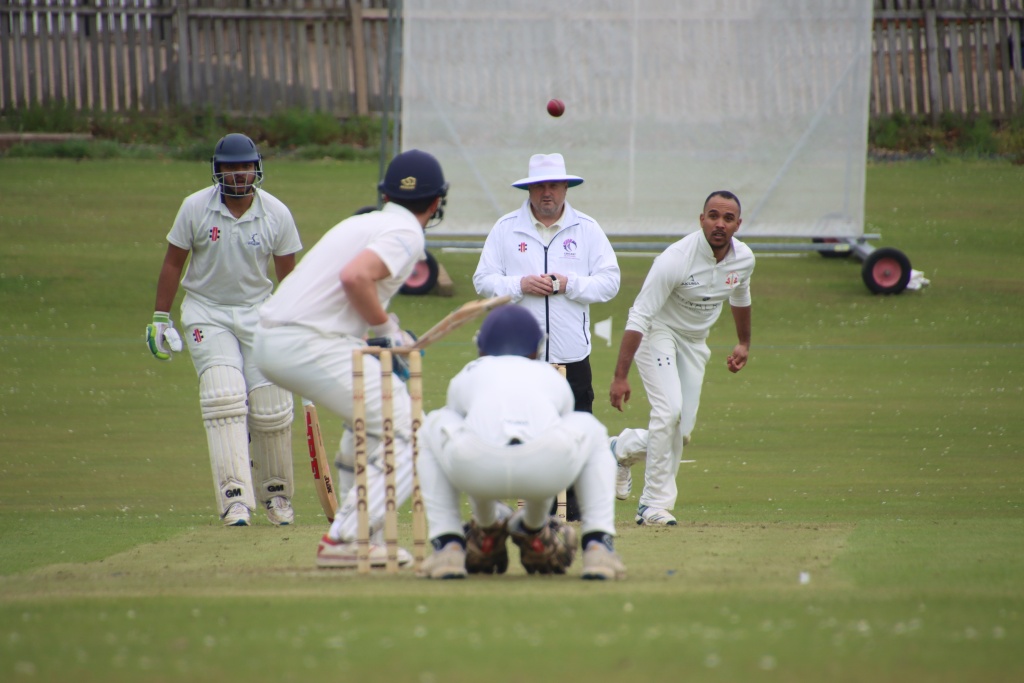 The second week of league action got underway at Grange Loan as the 1st XI welcomed Arbroath.  Skipper Tom Simpson won the toss and chose to bat first.  Will Hardie went early but Shujaa Khan and Simpson took the score past 50 before Khan became the first of six batsmen to fall in the 30s.  There were lots of small partnerships but the visitors kept picking up wickets.  The biggest partnership of the day was between Arun Pillai (38) and Umair Mohammed (39) who put on 88 for the 7th wicket.  In the end the home side were bowled out for 270 with 1.4 overs left unused.  The Arbroath reply got off to a terrible start when McLean shouldered arms to one from pro Neville Madziva which nipped back.  Ruaridh McIntyre struck next removing the visiting skipper which prompted a clatter of wickets as Arbroath lost 5 wicket for just 15 runs.  There was no let up from the home attack as the visitors were bundled out for 72 in the 26th over.  McIntyre finished with 3 for 11 and there 2 wickets apiece for Angus Beattie & Rory Allardice.
The 2nd XI travelled south to take on last years Championship winners Gala at Meigle Park.  Ben D'Ulisse called correctly and opted to bat first.  Gav Murray & Harris Aslam opened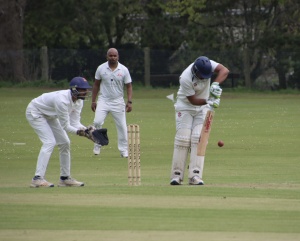 up but found conditions tough for scoring.  Murray made it into the 20s but none of the other top order batters were able to settle.  Shiv Gupta, Harry Simpson and Shaun Smith also reached the 20s to help the 2s post 169, having been bowled out in the 42nd over.  Gupta and Charles Stronach opened up and both picked up an early wicket with a fine display of new ball bowling.  Stronach went on to take another 2 and Simpson hit an excellent length with his offspin, picking up the remarkable figures of 5 for 3 and also effecting a run out to dismiss the home side for 72 in the 29th over.
Also on their travels were Brad McKay's 3rd XI who headed over the bridge to McKane Park to take on Dunfermline & Carnegie.  McKay won the toss and he also chose to bat first.  The home side took 3 early wickets and when another 2 fell in quick succession the 3s were is all sorts of trouble at 27 for 5.  Paul Kentish and Rory Ledingham recovered the situation somewhat putting on 44 for the 6th wicket before Ledingham fell for 9.  Amit Bij joined Kentish and the pair doubled the score before Kentish was trapped in front for 71.  Bij kept going and his 51* helped the 3s to a total of 177 as they were bowled out in the 49th over.  Max D'Ulisse picked up an early wicket but a strong 2nd wicket partnership for the home side took the game away from the 3s.  Ledingham eventually broke the partnership and despite claiming another wicket plus one for Charlie Kentish the home side won by six wickets in the 34th over.
It was also an away day for the 4th XI as they descended on Boghall to take on Linlithgow 2s.  Skipper Al Murray won the toss and he too chose to bat first.  Murray and John Beattie opened up but found scoring difficult in the face of some accurate bowling from the home side.  When Murray went cheaply, Bruce Smith and Beattie consolidated.  Beattie was the next man out for 25 just before drinks.  Looking to accelerate the 4s lost wickets regularly including Smith for an excellent 44 and in the end were bowled out for a subpar 133 in the 39th over.  A poor start with ball didn't help but the introduction of youngsters Harry Charman and Ben Stronach tightened things up and they got rid of both openers.  A great piece of fielding from Stronach ran out the home skipper and Joe Ward claimed an LBW but Linlithgow ran out winners by six wickets in the 32nd over.
The 5th XI made the short journey to Inverleith Arti to take on Stew Mel 4s.  The toss was negotiated and the 5s would bowl first.  Opening up with 13yr olds Robbie Murray & Hamish Turner the home side were in all sorts of trouble at 39 for 5 after 10 overs.  They recovered well and were 137 for 6 after 27 overs when Turner came back and removed the set bat to complete his 5-fer.  Aadi Khadse picked up a couple of wickets and Murray claimed a second to bowl Stew Mel out for 173 in the 36th over.  Skipper Keith Murray opened up with Martin Robertson and put on a half century stand before Robertson fell for 12.  Fresh from his exploits with the ball Turner joined Murray and the pair had a century partnership before Murray fell for 88 with just 14 needed for victory.  Angus Turner joined his son at the crease and the pair saw the 5s home in the 37th over with Turner Jnr finishing on 36*.
On Sunday the Women were back at Inverleith Arti for a Women & Girls Challenger 20 overs a side hardball match.  Batting first Carlton scored 153 for 2 with Janie retiring on 50; Holly 40* and a career best of 23 for Amelia.  With the ball Leanne picked up 3 wickets and Saskia chipped in with a wicket maiden to help restrict Stew Mel to 63 for 9 from their 20 overs.

At Grange Loan there was a Parents vs Players Kwik Cricket tournament in the morning followed by a Development game against Edinburgh South.  Set a target of 117, the Dev side fell 22 runs short despite good contributions from skipper Joe Griffin and Aadi Khadse plus an excellent partnership from Lewis Broster & Shourjo Dutta Roy.