Mixed Development XI make their debut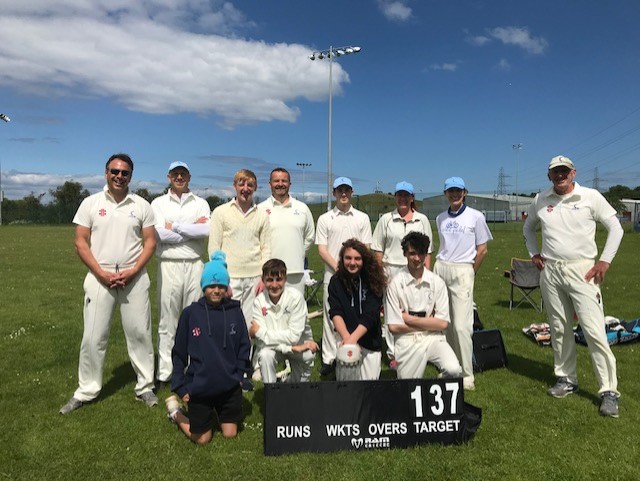 It may not have been to the front of the minds of those honoured by selection for the first match of Carlton's new Mixed Development XI, that the appointed match day marked the birthday of Sir
Henry Newbolt.  Why should it? They had more important things to think about – hoping the satnav would find the Meadowmill Ground, close by the site of the Battle of Prestonpans, making sure the kit was packed and repacked and, with the unusual appearance of the sun in the skies above Edinburgh, that sufficient supplies of sun cream were on hand.
'Sir Henry Newbolt?' they will have said to themselves, 'didn't see his name on the team sheet.' This much is true – Sir Henry had failed to gain selection – maybe having died in 1938 was held against him, or that despite the urgings of Pitchero he had failed to pay his sub.
There's a breathless hush in the Close to-night —
Ten to make and the match to win —
A bumping pitch and a blinding light,
An hour to play and the last man in.
And it's not for the sake of a ribboned coat,
Or the selfish hope of a season's fame,
But his Captain's hand on his shoulder smote —
'Play up! play up! and play the game!''
Vita Lampada, Newbolt's most famous poem tells in characteristic late Victorian jingoistic fashion of how a soldier learned self-less commitment to duty in his cricketing at school. Its echoing last line is a fitting motto for the Mixed Development XI. Play up! play up! and play the game!
So, the chosen XI assembled Newboltless beneath an azure sky under the stern command of Fantasy Bob (for it is he – had he not given up? – is he not a complete physical wreck? – he must be older than Henry Newbolt?). Did they know that they were being put under his tutelage? Might they have thought better of it if they had. Too late they were there and committed. Introductions were made.  Some players knew each other already – it may have helped that they were family relations.  And so to business. FB shambled out to toss with the home skipper. His old magic had not left him. He won by a handsome margin and opted to bat. News of this reversal of a lifetime's commitment to bowl first quickly circled the globe, leading to a panic selling of stocks in markets around the world.
Charman Snr and Jnr faced East Lothian's demon opening bowlers with some confidence and aplomb, until Richard, pushing forward to a good length ball that drifted with the cross wind, tickled one to the wicket keeper. Harry followed soon after bowled off his pads. Each Charman contributed 9 – leaving bragging rights to be settled on another occasion. Paul Stones was joined by Freddie Megaw. Freddie successfully clumped one into the undergrowth but then tried another expansive shot to the wrong ball which took his middle stump. Helen strode to the wicket, successfully smiting a couple through mid-wicket before playing across the line with the inevitable result. Carlton were 48 for 4 and there was a breathless hush in the Close…..time to play up and play the game.
Manu helped Paul restore the balance a bit before being bowled. Paul was cautious at first before finding the boundary as he gained in confidence. Nahum had joined him was more assertive – a good partnership looked in prospect but Paul was undone by a flighted delivery and bowled for a well made and valuable 27. 80-6. Nahum was joined by the skipper – usually a cause for despair in the crowd. However he managed to let Nahum dominate the strike and with some good hits to the shorter boundary and some positive running, a partnership flowered and the scoreboard began to rattle along. An excellent piece of sportsmanship by the home skipper saw Nahum called back after a doubtful dismissal. Play up! play up! and play the game.
The end of the allotted 30 overs saw Carlton on 136-6 with Nahum not out on 42, skipper 13*. A defendable total.
Tea being a proscribed activity these days, after a short intermission team Rowlands marked their run ups and East Lothian began the chase. Unlike England at Lords they set about the challenge positively. But a solid start was undone as Robert found his range. He took the top of the off stump. In his next over he fizzed past the outside edge and Manu took the catch. Next ball, another snick and a miraculous diving grab to his left by the skipper at slip saw stock markets tumble further at such unprecedented news. Robert 3-14. Dad got into the action shortly after, knocking over the stumps and East Lothian were in all kinds of trouble at 22-4.
Harry and Freddie kept up the pressure and were duly rewarded. Opener Bogie looked a threat but mistimed Freddie's bouncer to give a catch to David at square leg (Freddie 2-7) and a direct hit run out by Harry from fine leg dispatched Dunn – sweet revenge for Harry since Dunn had dumped him beyond the boundary in the preceding over. Catches stuck…showing the worth of all that practice at GL. Diane came on for a debut bowl. Could she do it, she wondered to herself – of course she could, as she found a length and line consistently. Harry took the final wicket with an excellent diving catch to his left off his own bowling. Harry 4-26.
A solid win by Carlton by 67 runs – a great start to the Mixed Development XI's life with excellent contributions all round and great team spirit. Very sporting and pleasant opposition – we wish them well for the rest of the season. Play up! play up! and play the game.
FB