4s win a thriller in the Dunbar haar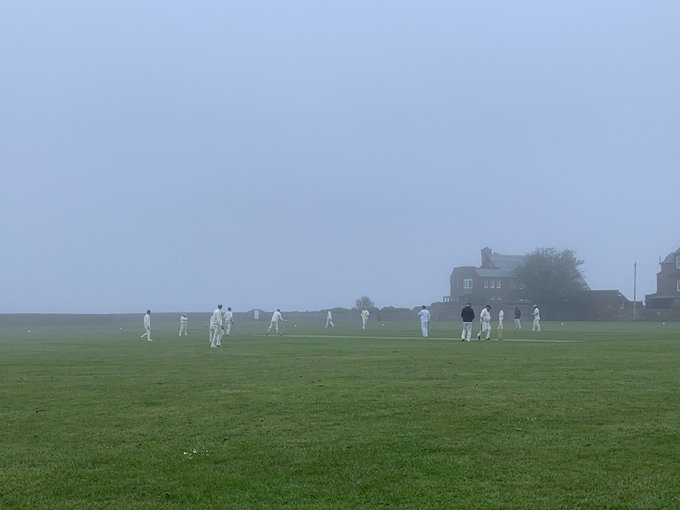 With Edinburgh Leisure taking the decision to take the diminutive Cavalry Park 3 out of action (presumably due to the difficulty of socially distancing within its tight confines) some re-jigging of venues was required. The 4s agreed to play their home game against Dunbar at their ground, Winterfield Park. With summer at last making an appearance in Edinburgh the 4s headed east, hoping to enjoy a day out on the coast. Misty conditions greeted them and it appeared the Dunbar home ground was well-named.
Skipper Kaz lost his second toss in a row although there was less confusion this time as the 4s were asked to bat first. Adam & Iain opened up but Iain was undone by the lack of pace from Dunbar captain Callow in the second over. David joined Adam and both men got their heads down in the face of some accurate bowling. Gradually things got easier and Adam put away a couple of full tosses over the midwicket boundary. The lush outfield made boundaries hard to come by and even 2s were relatively rare. David and Adam put on 89 for the second wicket before David (31) was pinned in front.
Rory joined Adam and upped the pace nicely but only briefly as he was bowled for 14. Andrew's stay was also brief, run out going for a second as his well hit shot held up in the outfield. Al did his hamstring and had to retire and the 4s were in danger of failing to capitalise on the base laid by Adam & David. That looked even more likely when Adam was run out to a direct hit from cover for an excellent 72 in the 35th over. A mini collapse ensued as Dougie (8); Kaz (1) & Lucy (0) all fell in quick succession as 140-5 became 143-8. However Fraser Kentish (14*) and Joe Ward (2*) added 17 runs from the last two overs to take the 4s to a respectable 160 for 8 from their 40 overs.
A quick turnaround saw Andrew & Dougie take the new ball. In the second over the Dunbar No 2 took on Rory's arm unsuccessfully. Andrew nicked off the new batsman in the 7th over but runs were beginning to flow. Kaz introduced Joe to the attack but the left-armer was unable to make a breakthrough with the ball. Fraser replaced Andrew and struck in his second over, Joe taking a great catch diving forward at midwicket. He got his second, bowling the Dunbar opener to leave the match evenly poised with the "visitors" 85 for 4 at the halfway stage with Lucy having replaced Joe. Fraser picked up a third wicket to tip things Carlton's way but the game swung the other way as the Dunbar No 6 punished any loose deliveries to get them ahead of the rate.
Rory came on for Fraser and claimed the 6th wicket with an LBW. With wickets needed Kaz turned to his opening bowlers and Dougie duly obliged yorking the No 8 in the 34th over with the score on 145. Andrew got the set batsman next over who pulled a short ball to Joe at deep square. Dougie picked up the No 9, spooning a catch to Joe at point and 4s were on top at 147 for 9 in the 36th. 4 leg byes in Andrew's final over made things interesting as Kaz turned to Lucy and Fraser to close out the game for Carlton with only 6 runs to play with. Lucy bowled an excellent 38th over which went for only 1 run. Fraser then came back and initially struggled with his line, bowling two wides and then conceding a single. A dot ball was followed by a full and straight delivery which rapped the pads of the Dunbar No 11 and the appeal for LBW was successful.
After last week's disappointing effort with the bat it was good to get back to winning ways. Not a complete performance by any extent, plenty to work on with both bat and ball. In particular we lost too many wickets at the back end and bowled too many extras. We were, however, much better at wartime engineering references.
Many thanks to Dunbar for accommodating the switch of venue and an excellent game, played in good spirits throughout – it was just disappointing to play it in cold and misty conditions.
Al Murray