Fives go big in the Borders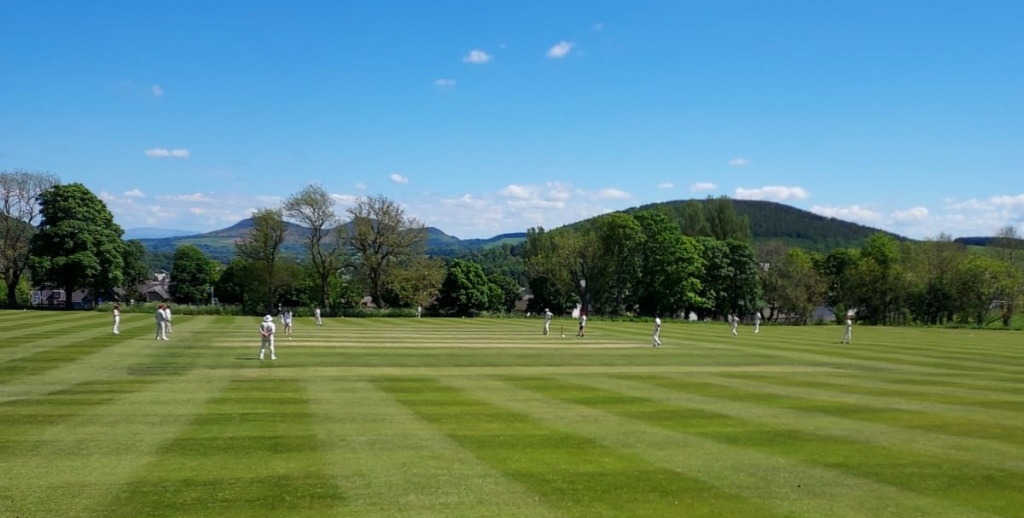 With a scarcely-credible forecast for a second sunny Saturday in a row the Famous Fives were in good heart as they made the long (or, in skipper Keith's case, short) journey to Gala's beautiful Meigle Park for another titanic Division 7 clash against Gala 2s. The Fives' trips to the Borders usually provide a welcome reminder of the close links between Gala and Carlton CCs – especially in women's cricket – with familiar faces often appearing in the opposition ranks; this time around, Maisie Maceira (Gala & Carlton Women) would have a foot in both camps.
Presumably dazzled by the unfamiliar sunshine, Keith lost the toss and the Fives were invited to have a bat; the skipper himself and Martin Robertson strode to the crease in what seemed to be prime conditions for batting. Things were not just as straightforward as they appeared, however, with opening bowler C Thompson generating alarming bounce from the benign-looking surface, rapping Keith on the body and drawing some uncertain prods from both bats. After seven overs of staunch resistance Keith feathered another snorter and was caught at the wicket (K Murray 9), with David Simpson joining Martin at the crease. Even the usually free-flowing Martin was finding scoring tough – pinned down by Maisie, bowling really nicely first change, he also departed caught (M Robertson 15) to hand the youngster a well-deserved wicket.
With the score 50/2 from 18 the Fives' innings was in the balance… but with Mike "Boom Boom" Kennedy striding out to a buzz from the knowledgeable crowd it was clear that the balance could tip either way, probably quite rapidly. Alas for the Fives, this was not to be a vintage Mike performance – that tricky bounce somewhat disrupting the elegant Kennedy MCC-manual technique. Frustration building, Mike picked the wrong moment to see if he could clear the ridge which sits a mile or so behind the ground, falling prey to an excellent yorker from Caitlin Ormiston (M Kennedy 5). Over to John Beattie with plenty of work still to do, but with David now looking well-set there was definitely hope that the bouncy pitch might suit the hard work John has put into his back-foot game. The pair built an excellent partnership featuring plenty of well-run 2s and 3s into the wide open spaces of the vast Meigle playing surface – hot work in the scorching sun – and there was little Gala could do to stop the steady accumulation of runs.
John eventually fell in the 34th over as he looked to accelerate, nicking off to excellent bowling from Gala junior R Paterson (J Beattie 27), but the pair had added a solid 53 and at 126/4 there was scope to hit out for the last few overs. Ben Stronach looked to do exactly that but was clean bowled by South-African-come-Borderer S Limello for a duck; Angus Turner next up. Some excellent late-order hitting from Gus rattled the score along, and although David was run out in the last over for a well-crafted 60 (D Simpson 60) Gus also smoked a big six over the deep cover boundary to take the score to a highly respectable 164/7 (A Turner 24*; Z Dancu 0). Good work from the batting unit to put a very defendable total on the board; over to the bowlers to make it stick.
Kyle Burgess took the new cherry and – following last week's scintillating, wicket-taking yorker – seemed determined to explore both ends of the first-ball-of-the-innings spectrum; this time around a massive beamer smashed for five no-balls. Hey ho. Kyle was straight back into his work, however, supported by a parsimonious new-ball burst from your correspondent at the other end; with little to hit, opener J Bell eventually unfurled an expansive cover drive but pinged it just into Keith's reach (the athleticism on display to take a brilliant catch explained entirely by the skipper's frankly unwise decision to include Murray, E in his fantasy team). Kyle then followed a beautifully bowled maiden with two quick wickets – another great catch from the standards-setting skipper removing aggressive junior R Paterson, before a perfect inswinger nailed opener S Skeldon dead in front. Gala 34/3 after 10 and looking to rebuild; Zaara and Ben into the attack for the Fives.
The Gala middle order was in no mood to let the juniors settle – each contending with the awkward Meigle slope, a pesky left-hand / right-hand combination at the crease, and some fierce hitting from the batsmen. Unfortunately for the Fives' fielders each bat had a distinctly favoured scoring area, which also meant for a lot of running between positions in the sun to plug the gaps… a proper workout. At the halfway mark Gala had advanced rapidly to 90/3 and were well up with the rate, but Ben was eventually rewarded for his persistence with the valuable wicket of S Limello, who slashed one miles up in the air for keeper Mike to comfortably pouch. With Zaara taking a breather (and a short interruption for a new variety of the Division 7 cricket experience – in a departure from the mundane out-of-control dog or ball lost in nettles we can now add "pitch invasion from rogue toddler stopped play" to the list) it was Hamster time, Hamish Turner taking over and immediately showing his skills with a confident LBW shout against A Russen, answered in the affirmative. But his next contribution was likely the match-winning moment – recalled to the attack, your correspondent finally eked out "nine lives" Thomson for a combative, if somewhat charmed, 40, courtesy of a spectacular over-the-head catch from Hamish at cover – no idea how he reeled that one in, it looked over his head all the way (E Murray 8-1-23-2). Kyle returned to finish his set and the screws were down tight – nothing at all for Gala to hit (K Burgess 8-3-26-2); and when Hamish removed J Boyle thanks to a good catch from his dad at square leg (you definitely don't want to drop those…) and Zaara/Ben completed a run-out at the striker's end, Gala had slumped to 117/8 (H Turner 6-0-21-2).
The scales were now tipped well in the Fives' favour, but with plenty of time remaining to knock off 40-odd there was still work to do. The Gala women's contingent of Maisie and Caitlin were not giving up without a fight, both looking to play shots as well as defend the good balls. Zaara made the key breakthrough, enticing an uppish drive from Maisie to that man Keith again for three catches on the day (Z Dancu 6-0-39-1), a good contest between the Carlton/Gala juniors and a very handy 11 from Maisie, showing the rest of her middle order how it should be done. Ben searched in vain for the final wicket, luckless despite steaming in down the hill and bowling with real venom (B Stronach 8-1-25-1), so the stage was set for Angus' first bowl in league cricket. Not a bad start at all, conceding just a couple and then closing out the match with a caught-and-bowled (A Turner 1.2-0-2-1), a very welcome coda to his earlier efforts with the bat. Carlton 5th XI (164/7) beat Gala 2nd XI (143 a.o.) by 21 runs.
A really good win for the Fives, with all aspects of the game giving reasons for good cheer. The batting order set a substantial mark with runs shared around an excellent anchoring knock from David, and the bowlers then also shared the wickets with a number of very good catches taken. Particularly pleasing to see the junior bowlers standing firm when faced with a big-hitting middle order, able to keep up enough pressure that they were eventually forced into making mistakes. A mention in dispatches for sub fielder Robbie Murray who replaced the injured Martin for the second innings. Robbie's intensity and athleticism in the field is of course a virtually direct facsimile of Martin's, so we hardly noticed he was missing… Thanks as always to Gala for hosting so generously at such a lovely spot and for the spectacular sunshine they'd kindly arranged, and particular thanks to Mr Ormiston Snr who selflessly umpired all 77.2 overs.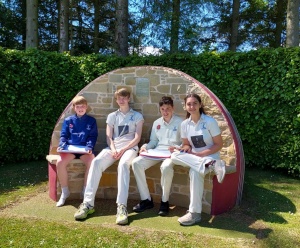 Euan Murray