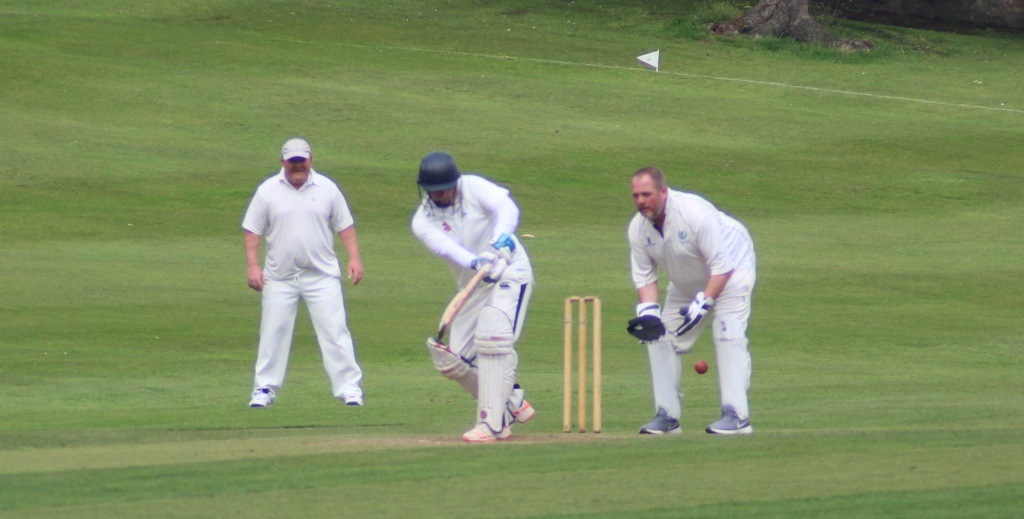 One of the particular joys of life in the Famous Fives is the wide range of options which exist for "home" matches. Our merry band of youthful enthusiasts and less youthful cynics regularly finds its trade plied in surrounds which perhaps owe more to the football/rugby than cricket end of the sporting-venue spectrum. Saturday's fixture had originally been scheduled for the mighty Cavalry Park 3 (the infamous "Subbuteo Oval", legendary graveyard of bowlers and the only known venue in cricket which requires the deep fine leg fielder to ponder whether or not to don a helmet) before a definite upgrade to Inch 2 (whose quirky "scorched bit in the middle of the Astro where someone once put a barbeque" is at least offset by boundaries that measure in the double-digits of metres). This was good news enough, but Friday's was to be even better – Kelso unable to raise a team for their match vs Carlton 2s at Grange Loan; the 4s logistically committed to another nominally "home" game in Dunbar (!); and the path clear for that rarest of all beasts – a Saturday match for the Fives at Grange Loan.
Rocking up at the hallowed gates, two more surprises were in store: (i) it wasn't raining – after some discussion and racking of collective memories, it was agreed that the bright object visible in the sky was "the sun"; and (ii) thanks to a comms mishap the umpires allocated to the 2s match were at the ground expecting a game. A Fives match at GL in the sunshine and with actual umpires – surely nothing else could go so well on this reddest of letter days?
Determined not to let the positive momentum slip, skipper Keith won the toss and (remembering the many lessons imparted by Bob, sage of win-the-toss-and-field-even-at-GL) promptly elected to field. All good so far – over to strike bowlers Kyle Burgess and Hector Murray to keep things going with the new ball. The reader might be forgiven for assuming some more than normal creative licence on your correspondent's behalf at this stage – there is surely no way that this run of good fortune could be continued – but it can be reported with absolute factual impartiality that the first ball of the match was a ferocious inswinging yorker from Kyle which deposited the unfortunate Clacks opener's leg stump flat onto the GL turf. Wowzers – good luck playing that one. But even this wasn't enough for Kyle, a huge LBW shout for one that kept very low answered in the affirmative, immediately followed by a beauty which shaped away from the bat, drew the nick, and was gobbled up by Alan King behind the sticks. With Clacks reeling at 7/3, Hector joined the party – another full, swinging ball pinning the No.2 dead in front. And before there was time to catch breath, the opening combo were at it again – the very capable Clacks skipper N Bryant-Nichols driving hard at Kyle but only able to nick it to fly slip, where Hector took a great catch to back up his partner. That relentless opening salvo left the Clacks card in tatters – 14/5 from eight overs (K Burgess 4-0-7-4; H Murray 4-1-7-1) – brilliant stuff from the youngsters.
Skipper Keith dipped further into his array of junior talent, with Robbie Murray and Nahum Appleton taking the reins. Nahum found the going a little tougher on his return to senior cricket after a long layoff, searching a little for his his range. At the other end, Robbie was keeping it nice and full and searching for any swing still on offer, but had a frustrating time drawing mostly defensive shots as Clacks knuckled down and tried to get some sort of score on the board – but an important spell nonetheless as the U14 all-rounder made sure there were no easy scoring opportunities (R Murray 4-0-11-0). Looseners over, Nahum's radar was back on the money and he conjured three quick wickets – two more LBW shouts answered in the affirmative (for an unheard-of four in total in a Division 7 innings – speaking as a bowler, your correspondent would like to petition for Championship umpires in all Division 7 fixtures…) and N Ayub's stumps splattered by a quick straight one (N Appleton 3-0-14-3). At 40/8 from 15, Skipper Keith decided to at least give Clacks a chance to post a decent total and summoned your correspondent for a bowl, but rather undermined this generosity of spirit by simultaneously unleashing Hamish "the Hamster" Turner from the other end. Hamish's epically long run-up has been trimmed recently under the tutelage of Stevie and the U14 coaches, and the benefits were plain to see here – a lovely full ball drew both a solid nick from Clacks junior C Monk and a spectacular diving catch very low and well to his right from Alan, a brilliant take. Hamish then tidied up the tail with a superb caught & bowled, a big dive in his follow through making up the ground (H Turner 3-1-2-2; E Murray 2-0-7-0). Clacks rather blown away in just 20 overs and for only 50 by some fabulous swing bowling from the Fives' juniors, only D McConchie with a well-made 25* able to offer meaningful resistance.
Skipper Keith and Martin strode out in confident mood, surely no disasters in the offing to spoil an otherwise perfect day. And indeed both began in positive fashion – Martin typically, Keith perhaps marginally less so but fed a number of balls in his favoured scoring areas which he was in no mood to leave unpunished. A score comparison from eight overs rather tells the story of two innings – the Fives' 33/0 looking a little healthier than the 14/5 from earlier. Martin was unable to carry his bat, undone while looking to hit out and caught in the ring (M Robertson 16), but more than enough in the circumstances. John Beattie joined Keith in middle with no need to hurry, and despite C Monk (providing proof that Carlton doesn't have a monopoly on promising junior cricketers) stringing together some impressively well-bowled maidens to delay the inevitable, Keith was able to sweep the winning boundary in the 16th over (K Murray 25*; J Beattie 4*). Carlton 5th XI win by nine wickets.
A simply wonderful day of cricket for the Fives. Sunshine; Grange Loan; constantly-improving juniors blasting through the opposition order; comprehensive win; and bar open early. What's not to like? Many thanks to our special guest Championship umpires who seemed to rather enjoy the Division 7 vibe, perhaps a little more relaxed than the upper echelons of the league? And thanks as well to Clacks 2s; your correspondent has been on the end of enough heavy defeats to know that it's not easy to keep smiling through it, but Clacks did just that to ensure that we had a match played in excellent spirit.
Euan Murray