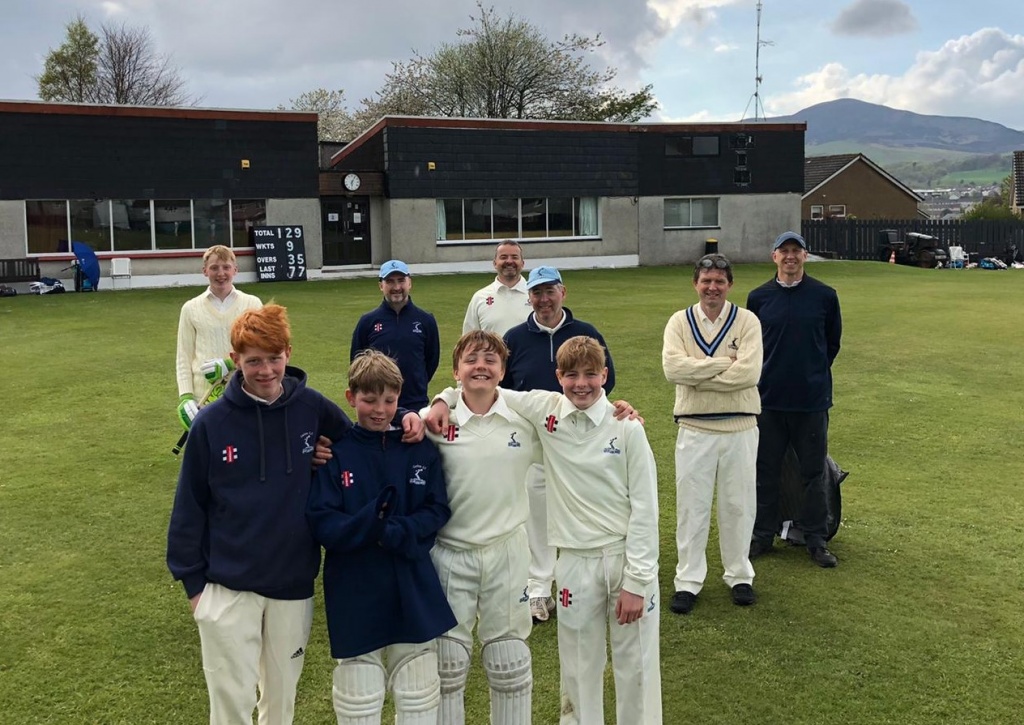 Penicuik's beautiful Kirkhill ground would be the venue for the Famous Five's latest outing. And the teamsheet made for some interesting reading, even by the Fives' high standards – no fewer than five parent/child combos in the roster, rounded out by the experience of newly-minted Carlton honourary life member and general Club legend Martin Robertson. Regular readers of this column will already be inching towards the edge of their seats, wondering how many excruciating family run-outs were perpetrated in the early spring sunshine… but more of that later. Before we come to narrating any such horrors, skipper Keith will win the toss and elect to field, perhaps one eye on a batting line-up which might be regarded as owing rather more to hope than expectation. The reader should also be warned that a lot of Murrays played in this match – for the record, they are not all related, but the Club's overall master plan of fielding an entire Carlton "Murray" XI is one step closer to completion…
Regular Fives strike bowler Robert Rowlands (dad David watching intently from fine leg) and newer addition to the roster Hector Murray (son of your correspondent, eagled eyed from his usual position at mid-on) took the new cherry and set about the Penicuik openers. Excellent form from both youngsters with the new ball, sustained through four-over opening bursts – both quick and full, looking for swing, and offering little to some obviously capable batsmen. Perhaps unable to resist the thought of the perfect symmetry, skipper Keith summoned each youngster's respective father to take the reigns. David R – appearing in his Fives debut – found the going a little tough to start but showed great heart to stick at it; in a major break from tradition your correspondent managed to bring his unprecedented half decent form in training into a match situation and winkled out Cuik opener M Jusow. Time for skipper Keith to shuffle the pack once more and young spinner Lewis King (dad Alan with the ring-side seat behind the sticks) and dangerous southpaw seamer Oli Stones (dad Paul encouraging him on from midwicket) were into the attack. No easy task this for Lewis, on a low-and-slow deck which offered nothing in the way of bounce or turn and some quality bats at the crease – he'll have better days, but great to see him keep giving the ball some air even into the teeth of something of an onslaught (L King 4-0-33-0). Oli found the track rather more to his liking and removed the powerful D Thornton – well caught by Robbie Murray (son of skipper Keith) at cover.
Robbie took the momentum from that catch into a short but effective spell with the ball – well-set opener T Bennet (49) tried to dominate the youngster, but could only inside edge a full one into his pads and onto leg stump (R Murray 2-0-13-1). Robert came back for his second spell, but in a blow to the Fives' hopes he suffered a tweak to the elbow of his bowling arm ending his spell after one over. What an over though, suggesting Robert should bowl injured more often – cleaning up the double 'Cuik Wyllie combination, one clean bowled and the other victim of a brilliant catch at midwicket, steadying himself under a nasty, swirling steepler, by the irrepressible Robbie (R Rowlands 5-0-21-2). Returning at the other end, Hector was eventually rewarded for creating chances in a sustained spell of quality fast bowling when Z Crawley could only fire a powerful drive straight into the reliable clutches of Martin (wondering how on earth he'd get a mention in the match report in amongst all of the father/son chat) at mid-off (H Murray 8-0-32-1). David R returned, looking much more confident into his second spell, and produced a number of unplayable balls without reward (D Rowlands 5-0-34-0); with eight to bowl and the Cuik 165/6 the game was in the balance. Young Oli and somewhat less-young E variety of Murray would bowl out – anything under 200 would surely give the Fives some hope of a successful chase. Fortunately, the veteran/tyro combination was well up to the task – your correspondent responded spikily to being driven for four by ESCA stalwart P Kingsbury with a double strike (E Murray 8-1-11-3), while Oil calmly set about removing the tail with an immaculate full length, rewarded twice with the sweet, sweet sound of leather on stumps (O Stones 7.3-3-19-3). Penicuik 2s 177a.o, an excellent performance by the 5s bowlers against a strong home batting lineup.
"Tea" taken, and the Fives' hopes clearly rested quite heavily on the shoulders of openers Keith and Martin. All looked very well with the world as Martin stroked several elegant drives for four down the ground and Keith pounced on anything short and wide; some unease showing in the Cuik ranks as pace was switched for spin and Martin extended his hands through a glorious straight six ("Catch it!" the bowler's cry, clearly directed at the spectators in row 10 of the second tier) – 69/0 from 17 was a solid start. However, the inevitable run-out calamity struck soon after, Martin unable to make his ground thanks to a hard throw over the stumps, (M Robertson 42 – unlucky for Martin who looked in silky touch, doubt he was getting out any other way) and this was compounded when Keith was victim of a direct hit from almost the deep fine leg boundary while running for what seemed a certain two (K Murray 16). Age and cunning had had their chance; time for youth and skill. Robbie and Lewis took to the middle, Lewis ending one of those days with an unfortunate duck (L King 0) and giving way to Oli. A solid partnership from the two U14 stars – scoring opportunities few and far between thanks to quality Cuik slow bowling, but both batsmen looking to get on with it. They moved the score along to 96 in the 26th over, a couple of finessed boundaries from Robbie helping the rate, but the infernal non-spinning loopy extra-slow right-arm of Ingram did for the young all-rounder, stumped coming forward (R Murray 16). Your correspondent, acutely mindful of his own "talents" as a cricketer, refrains in these missives from passing judgment on any variety of bowling, but wishes to record for posterity his wish to see Ingram bowling at "Boom Boom" Kennedy one of these days… Alas, this precipitated something of a decline in the Fives' innings. David added a couple before aiming a huge swipe at Ingram's floaty offerings, also stumped, (D Rowlands 2) and Alan wrote his name into the hallowed annals of "feeling bad about running out a junior" when calling Oli through for a single that would have been fine with the wickets 12 yards apart (O Stones 10). The remainder of the families Murray could add little – your correspondent caught in two minds and driving an easy catch to mid off (E Murray 2) while Hector could only connect with fresh air swinging at that man Ingram (H Murray 0). Alan perished chipping one into the ring (A King 11), with the Covid-vaccine-side-effects-impaired Paul Stones joining Robert R to see if a miracle could be conjured. Alas not, Paul crashing one through the covers but perishing next ball (P Stones 5; R Rowlands 0*). Carlton Fives 124 a.o.; Penicuik 2s win by 53 runs.
Another great pre-season run out for the Fives with plenty to feel good about; an inexperienced side putting up a good show against a strong Penicuik lineup that will fancy its chances of topping Division 6 this year. Fabulous contributions from all of the junior players – Lewis might not have had his best day with bat or ball, but his head didn't drop for a second as he prowled with intent at backward point; Robbie made a big statement with impact in all three disciplines; Hector really steamed in for eight overs and created several chances; Robert looks to be benefitting from recent experience of bowling longer spells with his much-improved consistency being well rewarded; Oli kept it really tight early and was rewarded for that perfect length at the death. Lovely knock from Martin and more good starts elsewhere – more games will no doubt mean more confidence and translating those starts into match-defining innings. Many thanks indeed to Penicuik for a most enjoyable game played in a true friendly spirit.
Euan Murray