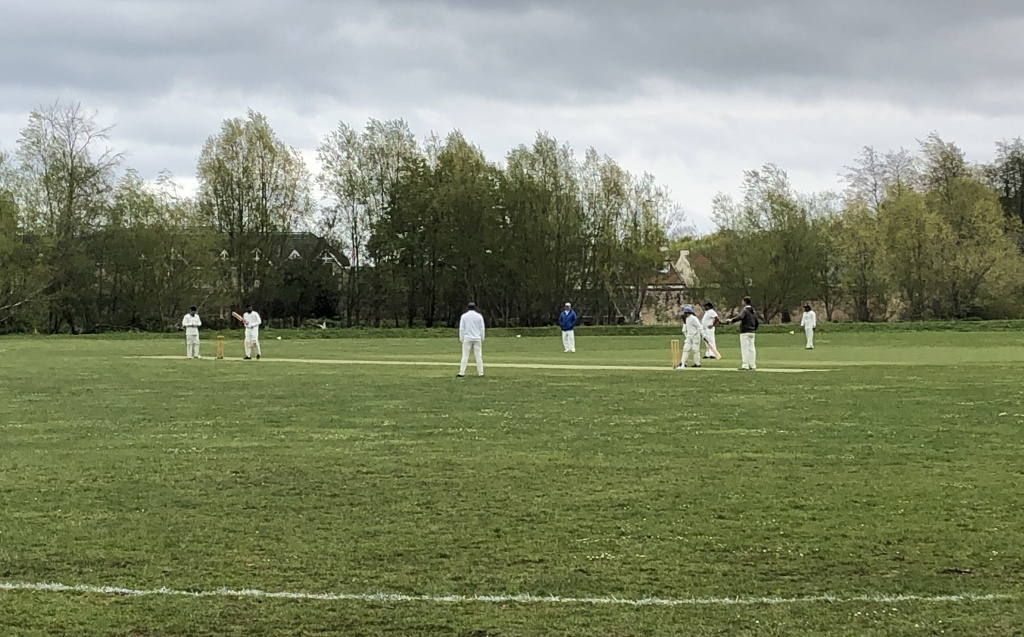 Following a Friday evening of feverish re-organisation – the better to try and protect as many matches as possible from a cheery weekend forecast of typical Scottish May cricketing conditions – a somewhat re-jigged Famous Fives gathered in the welcoming mizzle of Inch Park (at the rather unorthodox time of 10.30am) for a 25/25 shoot-out against Edinburgh South 3s.
The roll-call threw up a few surprising names; could the day's roster lay claim to being the strongest ever Fives line-up? The early start time had also caused a number of delayed arrivals – however, skipper Keith cunningly negotiated the toss to negate any disadvantage, with the Fives to bat first.
Keith and Fives debutant Iain Hathorn squelched out to the middle and surveyed the lush Inch outfield; it looked a day for a lot of running twos. The openers got stuck straight in with a positive approach – plenty of lovely shots flowing from both bats, but also good carry from the Inch astro and a few nicks flew away for runs. They amassed a 50 partnership in less than 10 overs before Keith departed for a brisk 17 (K Murray 17) when unlucky to top-edge a big full toss to midwicket. The fluent Iain was joined by Rory Ledingham (blessed with both considerable cricketing talent and an uncanny ability to attract sledging from opposition keepers). Despite finding the going slightly awkward at times against the South spin attack, Rory joined Iain in unfurling some textbook drives and pulls. Iain cantered to his 50 from just 45 balls and retired (I Hathorn 51*) to allow Mike "Boom Boom" Kennedy some time in the middle to hone his front-foot defence – a quality knock from Iain, looking a very good bat.
To the surprise of any passing spectators who had not previously experienced one of his innings, Mike eschewed the opportunity to block a few on off and get the feet going – instead dispatching a number of trademark thunderous smashes deep into the Inch undergrowth. Ed South were aware of Mike's favoured approach and posted four men on the boundary for his first ball! Eventually he was caught right on the mid-on rope by Jeremy Blood, the tallest player on the South side and probably the only one who could have reeled it in – some catch (M Kennedy 18). Jon Foley joined Rory and looked to get on with it, but was unlucky to miss a flick outside leg and find the ball running off the face of his pads and onto leg stump (J Foley 5). Max "the Maxinator" D'Ulisse bustled out to the crease, Rory finishing up with a glorious lofted drive over long-on for six before holing out (R Ledingham 31). Shuaib Farooq came in and immediately set about the South attack with some powerful straight hitting, including another sweetly struck six over long-on. In the final stages Max was stumped looking to hit out (M D'Ulisse 5), a victim of tidy work behind the sticks from South Chairman Paul Reddish, with Stu Dawson and Shuaib finishing unbeaten (S Farooq 20*; S Dawson 1*). A special mention for South junior O Henderson, bowling with impressive control at the death for a well-deserved 3-0-7-3.
160/6 from 25 looked a seriously challenging total in the conditions and the Fives were confident mood as they took to the field – it seemed that the incessant drizzle and potential for severe hypothermia were all that stood between them and victory.
Your correspondent was entrusted with the new ball in combination with Max, and both found early breakthroughs – Max rewarded handsomely for giving it a little air and attacking the top of off to strike thrice in his first four overs, while "pace" from the other end was sufficient to breach the defences of the capable looking opener M Ilangovan. With the score 22/3 from the first six and South's top order back in the hutch, skipper Keith opted to shuffle his pack. Stu Dawson and Shuaib came into the attack to continue the IPL-informed spin/seam orthodoxy, and the change made life no easier for South. Shuaib's immaculate length and variations of pace proved extremely difficult to get away, while Stu's extra height allowed him to extract all of the bounce which the Inch astro offered. Shuaib's patience and consistency was rewarded in his third over with back-to-back strikes on the top of off (S Farooq 3-0-4-2) and Stu ended the spirited resistance of Reddy, doing a good job of trying to anchor the crumbling South innings from No.3 but unable to hang on (S Dawson 4-0-12-1).
Pace off was clearly the way to go in the rain and gloom, and Keith called on the Ledingham box of leg-spin tricks and rather more orthodox off-breaks of Ian Thompson, plus a very welcome few overs of slow left arm from last-minute inclusion Finlay Thompson. Rory's variations proved an insoluble puzzle to South batsmen and keeper Mike alike, while Finlay found a lovely length from the off and kept the batsmen guessing with his control of flight. Thompsons senior and junior finished with identical figures (I Thompson 3-0-11-0; F Thompson 3-0-11-0) – well bowled, Finlay, and particularly impressive to see him fearlessly keep the ball up above the batsman's eyeline even after a couple of good shots for four. Rory took a well deserved wicket in his final over (R Ledingham 3-1-5-1); a good set to complete a fine all-round performance from the U15 tyro. The spinners were well supported throughout with some excellent ground fielding in the ring. Max and your correspondent were summoned to close out the last couple of overs, and continued a three-year unbroken streak of never having dropped a catch from the others' bowling; Max brilliantly pouching a hard-hit but aerial cut at backward point before casually knocking over the final wicket to finish with a superb four-fer (E Murray 4-0-16-2; M D'Ulisse 5-2-8-4).
Carlton Fives (160/7) beat Edinburgh South 3s (67ao) by 91 runs.
An excellent pre-season showing from a very strong Fives line-up. Plenty of runs up front, well spread throughout the order, backed up by a dominant display in the field made this a win to savour. Rory and Shuaib showed the depth of all-round talent available to the club; Max's best senior analysis to date with the ball was a just reward for trusting himself to give it some air; and Finlay looked immediately at home in senior cricket, bowling well and fielding even better. Special thanks to Keith, John B, Alan M and Paul Reddish of South for all of the hard work on Friday to ensure that we had a fixture in before the weather beat us, and to the South team for a really enjoyable game played in the best of spirit – even if it was absolutely bloody freezing.
Euan Murray