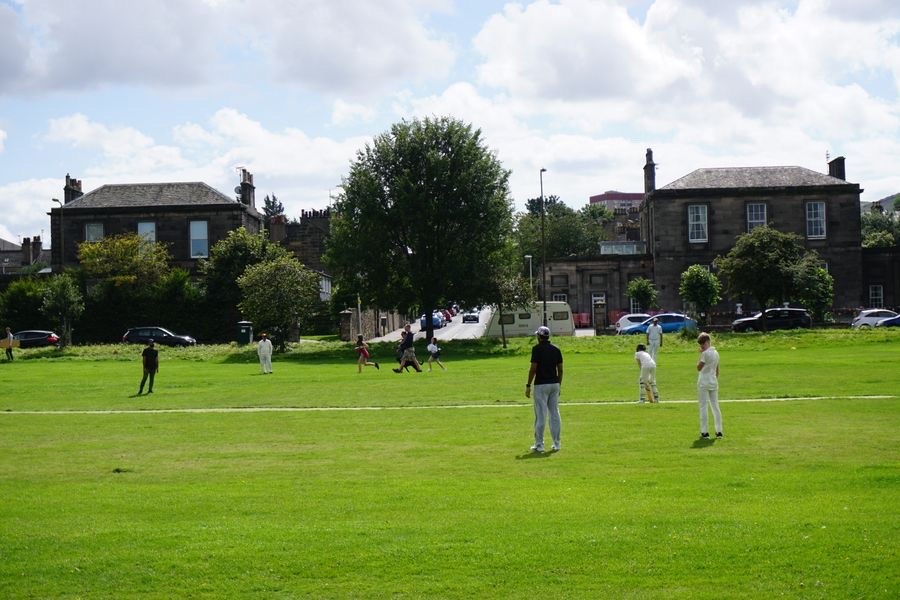 Carlton 4s 159ao (Brian Kaczynski 52, Paul Kentish 44) bt Leith FAB 2s 123ao (Tom Leftley 3-14, Dougie Firth 3-18)
Leith Links has had a chequered history.  As its name suggests, it was at one time a golf course, one record suggesting an unusual (to modern golfers) 5-hole course which was traditionally played twice to constitute a round.  Before that however, it was almost certainly the site of a quarantine station and later a burial pit during a global pandemic [insert own topical joke here], and anecdotally the site of opposing gun batteries during the Siege of Leith (which ended when the French garrison was expelled from a Scottish city by an English army.  History is very confusing, this is why I stick to cricket).  Cricket, remarkably, has been played there since 1826.  I can only assume that in 1826, the pitch was not astro.  I am less certain of the presence of the famous path through the outfield – clearly the present-day tarmac version would not have existed in 1826, as tarmac wasn't available for another 75 years, but I can well imagine Victorian Leithers wandering unknowingly through the outfield of a cricket match in much the same way that their modern counterparts do today.
In an earlier life in London, it was well known to me that the average speed of traffic in modern London was more-or-less the same as the average speed of traffic in Victorian London.  I believe this is known as "progress".  Extrapolating wildly, I assume that the same applies to Edinburgh, and therefore that a Victorian resident of the Grange would have travelled to Leith Links at no more than 5 miles per hour in their horse-drawn cab.  All of which is a long-winded way of explaining that I, and therefore Dougie, were late arriving in Leith, and therefore missed the warm-up, the toss, and (nearly) the first ball.  Dougie, possibly as a result of not being there on time, or maybe as a piece of inspired captaincy by Paul, was duly relegated to number 10 (or was it number 11) and therefore cast as a bowler.  As will shortly be seen, this far-sighted leadership resulted in (a) a rare bowling achievement and (b) an early end to the game.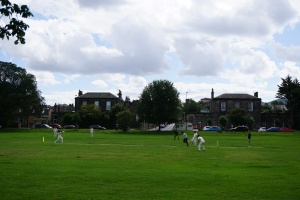 By some means, it was determined that Carlton 4s would bat first.  Paul and Jamie strode out to begin Carlton's innings.  They found the going hard at first – the lush savannah grasslands of the outfield precluded scoring groundstrokes, and therefore immediately negated decades of coaching.  Leith's succession of naggingly-accurate medium pacers reduced scoring strokes to a minimum.  Gradually however, the batters imposed themselves on the bowling; both hit crisply-struck boundaries, and the scoring rate accelerated to the giddy heights of 4-an-over.  On the cusp of making it to the all-important 10-over mark however, Jamie was athletically caught by a leaping extra cover, and departed for an important 18 to make way for Rudy.  Rudy – upright and correct – struck some good shots, but found it hard to penetrate the infield, perishing after 4 overs to a straight one which he had tried to swing through in an attempt to get the scoring going again.
The game was interrupted periodically by unsuspecting passers-by walking along the path through the outfield.  We were introduced to local rules: the game stops for children or elderly people, but carries on for other adults.  This introduces the hilarious possibility of confusion: Paul clipped a ball off his legs to mid-wicket, spotted it going straight to what he assumed was a fielder, and firmly called "no".  The "fielder" ignored the ball, and walked on!  Paul realised his error, changed his mind and set off for the run after all.
The match entered its first defining phase.  Brian joined Paul, and was immediately busy, mixing his trademark lunging defence with his equally trademark deft dabs behind square on both sides of the wicket.  Paul was no less ambitious: the lesser-spotted 2 became suddenly more common; the endangered 4 increased in number to the delight of cricketologists everywhere.  All was well with the world.  At the interval-formerly-known-as-drinks, the Carlton 4s were cruising at 80-2.  Paul & Brian kept cruising, until the eventful 24th over, when, in quick succession: Paul brought up the 50 partnership with a magnificent 4; Paul brought up the 100 with a towering 6; and Paul was adjudged LBW and left with a Captain's innings 44, which certainly deserved a 50.  The 4s were in a cracking position: 105-3 off 24, one set batter, and a lot of youthful enthusiasm to come.
Max joined Brian but was undone by a rare piece of misbehaviour by the hitherto-unimpeachable astro: a moderately-paced ball of a good length reared up and shot at Max's head.  He did well to get his bat in the way – and the wicketkeeper did even better to reach up with one gloved paw and pluck the ball out of the air.  Joe joined Brian, and mixed stubborn defence with enterprising running, until he was clean-bowled trying to move things along.  Fraser replaced Joe, but was run out attempting an ambitious run.  Isaac steadied the innings a bit, but found scoring hard – straight drives which at Grange Loan would have been rewarded with runs and purring satisfaction from his coaches would stall in the verdant pastures of Leith Links and result in no score.  Nonetheless, he persevered, scoring exclusively in singles which returned Brian to the business end to wreak his own particular form of backward-of-square havoc.  Brain & Isaac pushed the score on to the borders of 150, when Isaac misjudged a straight one (ahem, bear in mind that this report-writer was standing at mid-wicket, and therefore has no idea what was straight and what curved like a banana) and was bowled.
The nxCricket scoring app is somewhat straight-laced; it permits no flights of fancy in the scoring of matches.  This was a shame in recording the manner of Brian's dismissal: Brian set off in search of a second run; the ball was flung in to the wicket-keeper, who broke the wicket and loudly appealed.  There was no doubt that at the point the keeper knocked the stumps over, Brian was somewhat short of his crease, but where was the ball?  The square-leg umpire, who was unsighted by the melee at the wicket, initially gave Brian out, but then had second thoughts.  Paul, umpiring at the bowler's end, was in no doubt that the wicket had been broken by a part of the keeper's anatomy that was not simultaneously in contact with the ball, and deemed Brian not out.  A free and frank exchange of views ensued, in the course of which Brian realised that he'd been batting for 25 overs, and was about to keep wicket for 40, could do with a rest, and stalked off.  How to record that?  Were I using a paper scorebook, I would have denoted that "retired – run out".  Sadly, nxCricket allows no such frivolity, so I settled for the prosaic but in hindsight incorrect, "run out".
There were only a handful of overs of Carlton's innings left: Tom batted cannily, Dougie perished trying to move the score along, Hannah batted watchfully but was bowled swinging at the last ball.  Carlton 4s had amassed 159 all out, driven by Brian's 52 and Paul's nearly-50.  The interval chat: cautious optimism.  160 is about par, and the 4s have some bowling firepower and some athletic fielding.
Rudy – fast and straight – and Tom – fast and straight – opened Carlton's attack.  The score crept along until the third over, when Tom struck, trapping Leith's number 1 LBW.  A pause for Rudy to bowl a typically parsimonious over, then Tom struck again, Leith's number 2 well caught by Isaac.  Another tight over from Rudy, and Tom got his third, clean-bowling number 4, who had scored two mighty slog-swept 4s but missed the third attempt completely.  Rudy and Tom bowled out their 5 overs each: after 10 overs, Leith were 31-3, a good return for the 4s' opening bowlers.  Hannah and Isaac took over, Isaac bowling heroically into the stiffening Westerly breeze.  After a period of batting consolidation, Hannah removed Leith's tenacious number 3 by knocking his stumps Eastwards.  Leith's scoring rate increased a bit with the free-hitting middle order, but Isaac restored a measure of control, luring number 5 into a lofted catch to Paul, lurking in the covers.  At the half-way mark, Leith were 66-5, Carlton's prospects of taking home a win were looking promising.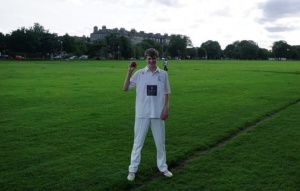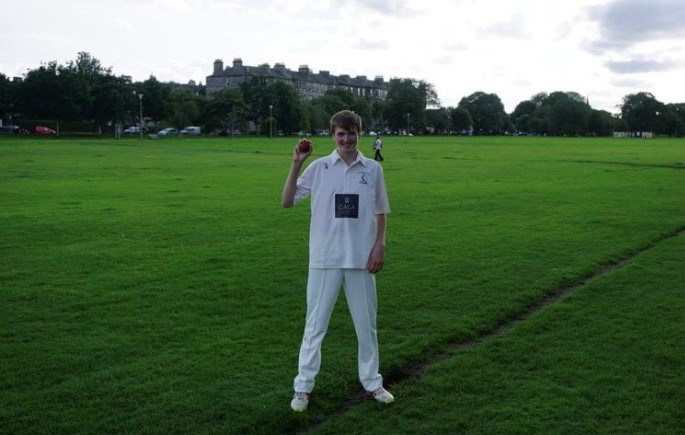 Dougie and Max took over bowling, Max immediately trapped number 6 LBW; 78-6.  Leith's 7 & 8 however were far from tail-enders, and moved the scoring along swiftly.  Number 8 thumped a mighty 6, both batters hit and ran with enthusiasm, and propelled Leith to within 50 of their target.  All this changed though, as the second defining phase of the match struck.  Dougie, perhaps tiring of number 8's free scoring, bowled a slower, swinging delivery which number 8 could only snick to Brian.  Number 9 came to the wicket, took guard … and Dougie swung one straight into his pads: LBW.  Dougie on a hat trick!  Number 10 replaced him (after a pause to hastily pad up), and missed his first ball, which rearranged his stumps into the less-common horizontal formation.  HAT TRICK!  109-9
Numbers 7 and 11 hit out, ran well and nicked a handful of byes, then number 11 lofted a catch off Fraser to Hannah at deep mid-on – who took it confidently to end the match.  Leith were all out for 123 off 30.1 overs.
In the end, a comfortable-looking victory, driven by tremendous batting from Paul and Brian, and an all-round strong bowling performance by an attack comprising largely junior bowlers.  Tom and Dougie will get the plaudits for 3 wickets each (did I mention Dougie's hat trick?), but the bowlers who get wickets are often reaping the rewards of their fellow bowlers suffocating batters at the other end.  This game was no exception: all the 4s bowlers worked hard to build pressure.  Three bowlers registered maiden overs; five had economy rates under 4.  The whole team fielded as a pack, perhaps appropriate given the likening of the outfield to a savannah grassland earlier in this report.