Under-16s give Watsonians the blues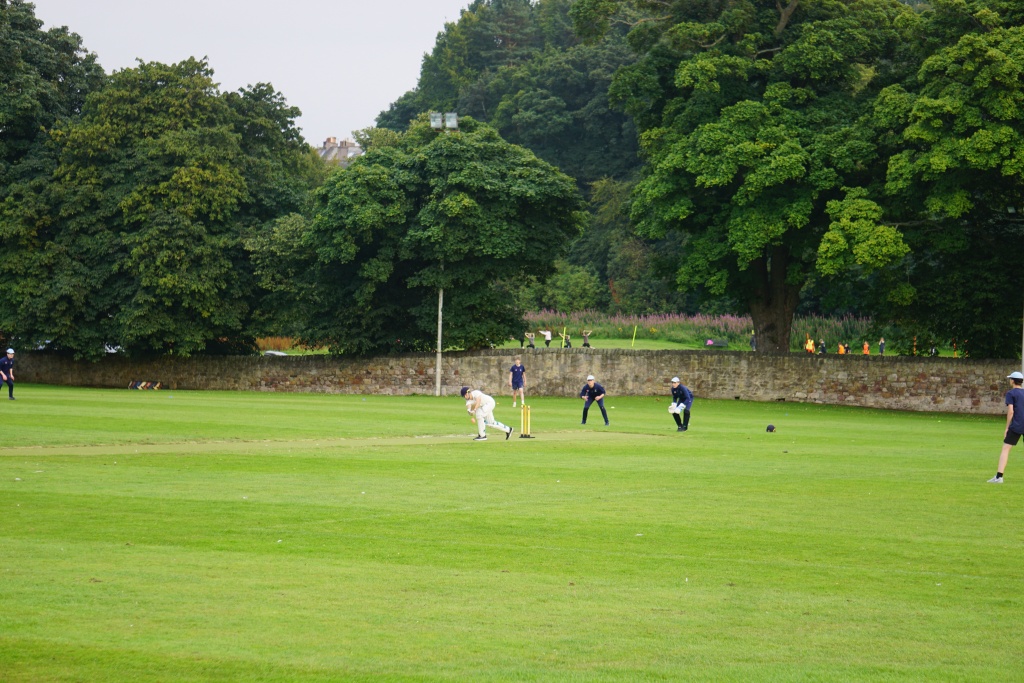 Carlton U16 127-5 (Euan Keatinge 29no, Gavin Murray 26no) bt Watsonians U16 102ao (Charlie Kentish 2-4, Dougie Firth 2-15)
The first inter-club under-16 fixture of this season finally happened on Wednesday 19 August, a date by which the cricket season would normally be winding down, with only a match or two to go.  Carlton's under-16s travelled the short distance to Watsonians Craiglockhart ground, shrouded in a stereotypical Edinburgh haar, and overlooked by the somewhat forbidding glower of Craiglockhart Castle.  The haar, and its ally in darkness the increasingly early late-summer sunset, resulted in an 18-over match.  What to call an 18-over match?  E18 doesn't really have the same ring as T20; it reads like a food supplement, or maybe a spoof 1990s boy band.
Gosh, I thought, those Watsonians are tall.  Then I looked at our players and realised that they too have spent the last year assiduously growing.  Carlton's under-16s looked familiar, comprising in roughly equal parts last year's under-16s and last year's under-14 Falcons (not to mention the nucleus of pretty much every Carlton Kwik Cricket team in the mid-2010s).  The pitch: astro; boundaries: short; outfield: longish, clearly getting ready to be a rugby pitch any week now.  The short boundaries and slow outfield would probably cancel each other out.
I'm pretty sure a toss was held: Captain Rua detached himself from the pre-match socially-distanced huddle, and approached his mother for a coin.  It's possible he was just supplementing his pocket money though …  Either way, it was somehow determined that Carlton would bat first; Gavin and Matthew strode out to the middle to open the innings.  Watsonians opening bowlers were tall and quick, Gavin and Matthew initially found it quite hard to score.  They stole a bye, traded singles, Gavin struck a 4 then nicked the strike at the end of the second over.  Part way through the third, a single brought Matthew back to the striker's end; perhaps surprised by this turn of events (he had faced just 3 of the 15 balls bowled so far), he misjudged a straight one and departed to let Euan have a shot.  The opening bowlers were replaced, and the pace of scoring increased; 4s began to cruise over the boundary; both players unfurled a 6.  Gav retired after 24 balls with a well-earned 26 and Rua took over and thumped a mighty 6 of his own.  By the half-way point, Carlton had scored 65 runs for the loss of just one wicket, a tremendous start.
Euan reached 24 balls and retired on a strong 29, and was replaced by Charlie, who carried on the boundary-hitting.  Rua was out in somewhat confused circumstances; he nicked the ball past the wicket-keeper and all the way to the boundary; both scorers had added 4 to Rua's score when we noticed him trudging off: it turned out the ball had scraped the stumps on its way off the pitch.  Dougie joined Charlie, who by now was well into the swing of boundary-hitting and looking well-set until he was well caught at deep mid-on, attempting to clear the infield.  Jamie joined Dougie, and the scoring continued.  Dougie hit a well-placed 4, then the very next ball perished in a classic yes, yes, no, no, oops run-out.  Jamie was himself caught a few balls later, leaving Freddie and Fraser to milk some final runs from the last two overs.  Carlton finished on 127-5, a good score for 18 overs.
The haar had by now won its one-sided battle with the sun, and the evening was distinctly grey.  Watsonians openers strode out to be greeted by a wall of Carlton noise as the fielders encouraged each other to stay alert.  Jamie (off a shortened run as he returns from a broken wrist, but nonetheless generating some significant speed) and Fraser opened the bowling.  After a quiet couple of overs, Jamie struck, bowling number 2.  Fraser, not to be outdone, had the dangerous number 3 well-caught by Dougie off a steepling mis-hit in the very next over.  Captain Rua cannily turned to Charlie's spin, and Charlie duly obliged with the wicket of number 1, caught by Gav.  Kyle bowled a parsimonious over, then Dougie bowled a maiden over during which number 5 was run out by a significant margin from a cracking throw by Euan.  Kyle returned for a second over, during which number 4 found his range and clobbered three 4s.  Kyle got his revenge though, number 4 was caught by Charlie, trying to repeat the feat.
The story so far: Carlton have bowled 8 overs, during which time 5 wickets have fallen for 25 runs.  The bowlers of course deserve much of the credit, but the pressure which led to the false shots and the run out was generated by a tremendous fielding performance.  Led by Rua at short cover, the entire team was alert, and attacked every ball.  The fielding was determined: several boundaries were saved by racing, diving stops; singles were not allowed to be converted into 2s.  The level of chat and energy remained high throughout the whole of the Watsonians innings.
Cricket matches are rarely complete without a change of pace at some point, and this was no exception.  Watsonians numbers 6 & 7 settled down to steady the innings.  Number 6 was particularly brutal, hitting two mighty 6s and a clutch of 4s.  Number 7 was equally busy, rarely spending more than two balls at the striker's end before tapping a single and returning number 6 there.  The scoring rate increased, but Carlton's bowlers had done so much damage in the opening half of the innings that the required scoring rate increased too.  After 5 entertaining overs, Dougie returned for a second mini-spell of one over, and bowled number 7.  Wickets began to fall again: one over later, Calum had number 8 caught, swinging, by Matthew on the mid-wicket boundary.  Next over, Gav caught number 9 off Charlie.  Dougie returned for a third mini-spell, number 7 reached 39 off his allotted 24 balls and retired.  The very next ball, Dougie bowled number 10, and number 7 returned to the field.  Four balls later, he was run out, vainly trying to achieve an increasingly-unlikely scoring rate.
I sometimes amuse myself by considering who the player of a match would be, were we given to handing out such titles.  Sometimes, one player has clearly excelled, but in this case there was no single outstanding contribution, everyone contributed.  Euan and Gav scored highly and retired, but four other players reached double figures too.  Charlie and Dougie took two wickets each, but four other players took one each.  Four players took catches, two others effected run-outs, several saved boundaries and therefore 3 runs.  And that's the story of the match: it was a true team fielding effort, a really good example of how an entire fielding team, working together, can put pressure on the batting side through the intensity of their fielding.
A final footnote: Dougie, on his 15th birthday, took 2-15.  Looking back at the scorebooks, I see that on his 14th birthday he took 3-15.  It must be his lucky day.