4s come second by an Inch or two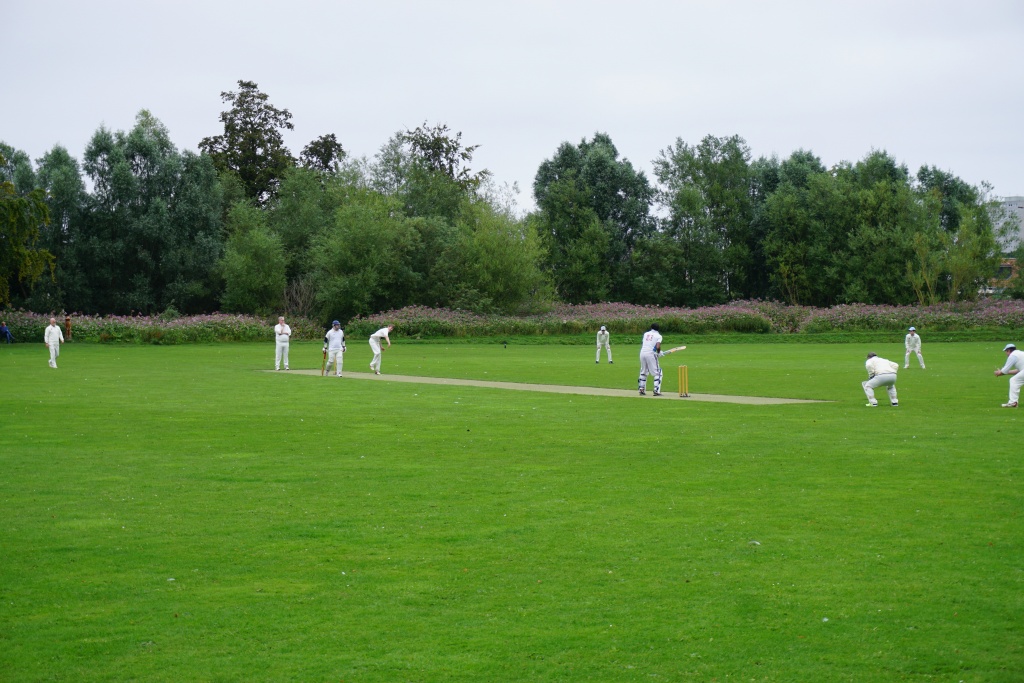 Carlton 4s 109-9 (Paul Kentish 37) lost to Morton 2s 124-9 (Fraser Kentish 2-18, Rudy Adair 2-20)

Time, I am learning, moves fast.

Yesterday (or so it seems), I was the parent of a 7-year-old taking his first steps in Kwik Cricket. Having made the rookie error of betraying some knowledge of cricket whilst delivering him to Grange Loan, I immediately found myself volunteered for something loosely termed "coaching", although "cat-herding" was probably a more accurate description. Time being a fickle friend, my 7-year-old tyro is now into his third season of senior cricket, and promoted to the 4th XI. Among the many mistakes I have made along the way, I may have accidentally penned the odd match report. And so it comes to pass that I find myself volunteered to write a 4th XI match report.

A pause for a moment to allow the full import of that awful responsibility to sink into my head. As an avid reader of Carlton match reports, I am fully aware of the illustrious predecessors in whose pen-steps I follow, and how ill-prepared I am for this honour. I have not, for example, spent any of the last few years studying the bowling action of melodramatic German composers, nor devoted any waking-hours to investigating the revolutions of a gently-spun coin of the realm. On the plus side, I have developed the habit of beginning a match report with a largely-irrelevant preamble, although I have yet to exasperate "Ed" into telling me to "get on with it" (although "Ed" did once completely remove an attempted "joke", so I feel I am moving in the right direction).

And now, the weather: the 4th XI convened at Ice Station Zebra (owing to a GPS anomaly; we had intended to convene at the Inch) to try out our post-lockdown skills against Morton 2 (kudos to Stu Dawson for "Ice Station Zebra", I wish I'd thought of that). It is a fact well-understood by the cricket-watching public that all Edinburgh cricket grounds are routinely 5oC colder than anywhere else in Edinburgh – which is itself not a good starting point. Nevertheless, a clutch of junior players eschewed the traditional three sweaters in a forlorn attempt to top up their mist-tans. The cricket-watching public was, of course, well wrapped-up in a blanket.

The toss is an odd and often-unnecessary formality. Once again today, a coin-of-the-realm was flung aloft, Morton's captain called "Tails", the coin rebelliously landed staring at the sky, captain Paul elected to bowl, and the Morton captain looked surprised and pleased. Morton's openers padded up and strode to the middle. Rudy steamed in from the Braid Burn end; Rudy – unlike all German composers – has an uncomplicated action: run straight in, point at the wicket, bring the arm smoothly over and land the ball on line and length. Rinse and repeat.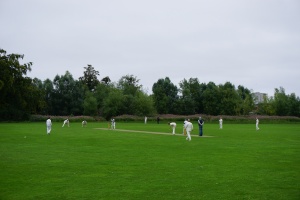 Ivan raced in from the Nursery end; Ivan's action is somewhat more complex but when it goes well, as it did here, he is fast and threatening. In the third over: a wicket, Ivan shattering the still-scoreless Morton opener's wicket. Not to be outdone, Rudy induced a catch to Dougie in the next over to account for the other opener. He and Ivan bowled out the opening 10 overs for a miserly 28 runs and retired to graze on the boundary while Dougie and Andrew took over bowling. After a relatively quiet first over each, bang! Bang! Both bowlers struck in their second over: Dougie's slower ball fooling the batter into swinging through a straight one, Andrew taking a sharp caught-and-bowled chance. 

It was becoming clear that scoring runs was not straightforward. Obviously Carlton's bowlers' accuracy had a lot to do with that, but the lush and damp outfield played its part too. Ground strokes which might be expected to race away across the outfield crawled to a stop well short of the boundary. Even lofted drives would climb high, drop to the ground … and stop dead. Either side of the interval-formerly-known-as-drinks, Morton's dangerous-looking number 6 batter lived up to his batting position and clobbered a pair of sixes, but otherwise scoring was almost entirely in singles. Dougie and Andrew bowled out 10 overs and gave way to Fraser and Max. Fraser, charging in from the Braid Burn end, had Morton's number 5 caught by Paul: ct Kentish, b Kentish. Not to be outdone, Andrew took a good catch off Max's bowling in the very next over to dismiss the dangerous-looking number 6. Fraser returned, and had number 7 caught by Charlie: ct Kentish, b Kentish again!
After this flurry of excitement, the match settled back into a slow-but-steady state; for 10 overs, the scoring was exclusively in singles, and runs crept along at 2-3 per over. Max kept twirling away from the Nursery end, but Ivan returned in place of Fraser and cleaned bowled number 9. The pace increased somewhat; Morton's captain, unaccountably batting at number 10, and the well-set number 8 started hitting out. They were still hampered by the somnolent outfield, but the run rate managed to totter above 3 an over. Andrew and Rudy returned to bowl out the last 5 overs; Rudy had number 8 well caught by Dougie off a steepling mis-hit somewhere in the region of mid-off, and Andrew bowled out the last, uneventful, over to a watchful number 11. That was a great all-team bowling performance. Every bowler took a wicket (Rudy, Ivan and Fraser took two each, Dougie, Andrew and Max one each), and they all have analyses to be pleased with. Fraser's 2-18 and Rudy's 2-20 will garner the headlines, but Max's economy rate of 2.00 is pretty cool for a junior spinner bowling at a team of experienced batters. Extras, so often the scourge of the scorebook, were pegged back to just 7. Morton finished on 124-9.

One of the most disappointing aspects of post-lockdown cricket is the lack of the traditional tea. Gone are the mountains of empire biscuits and pakoras. Gone is the unseemly scramble for the tastiest morsels. Gone are the in-vain exhortations of the senior players to the juniors to let the visitors have the first shot. Instead, players retire to their own bags and pull out their own private feasts. For the first time in my memory, there was no difficulty getting players to stop plundering tea and get on with plundering runs instead. The interval chat: 125 runs needed, only just over 3 runs an over. That's not impossible …

Bruce and Charlie strode out to begin Carlton's reply. Morton's opening bowlers were bustling medium-fast, with an exemplary length and a nagging line. Bruce and Charlie found it hard to get the ball away; having presumably seen how the outfield was playing, all Morton's fielders were in a ring stopping the single, which made even singles hard to come by. Nonetheless, the batters seemed to be figuring this puzzle out; sharp singles began to be taken, Bruce thumped a mighty four … and then a few balls later was bamboozled by a ball which slunk past his bat and thudded ominously into his pad in lieu of taking out his leg stump. Rob joined Charlie, and the pair settled down to watchfully seeing off the opening bowlers. Unfortunately, that tactic was soon found to be wanting: Morton's change bowlers bowled a very similar nagging length and exemplary line, and scoring runs became no easier. Charlie perished trying to loft one over the infield, Max joined Rob. Runs trickled into the scorebook, then Max followed Charlie into trying to propel the ball over the infield and was caught. Rudy joined Rob, then: disaster! A horrible misunderstanding about exactly how fast Rob's hamstring could run saw him run out attempting a rare second run.

At this point, the run rate was a somewhat concerning 1½ runs an over.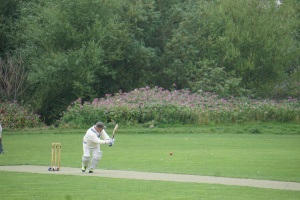 That could be tenable if Carlton had almost all our wickets in hand, but the astute reader who has naturally been paying attention through the preceding paragraph will notice mention of at least 4 fallen wickets.
Brian joined Rudy, and was immediately busy rectifying the situation. He discovered the hitherto-unseen 2, and seemed to inspire Rudy to do the same. In a heady five overs following definitely-not-drinks, Brian and Rudy lifted the run rate to 2 per over, well on the way to the required 3. Alas, the necessity to keep scoring runs against the continual nagging line and length did for Brian, well caught by the tumbling Morton skipper.

Brian's untimely demise heralded the entrance of Paul. He started circumspectly, dealing in the by-now-familiar dots and ones. Rudy unfortunately departed, caught near the boundary, and Fraser replaced him.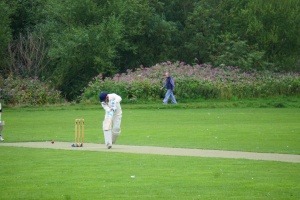 Paul upped the pace, hitting the ball with ever more intent. A four appeared, for the first time since Bruce's boundary in the fifth over, then a six, two more fours … Fraser played the supporting role well, running sharply and scoring singles as quickly as possible when he found himself at the striker's end. For about 10 overs, all looked rosy: the scoring rate climbed to a heady 2½ an over, and it was possible to believe that these two could keep this up and score the remaining runs. Then: disaster again! A double-wicket maiden in the 37th over saw first Fraser bowled, then Andrew adjudged LBW trying to work a ball off his legs to get Paul back on strike. Paul did his best to marshal the last two batters, but was finally caught for a battling 37, trying to clear the fielders (who by now had unhelpfully retreated to the boundary) again. This left Dougie and Ivan with an implausible target of 27 off 10 balls. They entertained hugely with a better than run-a-ball 11, and Carlton's innings ended a few runs short on 109-9. Paul's 37 was of course the highlight, although Ivan has a strike rate of 100 from a low-scoring day to stick into the scrapbook too.

Thank you, and well done, to Morton for a hugely enjoyable friendly game to belatedly kick-start this strangest of seasons. All 22 players batted, everyone who wanted to bowl did so. In the end the difference was that Morton's bowling was stifling from top to bottom; they just didn't give Carlton's batters anything loose to play with.