Lads and dads vs Peebles take 2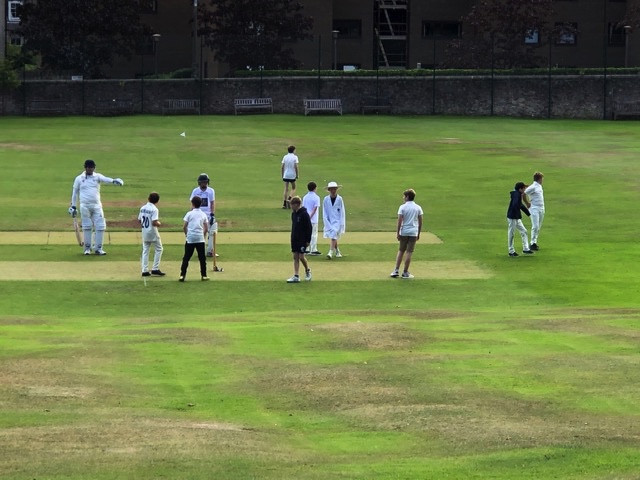 On Sunday 1st September, Carlton hosted the return friendly match against Peebles at Grange Loan. Despite the forecast, the sun shone most of the afternoon.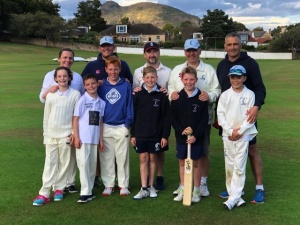 The Carlton team comprised Robbie & Keith Murray, Oli & Paul Stones, Hector & Euan Murray, Lewis & Alan King, Hamish & Angus Turner, and Gabriela & Siobhan Fontenla. Many of the team had played in the Players v Parents KwikCricket match that morning. 9 year old Harrison Fontenla also played for Peebles who were a couple of players short.
Skipper Keith lost the toss and Carlton were duly inserted on the fine looking grass wicket north of the Astro.  Hector and Euan Murray opened carefully and accelerated towards the end of their 20 balls faced, both retiring unbeaten. Gabriella's innings was ended early when she was horribly run out by her mum, Siobhan. However, Siobhan made amends by hitting an excellent 22 off 15 balls, including 3 fours through the leg side. Hamish and Angus moved the score on quickly before both falling to the Peebles' skipper Niall Burns. Lewis and Alan consolidated sensibly, hitting 13 and 15 respectively. Robbie also carefully saw out his 20 balls, with Oli top scoring for the juniors with 15 at the other end. Keith then came in and hit a breezy 15 off 8 balls, before retiring to give Paul the last over with Oli. Carlton finished on a respectable 146 off their 30 overs.
An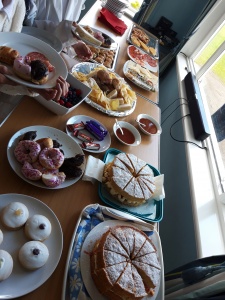 excellent tea then followed, with mountains of pakora, sausage rolls, empire biscuits and other goodies. There was even a "sponge off" between Heather and Carolyn Murray, who both produced wonderful jam and cream sponges.
The Peebles reply got off to a good start with experienced batman Richard Common marshalling the juniors, despite some accurate bowling from the Carlton youngsters. Wickets were shared around and there were fine performances in the field from all, including some excellent catches and sharp run-outs. Harrison pushed the score on for Peebles, hitting some excellent shots through the off side. Niall also hit a number of big boundaries for the visitors, but the Carlton bowling proved too strong and Peebles were restricted to 107 off their 30 overs.
Many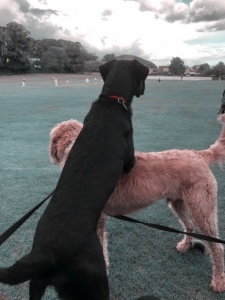 thanks to Peebles for making the trip to Grange Loan and for hosting us last week. It was a most enjoyable way to end the season and an excellent opportunity for the youngsters on both sides to get experience of playing hardball matches on a full size pitch against adults. We eagerly look forward to meeting up again next year.
Many thanks also to Collette KIng and all the other parents who helped with the tea and other refreshments and to the ground staff for preparing an excellent wicket for us to use. Finally, a big thank you to the players for their efforts in what was a fantastic but very long day for many. Roll on next year….