Falcons soar; Eagles sore!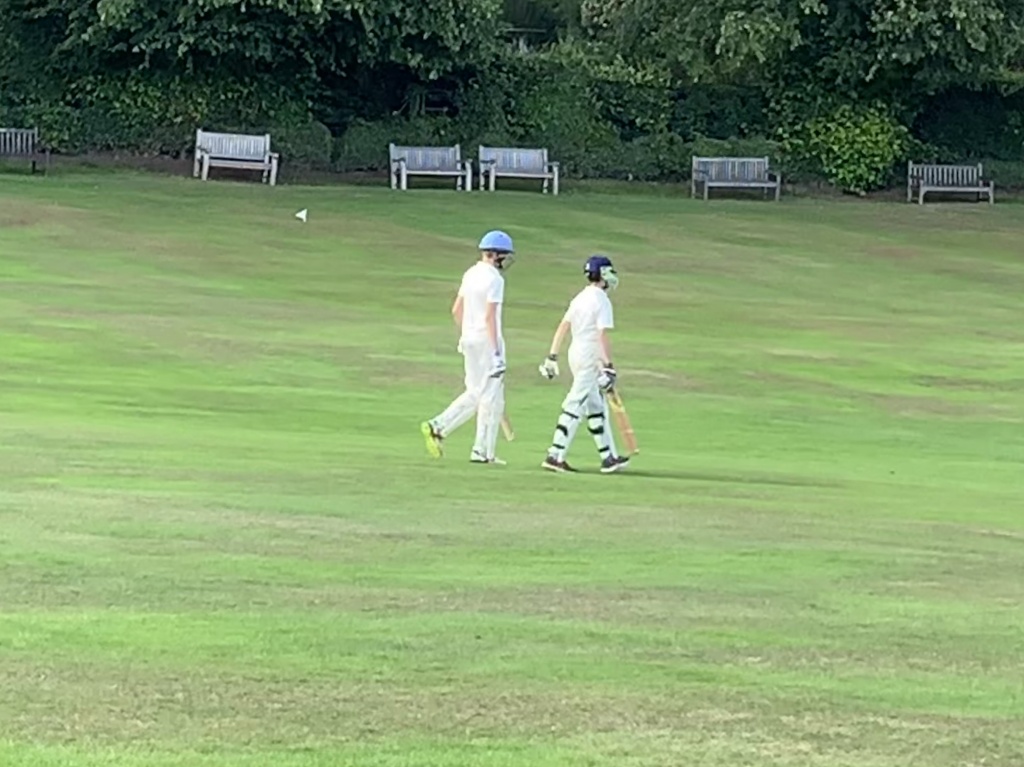 Carlton U14 Falcons 101-6 (D Firth 25no; F Foley 1-1, Z Dancu 1-4, M d'Ulisse 1-11) beat Carlton U14 Eagles 97-6 (M d'Ulisse 26, C Kentish 24no; R Adair 3-12, M Restall 1-7)
Cricket Scotland fondly believes that Edinburgh junior cricketers all take their holidays in July – hence the unfortunate break in league cricket at exactly the point when junior cricketers have time on their hands, and hence the scramble to find a team of eligible cricketers to represent the U14s at exactly the point they all go on holiday.  "Selection" problems this particular week were exacerbated by a multitude of injuries of the more or less entertaining variety, and some baffling last-minute switches of allegiance …  Decades ago it was said of Welsh rugby that they had only to whistle down a mine for a plethora of props to appear; and so it is today with Carlton, we have only to whistle down an email for an entire team of U12s and young U16s to appear to join the fun.   The second Carlton U14 derby of the season followed this pattern: the mostly-the-Falcons met not-really-the-Eagles for a traditional Monday evening showdown.
Captain Matthew (fully fit) and Captain Isaac (only one working leg) convened for the toss.  Up, up, up went the coin.  Down, down, down came the coin, spinning all the while.  Captain Matthew calculated quickly: "Heads!", he called.  "Tails" the coin puckishly responded.  "We'll bowl" chose Captain Isaac.  "I'd have chosen to bat" revealed Captain Matthew.  The toss is a much overrated event.
Kyle andMatthew strode out to face Fergus and Oli's opening salvo.  The first over yielded just a bye; Matthew found his range in the second and hit a couple of booming fours.  The third yielded another bye, and the pressure of not-scoring-runs told: the batters attempted to scamper a sporting single, and Matthew was run out by a direct hit by Robbie at Square Leg, proudly given out by Keith, also at Square Leg, albeit in a different capacity.  Calum, fresh from warm-weather training in Mexico, joined Kyle, and these two scored steadily for a couple of overs, until Calum misjudged the first ball of Zaara's first over and was bowled.  Rudy replaced Calum, and the pattern repeated: a batter apparently getting set, then getting out to a straight one, in this case Max's mystery ball.  Fraser replaced Rudy.  But what of Kyle, I hear the reader cry.  Kyle had quietly and patiently blocked and nudged his way to another opener's retirement, his fifth this season, and proudly left the field with 8 runs to his name to give way to Dougie.
Dougie and Fraser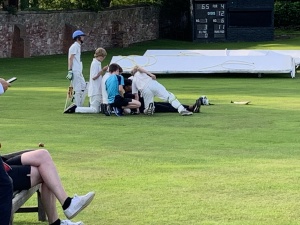 carried on where they'd left off last season, calmly accumulating runs together.  Fraser monopolised Robert's first over; Dougie returned the favour in his second.  In between, Jamie (the spinning version) was seen off, and all the while runs trickled in.  Jamie bowled Fraser with the first ball of his second over, which brought Freddie to the crease, who saw off the rest of the over, scored a run off its last ball, and saw off the next over too.  Dougie finally got to the business end to face Charlie, and it was clear the wait had made him impatient: blam, blam, blam, three fours flew from his bat.  Dougie & Freddie quietened down a bit after that, but sailed on majestically to retire within a ball of each other, to bring two new batters, Hamish and Sam, to the crease.  Some sharp running (including a very near-missed run out) kept the scoreboard ticking over; Hamish scored a lovely four, but was then bowled by the returning Oli.  Kyle returned from retirement, but mostly watched as Sam saw off first Max then Jamie, for the addition of another cracking four.  Fergus returned to bowl the last over and had Sam caught by Zaara; Kyle, off Fergus's 17th ball, scored the first run Fergus conceded in three overs to bring up the Falcons' 100, followed by a stolen leg-bye off the very last ball to add the gloss to bring it to 101.  Fergus finished on the remarkable figures of 3-2-1-1.
Normally, 101 wouldn't be nearly enough.  But the Falcons had found it hard to score on the damp pitch and damper outfield, and they had some serious bowling firepower, so maybe the not-quite-the-Eagles would find it hard too.
Oli and Robert marched purposefully to the wicket to begin the Eagles' reply, and Hamish limbered up at the end of his longer run-up.  The first over was accurate and challenging, yielding only a streaky four (there should be a name for an over which would have been a maiden were it not for a pesky boundary – a fourden perhaps?)  Kyle replaced Hamish and gave up no boundaries, but plenty of singles of various sorts.  Hamish's second over was a singleden; Kyle's a twoden (I don't think this nomenclature is going to catch on).  Oli and Robert seemed entirely untroubled by anything the bowlers could throw at them, until out of nowhere, Calum's slow bouncer lured Oli into an attempted hook, which was surely going for four over fine leg?  But wait, what is this, leaping like a salmon from behind the wicket?  It's Freddie!  Using all his experience from years of playing in goal, he leapt high to his right and caught the ball – a truly amazing take.  Charlie came in and carefully saw off the rest of Calum's over, and Fraser's next.  But then he decided it was time to up the scoring rate: blam, blam, blam, three fours flew from his bat.  The innings quietened down again: Robert retired, Fergus replaced him, and Charlie returned to scoring in singles.  The match was too close to call: between about the 7th and 14th overs, the worm shows that the teams were neck-and-neck.  Charlie retired with a final flourish of a four, Max came in and set to, busily scoring off most balls.  One, dot, dot, one, two, five!  A rare fielding error saw an un-backed-up shy at the stumps race away for four overthrows.  Fergus expertly kept him company before retiring in favour of Jamie.  Captain Matthew had cannily kept his faster bowlers for the closing overs: Matthew conceded just one run, then Rudy bowled Jamie.  In the next over, Matthew bowled Zaara to leave the Eagles needing 24 runs off the last 3 overs.  Max was joined by Robbie, and scored 5 of the 18th: 19 needed off 2.  Fraser came in to bowl, but Max was seeing the ball well and hit two fours then a single.  Robbie chipped in with a run and Fraser was adjudged to have strayed wide: 8 to win off the last.  Rudy steamed in to bowl to Robbie: dot, dot, a scampered single.  Max had little option but to hit out, and did so firmly, but alas for him only as far as Matthew at mid-off, who took the catch.  Robert had the unenviable task of trying to score 7 runs off Rudy's last two balls: he swung hard at the first but missed and was bowled.  Charlie faced the last ball, hit it well, scored 2 runs, but Robbie was run out in a somewhat forlorn attempt to claim 5 additional runs to win.
That was another exciting end: for the second week in a row, the Falcons had sneaked a win in the last over.  Despite being a low-scoring game, it was entertaining throughout.  All three disciplines were good: the bowling was straight (special mention to Fergus's remarkable 3-2-1-1) and in some cases downright intimidating; the batting was resolute; and the fielding was high quality from both sides.  Special mention to Freddie's stunning catch behind the wicket, and to Robbie's direct hit, but almost all the fielding was excellent, which partly accounts for the lower-than-usual scores.  Very well played to both teams – particularly to the under-12 players substituting, who looked absolutely at home in the older age group.
Thank you to Cheeky, Keith & Paul for umpiring; Brian for scoring; Cheeky for coaching, 8 guest players (without whom we wouldn't have had a game at all) – and to everyone who helped herd the teams, set up and clear away afterwards.