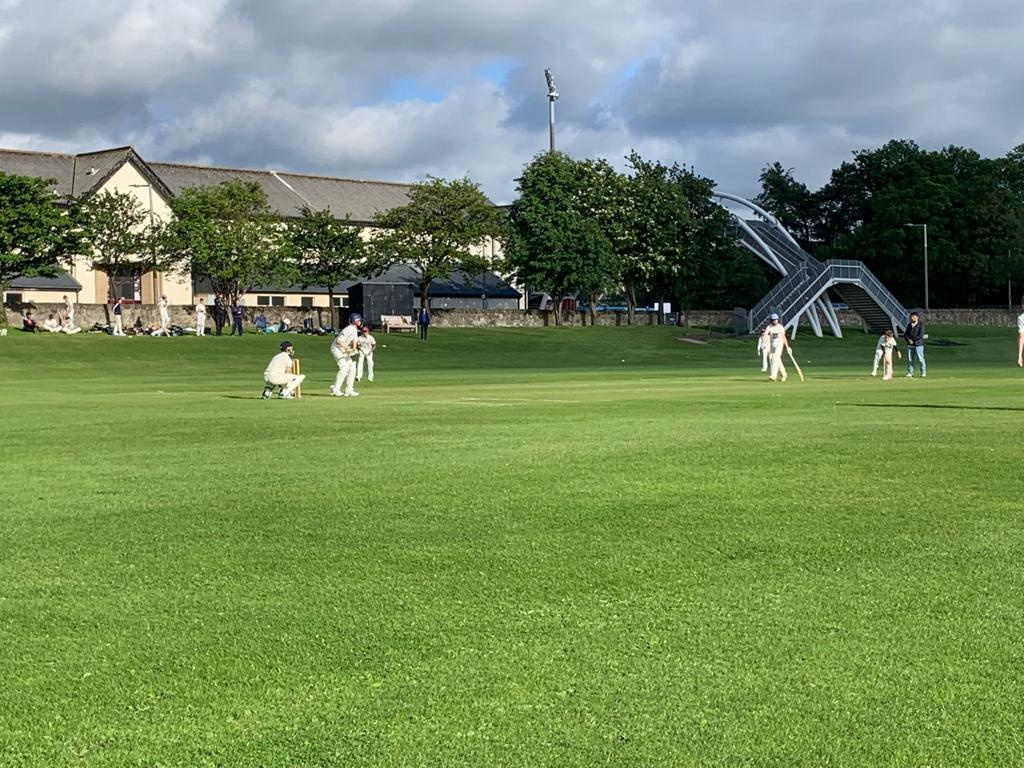 10.06.19 – Watsonian Wildfires 80-5 (Sam Mackintosh 4-3) bt Carlton Falcons 79 ao (Ally Paul 21, Matthew Restall & Rudy Adair 14)
Captain Rudy's summary: We knew it was going to be a tough game for us but after an excellent warm up we were feeling confident even after losing the toss. We batted first. Matthew got us off to an excellent start with some powerful drives through mid on. Unfortunately Matthew fell to a great ball. After that we built an innings with well run singles and a few boundaries. Well done to Ally and Kyle for retiring. Watsonians chased down our total but the highlight of the second innings was Sam's 4 wickets for three runs. An amazing performance especially as he got a couple of Eastern Knights players out. Well done to the team for a good effort.
The Falcons' charmed cricketing summer continues – in a year when cricket matches are being canceled weekly, and rain seems not so much weather as a way of life, the Falcons have yet to experience a Monday night off.  This particular Monday was a good one – the sun was shining, and actually warm.  The team arrived, all 10 of the squad enthusiastically early, at Myreside; it really is a pleasure to manage a team that clearly enjoys playing cricket with each other.  They immediately repaired to the nets for a "warm-up".  It is sometimes hard to tell what it is that they are warming up – on this occasion it appeared to be their vocal chords, maybe we were going to be treated to some opera: the Bowler of Seville perhaps?  Aida-zat?  The Master-slinger of Nurnberg?  Or maybe they'd just all field in the Ring.  But no, they were simply warming up for the chat in the field.  We repaired to the outfield for something more traditional; thankfully Cheeky arrived to restore some order.
The toss occurred.  No, really.  It was decided that the Falcons would bat first, so Matthew & Kyle strode out to open the innings.  Matthew continued his fine vein of recent form, stroking the ball to the boundary, mostly in the region of mid-on.  Kyle supported him well, running alertly and scoring a few of his own.  Batting wasn't easy on a grass pitch that had clearly directly experienced much of the recent inclement weather, but they concentrated well, and had almost seen off Watsonian's quick opening bowler when Matthew received a wicked delivery – fast, very full, swinging in – which he saw just too late to stop it cannoning into his stumps.  Alas, no zinger bails here, these seemed only too willing to fall theatrically to the ground, writhing and kicking in a truly Oscar-worthy performance.  Sergi replaced him, and survived two balls from the now fired-up bowler, until he repeated the same fast-full-swinging trick, leaving Sergi with very little chance to avoid the same fate as Matthew.  Ally marched purposefully out to join Kyle, and loosened up with a fine 4.  Thereafter, the pair settled down to steady accumulation.  They were tied up for a while by Watsonian's spinner, but figured him out and started scoring more freely.  Kyle reached 20 balls, retired, and was replaced by Rudy.  Batting wasn't easy on a damp grass pitch, facing some straight bowling, but Ally & Rudy made steady progress, until Ally reached 20 balls and also retired.
The pace of the innings changed.  Rudy missed a straight one and was bowled.  Dougie missed a straight one and was bowled.  Freddie appeared to have escaped that particular malaise, when he accepted a call for a sporting single and was duly run out.  Archie, unluckiest batter of the evening, went one better and was run out looking for a sporting single before he'd even faced a ball.  Sam missed a straight one and was bowled … Suddenly, we were relying on our retirees, Ally & Kyle, to dig us out of the – er – Myreside.  Alas, the difficulty of spotting the straight one appeared to have infected Ally during his time on the sidelines, and he too succumbed to this mode of dismissal.  The Falcons had amassed a none-too-challenging 79 runs.
The chat at the interval?  Not too much about cricket.  Only an incurable optimist really thought we could defend 79 runs.  It turns out that 12-13-year-old cricketers are indeed incurable optimists, so they took to the field in their usual high spirits, and set about bowling at Watsonians' batters.
Ally opened up with a wicket!  Quick and straight at the stumps, and once again the bails leaped theatrically to the ground, rolled around screaming and clutching their ankles, and were duly awarded a penalty.  Alas, that was the only high spot of the opening overs.  Watsonians' numbers 1 and 3 settled in, and scored steadily.  Number 1 retired, but number 4 proved as hard to dislodge.  After 9 overs, Watsonians appeared to be cruising at 56 runs.  Then, suddenly (as cricket matches are wont to do), the game sprang into life.  Sam, bowling the pivotal 10th over, took 2 wickets!  That was exactly what the game needed – the Falcons were still coming second, but the fielders sparked into life, and Watsonians' batters looked a little nervous.  Two overs later, he repeated the feat, to end his mini-spell with the remarkable figures of 4-3.  Sadly, that was a false dawn, albeit a very exciting moment.  The other Falcons bowlers couldn't emulate the breakthrough, and Watsonians crept nervously to the winning total.
An interesting match on a tricky wicket: damp grass, with a low bounce.  Our batters found some daft ways of getting out: two entirely avoidable run outs; 4 swipes across the line.  Our bowlers, with the exception of Sam, simply didn't bowl straight.  The fielding was pretty good though.  Nonetheless, we could have won that.  Watsonians didn't score any quicker than the Falcons, and although they found some daft ways of getting out, they didn't do it quite as enthusiastically as the Falcons.
Thank you to Watsonians for hosting us, to Cheeky for coaching and umpiring, to Brian for umpiring, and for the long-suffering band of supporters who once again delivered players there, watched patiently, and delivered them home again.  Next up on the Falcons' grand tour of Edinburgh cricket clubs … Penicuik.