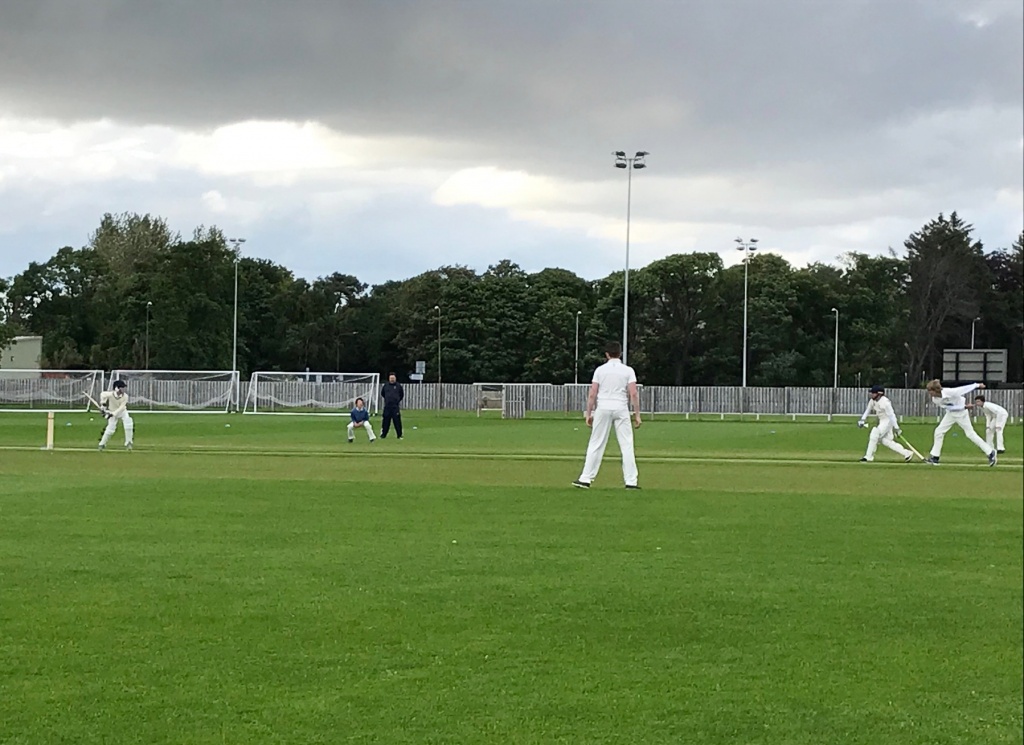 Carlton Falcons 165-5 (Max d'Ulisse 30no, Rudy Adair 27, Sergi Mackinlay Vich 20no) bt Penicuik U14 112-6 (Rudy Adair 2-5, James Stronach 2-16)
Captain Sergi's summary: The Falcons went into the game missing several key players. However, Max, Caitlin and James were fine replacements bringing a real influence to the game. We won the toss and elected to bat. On the whole the batting was very positive with the batters keeping their wickets in hand, and I must credit the great running between the wicket for crucial extra runs. We put up a big total which we felt confident to defend. Special mention to Rudy who was 27 off 11 before a questionable run out. For the majority of the innings, the bowling was very good on a tough windy day. We kept their run rate to as low as we could with everyone putting in a good shift in the bowling. The fielding was good but not quite up to the standards of the batting and bowling. There was a bit of intensity lacking at some points. Overall, a very good win for the Falcons. Let's bring the momentum into the big game against Grange next week!
Monday 17 June was a busy day in the life of Carlton cricket: a visiting Australian team was being hosted at Grange Loan; one local school had the temerity to arrange trips away for at least two year groups; an under-16 side was playing during the day. Throw in a weekend hockey injury … and that all added up to the Carlton Falcons playing their home match against Penicuik at Peffermill, with a team comprising a tantalising blend of regular under-14s and up-and-coming stars of the club, and missing their regular coach Cheeky. The Falcons are nothing if not resilient though, and all concerned seemed to take this disruption in their stride, and convened as usual, half-an-hour early, for the general hilarity and messing around that we loosely dub a warm-up. Penicuik if anything outdid the Falcons in enthusiasm, assembling 11 players at an unfamiliar ground, similarly early.
Ah yes, the toss. Captain Sergi flung the coin in the air, the Penicuik captain called Heads, the coin rotated thoughtfully for a moment, misunderstood the simple instruction, and landed on its head. Captain Sergi opted to bat … whereupon the Penicuik skipper revealed that he'd have chosen to bowl. I do like it when everyone is happy.
Some batting order negotiation resulted in the hitherto untried duo of Kyle & Max heading purposefully out to bat. In fact, so purposeful were they, that they arrived at the crease before Penicuik had completed their pre-match team-talk and arranged themselves on the field. This imbalance of cricketers was swiftly sorted out, and Max hunkered down to face the first ball. He didn't stay facing for long; he and Kyle were quickly into stealing byes, hitting balls, and generally switching places. The first, breathless, over yielded 14 runs. The second was pedestrian by contrast, with a mere 8, but the third was back to form, with another 14. The pace hardly let up; the pair hardly seemed to stop running, until Kyle reached 20 balls with the score on 51 runs after 5 overs. Rudy joined Max and effortlessly achieved the apparently difficult feat of increasing the scoring rate: 4, 4, 4, 6! The following ball, hit hard and firmly but straight to a fielder for a single, was greeted with a sporting cheer from the massed ranks of Penicuik supporters. Rudy alas didn't last much longer, being adjudged run out by the tightest of margins in the next over. But he'd still managed to score 27 runs.
Usually after such a breathless start, the innings would settle down about now, but not on this occasion. Sergi continued where his top order had left off, hitting hard and running harder. Max retired with a cracking 23 to his name, and Sam replaced him. Finally, the pace slowed a little. Sam & Sergi were still hitting and running, but the odd dot ball crept in. Both Sergi & Sam retired, Sergi with a run-a-ball 20. Archie was left to face a spinner intent on tossing the ball up, and lost sight of it somewhere in flight, only to see his middle stump flattened. Caitlin suffered something similar to an even higher ball. Calum and James came in with 3 overs left and hit out; Calum was very well caught at square leg off a fine pull shot, having hit 11 runs off 8 balls – a traditional tail-ender's knock. James batted on with the returning Kyle and Max for company, and registered a fine 10 off 9 balls with a 4 off the final ball of the innings, during which time Max added another 7 to reach a final score of 30. The Falcons had amassed an imposing 163 for 5. That was no mean feat: as a Penicuik parent had observed during the Falcons' innings, the damp medium-cut grass of the outfield was acting as an extra fielder; the Falcons had run an unusually high 10 2s.
The interval chat was optimistic, bordering on confident. 8-an-over is a challenge to chase, and the extra-fielder outfield was going to make it harder.
The Falcons therefore walked tall out to the field. Penicuik's openers padded up and went in to face Rudy. Dot. Dot. A leg side ball eluded the Falcons' 'keeper and shot away for 4 byes (the extra-fielder outfield was obviously dozing at this point). Rudy found his range and castled the unfortunate Penicuik number 1. Number 3 scrambled a relieved single … and Rudy retaliated by clean bowling number 2. It's hard to recover from that start, but to their credit the Penicuik batters settled in, clearly determined to bat out their 20 overs, even if they wouldn't overtake the Falcons' score. A cat-and-mouse match developed: Penicuik were scoring at a respectable rate, though not at a rate to challenge the Falcons' total; but the Falcons were unable to add to their initial 2 wickets. That changed in the 6th over: after a couple of range-finders, James found his rhythm and produced a peach of a ball; straight, full, with a hint of movement, and removed number 3. The first ball of his next over, he repeated the trick on number 4. Unfortunately, his next ball was a common-or-garden dot; we're still waiting for the Falcons' first hat-trick of the season.
Numbers 5 & 6 meanwhile were settling in with strongly contrasting styles: number 5 was clearly determined not to lose his wicket and simply blocked much of the bowling. Number 6 was striking the ball well for a series of well-placed 4s. These two powered along for a while, until number 5 retired. Number 7 continued the watchful approach in support of the increasingly-belligerent number 6, who reached 20 balls and retired for a very well earned 41. The match drifted. Despite Penicuik's number 6's efforts, they were well sort of the required run-rate. The remaining batters aimed mainly to stay in, in which they mostly succeeded. A couple of wickets fell, but the last pair held out against an increasingly raucous and close field; Penicuik ended on 112-6. Unluckiest bowler of the evening was Caitlin, who saw two catches dropped off her bowling.
That was a fairly comfortable victory, even with a depleted team, against a fast-improving Penicuik side. The Falcons batted very well: Kyle, Max, Sam & Sergi all retired on 20 balls, Rudy was unluckily run out. They ran well, collecting 17 byes, and turning several singles into twos. The bowling was good in parts: Rudy & James deserved their 2 wickets each, Kyle & Sam bowled straight & took a wicket each for 5 & 7 runs respectively. However, 35 wides and no-balls is poor, and would be punished by a better team. The ground fielding was excellent throughout, I can't remember a clear misfield. Shame about the three dropped catches though.
Thank you very much to Penicuik for braving the steppes of Eastern Peffermill, and thank you for a spirited match. Thank you too to Brian for umpiring a whole match for a change, and to the small army of parents who as usual drove players there, patiently watched them play, and drove them home again. Next week is our final game before the July break – at Grange, against the Lightning.