Fives on a Falkland Adventure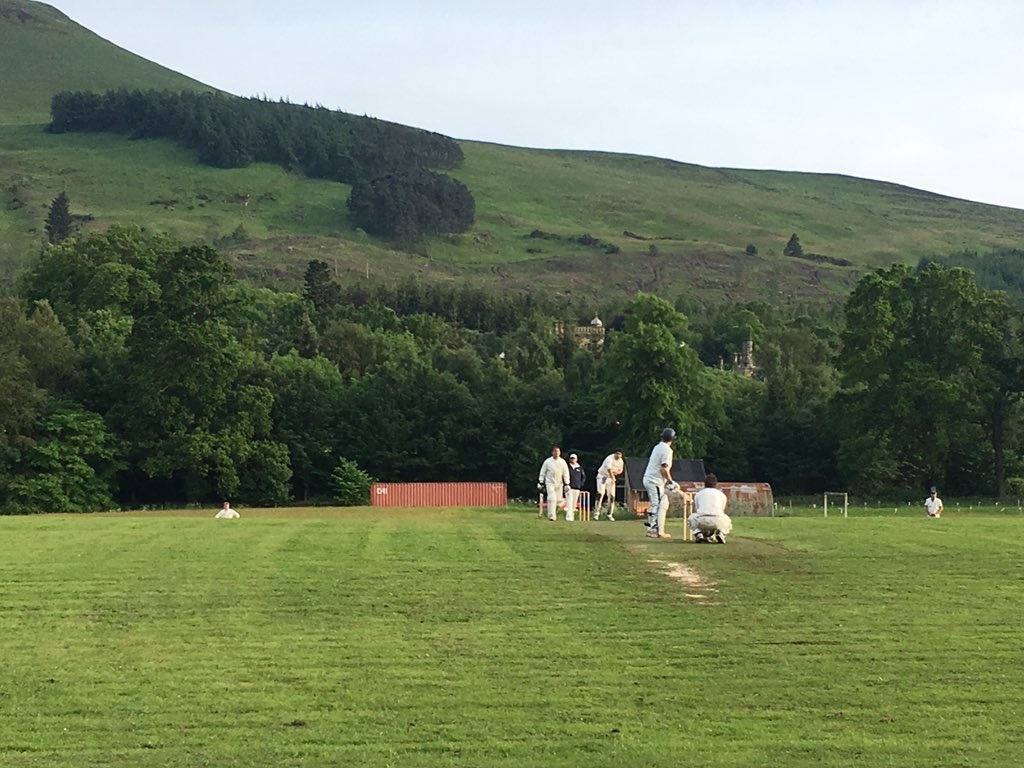 Another week, another Fives' fixture in proper Scottish summer weather – good, old-fashioned torrential rain greeting the travelling circus' arrival in (otherwise) beautiful Falkland.  Thanks to a very minor geography/weather app hiccup (inaccurate by a mere 8,100 miles), it became clear that John Beattie had spent the morning accidentally viewing, and relaying, the current weather conditions in the Falkland Islands.  The fact that, in the middle of the sub-Antarctic winter, these were considerably more amenable to a game of cricket than Fife's glorious "summer" was of little comfort.  However, skipper Keith's sage words rang in the ears of the troops – "If we travel all the way over there, we'll play".  Alas, this looked unlikely as the teams huddled in the shelter of the clubhouse and made occasional half-hearted forays to prod at the outfield and see if the deluge was draining away… nothing to do but wait (and in John's case, use the time to sort through the veritable mountain of thermals which his forecasting skills had suggested ought to be packed).
Gratifyingly, the clouds lifted somewhat and despite some pretty soggy conditions underfoot the decision was taken to play.  Possibly mindful of his… erratic record at the toss, Keith sensibly attempted to negotiate a shot at bowling first.  However, with Falkland also fielding a relatively young team the captains agreed to do it the old-fashioned way – resulting in a resounding win for Keith and the easiest of decisions to invite Falkland to have a bat.
Keith's continuing studies of modern professional cricketing techniques through the showcase of the World Cup were again apparent as he asked young Max "the Maxinator" D'Ulisse – he of the golden arm, endless chat and imposing physical presence – to take the new ball.  Muttering about being asked to run in uphill again, weeks after that LBW decision, your correspondent wielded the new cherry from the other end.  It was quickly clear that this wasn't going to be an easy day out for batters or bowlers – ball immediately slick and muddy; artificial pitch by turns lifeless and springy; turf soft and yielding.  The Fives quickly took the upper hand with good opening spells – Max continuing his exploits from the previous two matches by rattling through the Falkland top order, his off-breaks biting and skidding to incredible effect, and lovely variations in flight tempting the batters into a couple of wild heaves.  Max enjoyed himself to the extent that, at the end of his eighth over, he was overheard asking Keith if he'd be able to come back on later to secure his maiden fiver-fer. Sorry, Max, that will have to wait for your Test match debut in three or four years' time… (M D'Ulisse 8-2-13-3).  Your correspondent found some joy at the other end too with a slightly unusual wicket – a (surprisingly) good ball on a length just tailing away; an uncertain prod from the batsman; nice woody nick – and an unfortunate fumble from Mike Kennedy, wading through the mud behind the sticks.  "I can't believe I *bleep* dropped it" came the keeper's sotto voce comment to slip.  "I can't believe he *bleep* dropped it" came your correspondent's at the same moment, fractionally less sotto voce to mid-off.  But all was swiftly forgiven as it became apparent that the woody noise was in fact the ball flicking and removing the off bail.
Unfortunately, with Falkland toiling a little at 36-4 from 12 overs the persistent drizzle turned into significant shower and thence heavy downpour; players off to hide under the trees.  On return, Fives debutant Jack Atack took a rather sorry-looking ball to give your correspondent a breather.  Ivan Dawson looked to pick up where Max had left off, Keith deciding with perspicacious captaincy insight that the success of off-spin delivered from Max's trajectory would be perfectly replicated by a hulking 6'4" quick thumping it in.  Jack bowled with some real venom – particularly impressive in the wet conditions – and picked up the second unusual dismissal of the day; the batsman forced back by the pace and only able to spectacularly demolish his own stumps.  Ivan produced a few snorting lifters that had the batsmen hopping, but although impressively economical – reward for finding a consistent line and working really hard to keep a good length – couldn't find a breakthrough as Falkland dug in (I Dawson 5-0-13-0).  The rain intervened again, and it looked as if that might be curtains for the game.  However, a little more patience brought another break in the clouds so play could resume.  Jack clinically removed the middle order with a couple of deadly accurate stump-smashers and a lifter which was feathered behind, a very well bowled set on debut (J Atack 8-1-27-4).
Your correspondent was summoned from the quagmire on the boundary and managed to deceive the well-set H Ferguson, who had made a superb, battling 50, with a beautifully disguised full toss on leg-stump which was whacked down deep square leg's throat (E Murray 8-1-40-2).  The father-and-son Burgess axis came on to close out the innings but found stern resistance for the last wicket from Falkland captain J Aitken, confidently and ably supported by young junior I Haliwell.  Kyle bowled very well and kept his head in the difficult conditions – keeping it full and straight and making the batsmen work hard to create scoring opportunities – a really good effort not to let the batsmen get on top of him (K Burgess 5-0-31-0).  Craig had to bowl with the short square leg boundary against him, and, with the sodden ball making any sort of grip impossible, could only dart it in and try to make life as difficult as he could – persistence rewarded with the removal of the stubborn final wicket with a catch in the ring (C Burgess 2-0-23-1).  From a difficult start Falkland had advanced to 151a.o. in 36.5 overs, including a fine partnership of 53 for the last wicket, skipper J Aitken finishing on 45* with six fours and two sixes.
With the late start and two rain delays, tea felt rather more like a midnight feast – but was no less sumptuous for that, the finest of spreads offered in the cosy surrounds of Falkland's lovely clubhouse.  One eye on the weather, the other on the clock, skipper Keith and (appropriately, given the amount of water around) "Sloop" John B squelched as rapidly as possible out to the middle to start the Fives' reply.  Falkland boasted a bowler of genuine pace in the form of D Wilkie, and the variable bounce in the wicket made him a daunting prospect – Keith wearing a couple of sharp bouncers high on the chest and a number of balls fizzing past at alternating shoulder/ankle height.  However, the openers weathered the storm and gradually started to carve out some run-scoring opportunities.  With the score only 20 after 10 overs runs were becoming an issue, and there were one or two slightly hairy moments as the openers were forced to run some tight singles (especially difficult given the lack of good footing, even on the edge of the arti, and Keith's famed speed between the wickets).  Things started to settle down a little, however, and the score moved along to 57/0 at the halfway mark – another good platform set.
It wasn't until the 30th over that Falkland struck their first blow (in the scorebook, at least) – John bowled for a gritty 27, score 92/1.  Paul Stones arrived at the crease with 59 needed from 10, looking to support Keith's acceleration at the other end.  Both crunched a few boundaries across the sodden outfield and a partnership of 41 looked to have taken the Fives to the brink of victory, 18 needed from the last three.  However, first Paul and then Keith departed – Paul pinging one right out of the screws but straight to the man at cover, who clung on very well (P Stones 12) with Jack replacing him, and Keith failing to make his ground in trying to scramble a second (K Murray 69).  However, the arrival at the crease of legendary powerhouse Mike "Boom Boom" Kennedy still offered plenty of hope for the Fives.  Jack's batting debut was marginally less successful than with the ball, stumped for a golden duck (J Atack 0), Ivan running out to join Mike amidst the carnage and well-capable of hitting a long ball himself.  Unfortunately Mike just didn't have time to set himself and was cleaned up while looking for the short straight boundary (M Kennedy 2).  New batsman Paul Bailey and Ivan represented the Fives' last realistic hope, with 12 needed from the last over.  They did their best to try and make something happen, but with no time left to take a look it was always going to be very difficult.  The Fives ended just short, restricted to 144/5 from 40 (I Dawson 2*; P Bailey 2*).  Falkland 3s win by 6 runs, as we eased gently towards the middle of the night.
A narrow loss for the Fives, then, but it doesn't need many creative match-report writing skills to come up with positives for this one.  Just getting a game in was a great effort from both skippers (and huge credit to Falkland for being willing to wait out / play in the rain, recognising that the Fives had travelled a long way).  All of the juniors on both sides took lots more out of a completed match than an early abandonment, and although difficult the conditions were never dangerous.  More excellent work from the Carlton juniors – more wickets for Max; noticeably improving consistency from Ivan; some very mature bowling from Kyle.  And a cracking debut with the ball from surely the best-named fast bowler in the league.  More than anything though, this was just a great game of cricket to play – competitive; evenly-matched; both teams fielding (and calling on) a blend of youth and experience; went to the wire – and played in the very best of the spirit that makes our sport enjoyable above so many others.  A very heartfelt thanks to Falkland for their hospitality and part in a fabulous game, and congratulations on their well-deserved win.
Euan Murray