First round of Scottish Cup safely negotiated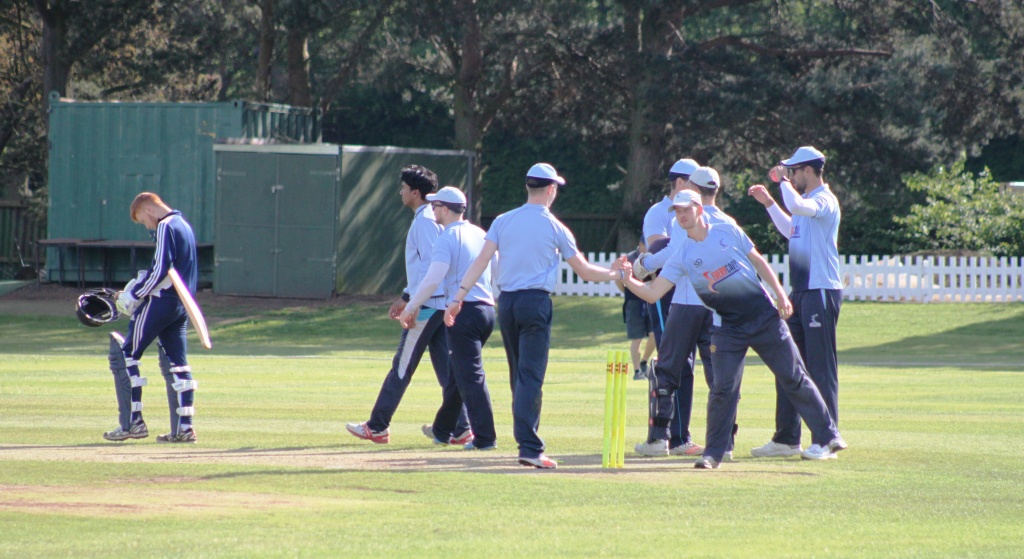 The team began their Scottish cup campaign with a trip away to Forfarshire CC. The boys were looking well rested and fresh compared to the day before. The Kia stopped off on the way where the amateur Corne decided to get himself a wee 6inch chicken sensation. 2 hours later the sub was perfected and the Kia was almost late for the warmup. The warm up was boring as it was led by PT Parker who finally believes in eating veggies and not chicken n rice for every meal. Great to see as a PT. shout out to air BnB (Shiv) for his effort in goals for the youngies during the footy.
Toss was won by giraffe who decided to bat first. This meant an instant trip to the shops for me to get myself a meal deal and packet of Jaffa cakes which are the healthiest biscuits you can buy. So before I left I watched 6 overs and we were looking solid. Come back 3 overs later and we are 2 down. Apparently Kyle and Arun don't like batting. Judas (Fraser) and the worst Simpson in the family (Tom) began to rebuild. Simpson was his usual self with a strike rate of just over 30. Love to see. Judas was battling away at the other end as well. Simpson got to 20 and decided that's good enough and chipped one in the air trying to pull it. Judas was trying really hard to get out and he finally edged one to the keeper. Pounder (Will) playing against former club got chatted out so badly it was embarrassing for everyone watching as he ran past one trying to prove a point why he is called the pounder to his old club. Amateur Corne still trying to prove to people he can bat looked pretty decent until he got bowled. "If I faced that delivery 10 times it would have got me out 7 times and 3 would have been inside edges." Sure mate heard it all before. Parker went in and instantly started playing baseball. Giraffe, BnB, Parker and I went pretty cheaply. We set 159 and had teas. It is important to mention no one forgot their trousers today including Raza. Even if he did he would have claimed he only lived 10 mins away and can drive home to get it quickly.
Amateur Corne and air BnB opened up with the newie. Air BnB was his usual boring self while amateur Corne was nurtured by the rest of the team. Amateur Corne is still trying to prove to the team he can bowl and live up to his expectations as an overseas PROFESSIONAL. LOL. ROFL. TEARS LIKE. Anyways wickets fell and Forfarshire found themselves in trouble at 30 for 5. The chat in the field was great to see from Judas and amateur unlike Raza. Nonetheless Raza the Hoover came in and absolutely destroyed the lower order with googlies, flippers, slower balls, in swing, away swing, reverse swing, knuckle balls and who knows what else the batters made it look like. I made a tough catch look regulation as per which is the opposite of what the giraffe is doing at the moment. Arun missed 2 run outs as per. Nothing changes. Despite all this, an easy victory for the team and they move on to next round against Grange.
Chayank Gosain