Rain Claims Another Masterton Game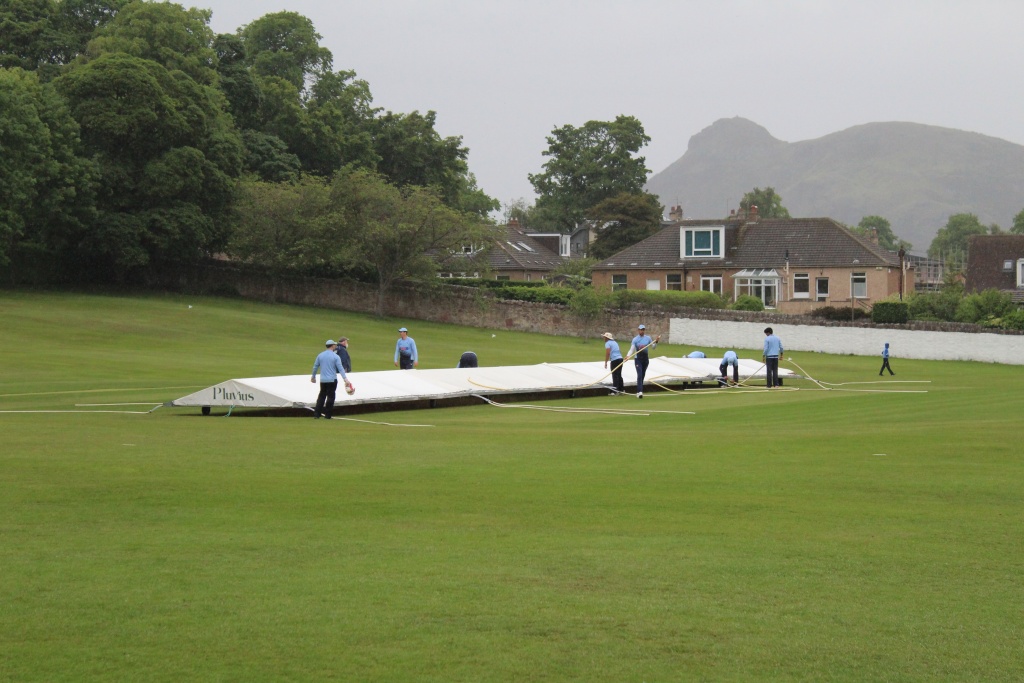 The Arrows were 1 from 1 in the 2019 Masterton after a comfortable win against Stewart's Melville 2 and a half weeks ago. Hugo Southwell was set to make his first appearance of the season and despite the gloomy forecast. The experienced Ali Evans won the toss and elected to bowl as the prospect of much more than an innings looked unlikely. The rain arrived and disappeared in a rather familiar sequence and play started.
Cheeky took 3 looseners to find his range and stop bowling off the strip. After 2 dots the pressure got to Van Der Berg and miscued one straight back to Cheeky. Shean arrived and attempted to recreate his magnificent innings at Goldenacre in last year's Masterton, and started off on the right tracks by smacking another Gosain loosener for 4. Evo, unlike Cheeky, decided to bowl straight and keep things tight, going for just 4 off his first over. Despite the drizzle, Corne had no problems in hitting his areas every ball. With variations in line and lengths, Shean had faced three dots against fellow Saffer Corne but fell next ball attempting to pull a sharp short ball but only found the safe hands of Shiv (or Ravi) Gupta. Heriots 14 for 2 after 3 overs. Keeping with the theme of 1 over spells Shiv was rewarded for his catch and replaced the skipper. Heriot's opener Meiri took a liking to Gupta and took 8 off the over. The economical Corne was unsurprisingly granted another over and made use of it, going for just 2 runs. Raza came on and ripped some leggies from the Pavilion end. He dismissed Ashforth bowling him round his legs and then gave Weeraratna a false sense of security, gifting him a healthy leg-side wide. Raza got the next ball to turn and Weeraratna could only punch it into the hands of Hugo Southwell at cover.
Heriots looked to be struggling at 31 for 4 after 7 but Meiri and Ruthven rebuilt well and were not phased by the ever-changing bowlers. Having taken 5 off each of the previous 4 overs Heriot's sat at 84 for 4 after 15. Arun struggled to find his areas with the rather slippery ball and was hit for 12 off his over. The rain got heavier but the game pushed on as the umpires were determined to try to finish the first innings. After Meiri brought up his 50 he looked to hit out and took 15 off Raza's third over. He hit three 4s in a row off Cheeky's last over before finding McCann's safe hands up the hill. Meiri's 73 ensured Heriot's total was defendable but unfortunately we never got there as the rain halted play, despite the determination from both sides to try to get a game in. Heriots finished on 124 for 5 of 18.4 overs with Ruthven also batting well for a good 30*. Early on the Arrows managed to take each opportunity in the field that came to them but as conditions worsened bowling and fielding became more difficult and they weren't able to quite capitalise on the strong start.  Raza finished with figures of 2-24, Cheeky with 2-36 and Corne with 1-11.
A big thanks to the groundstaff for preparing a great wicket despite the never-ending rain and for the sharp outfield. Thanks to the umpires for their efforts, the bar staff and to Heriots for attempting to play in the rather awful Scottish conditions.
The next Masterton game will be away to Edinburgh CC on the 11th of June.
Gavin Murray