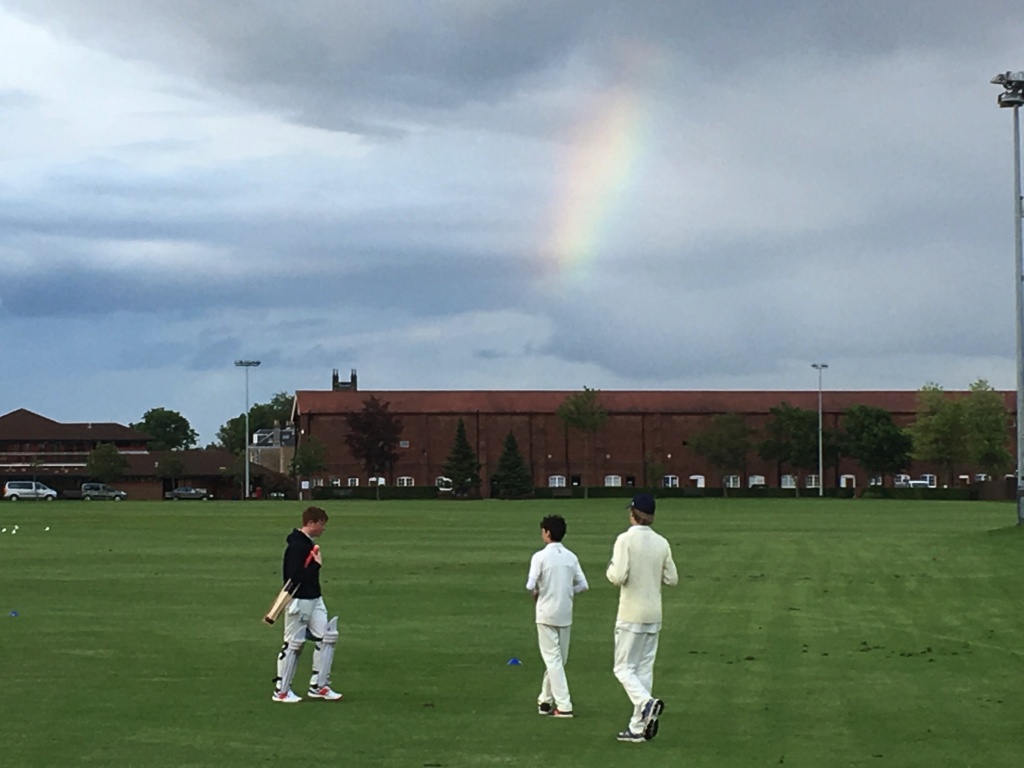 Stew Mel 140-5 (Rudy Adair 1-8, Sam Mackintosh 1-13) beat Carlton U14 Falcons 66-8 (Kyle Burgess 14)
Captain Kyle's summary: After our nail-biting win over Grange the week before, we came to Stew Mel expecting another close one. The weather was cloudy but at least the pitch kept dry. We lost the toss and so fielded first. Overall Stew Mel's batting was stronger than we anticipated and our bowling and fielding weren't on point. Consequently, Stew Mel ran up a lot of runs in the 20 overs.
In response, our batting could not be compared favourably to our opposition's. Their bowling was hard to hit and score runs off and we lost wickets quickly and cheaply. Overall, even with a heavy loss I was happy with how the team performed and hope that we have better luck with our games in the future.
On a Monday evening, sunny but with a threat of showers, the Carlton Falcons gathered at the vast windswept green-lands of Stewart's Melville's Merchant Maiden ground.  An extraordinary array of cricket balls was unpacked from various cricket bags (I really don't want to know where they all came from), and a Cheeky-inspired warm-up broke out. The throwing was so hard, and so accurate, that the spike on the practice stump broke!
Captain Kyle and his opposite number gathered for the toss.  "Tails", called Captain Kyle.  "Heads", the coin decided, and the Falcons were deputed to toil in the field first up.  The Stew Mel openers strode out to face the Falcons' opening bowlers, Ally & Sergi.  They traded singles for an over, then hit out in the second over, then in a classic running mishap ended up at the same end – alas for them the opposite end from the ball and a run-out.  After a brief conference, one batter trudged off.  Numbers 1 & 3 barely paused to consolidate, but hit the ball hard to all parts of the field.  Number 1 ploughed on to retirement; Number 3 hit a mighty 6, but perished a few balls later ,well caught by Dougie at mid wicket, probably trying to repeat the feat.  That moment aside, wickets resolutely refused to fall; we thought a batter had been bowled first ball, but it turned out he wasn't ready.  Loose shots flew over fielders' heads, or dropped out of reach in front of them; wicket-seeking throws flew harmlessly past the stumps; and the batters regularly pierced the Falcons' inventive off-side field.  Number 5 came and went in a blaze of strokes, Number 4 was about to join him in retirement when he picked out Rudy, who took a good low catch at cover.  That sparked a late-innings flurry of wickets: Sergi clean-bowled Number 7; Rudy clean-bowled the returning Number 5 – but stew Mel had scored 140 runs.
The interval chat had more to do with the slate-grey cloud drifting over North Edinburgh than the required run rate.  We were primarily worried about rain of course, but visibility was going to be a concern too.  Still, 140 runs is only 7-an-over, and Stew Mel were a fielder short.  Cricket, particularly in its junior form, offers more scope for optimism than many sports.  If a football team is 5-0 down at half time, or a tennis player loses the first set 6-1, they pretty much know how the second half is going to play out.  In cricket by contrast, we really have very little idea.  Even half way through an innings, there is always the possibility that the opposition's remaining bowlers are nowhere near as accurate as the openers, so being behind on the run rate doesn't necessarily spell doom.
Freddie and Calum marched out, and started the Falcons' reply convincingly and sensibly.  The run rate wasn't high, but they were scoring, and – crucially for openers – they weren't getting out.  Alas, just as they had almost seen off the opening bowlers, a moment of running mis-communication caught Calum in no-man's land, and he was run out.  Three balls later, Freddie misjudged a straight one, and joined Calum on the wind-swept pitch-edge.  Rudy and Kyle set about rebuilding the innings.  There followed an odd period of play: the bowler was bowling full, just outside leg; Rudy's attempts to clip the ball on its way to fine leg resulted in a touch of the pad and a leg bye – not once, not twice, but three times in a row.  Rudy achieved the singular feat of scoring almost entirely in byes: his opening 7 balls yielded 3 leg byes, 4 byes, a single and a lone dot.  He seemed about to break loose after that, cracking a 2 to within millimetres of the third man boundary.  Unfortunately, his very next ball was a loose drive, straight to the waiting cover fielder.
Kyle meanwhile was accumulating steadily; he hit a couple of 4s, interspersed with singles to keep the scoreboard moving.  Sam joined him and supported him well with some sharp running.  Alas, almost in sight of the nirvana of 20-balls and retirement, another running mishap spelled the end Kyle's innings.  At the half-way point in the Falcons' innings, they had scored 57 runs for the loss of 4 wickets – not quite half-way to their target, but not out of sight either.  Four wickets down was perhaps one more than ideal, but owing to an unorthodox batting order, the Falcons' tail looked strong.  Optimism – as ever – was in the ascendancy.  On the minus side, the slate-grey cloud had darkened to a particularly black shade of charcoal-grey, and rain was definitely in the descendancy.  Sam and Archie repelled the Stew Mel bowlers well, until both fell bowled, Archie by the mystery spinner, Sam by a less mysterious medium-pacer.  Ally came in, carefully watched the first ball, then – disaster – produced an elegant off-drive … straight to the waiting cover fielder.  That left Dougie and Sergi rather a lot to do.  Dougie struck a crisp 2, Sergi a boundary, then Sergi was adjudged LBW to end the innings.  That it is only three sentences since I mentioned optimism is a sad reflection of the fact that it is equally only three overs since the half-way point where the optimism ascended.  The Falcons innings had subsided rather quickly.
It's hard to know what to make of that match.  Stew Mel are a good side, who will be hard to beat this season.  But the Falcons were not their usual energetic chirpy selves; there wasn't nearly as much chat as usual in the field; and the batting was loose.  They were undoubtedly a little unlucky though: Rudy & Ally's shots for example were copies of several played by the Stew Mel batters – a yard either side of the fielder, and the match report would be purring about a glorious boundary, rather than lamenting the untimely loss of a wicket.  And there were other high spots: Rudy bowled fast and menacingly as usual; Sam fielded well on his birthday (Happy Birthday Sam!), and Kyle's run-a-ball 14 was exactly the sort of innings we needed a couple more of.  We'll come back stronger and more lively next week.
Thank you as usual to Stew Mel for being welcoming and entertaining hosts; to Cheeky for coaching; and to Brian for umpiring.  Onwards!  Next week, we're at Watsons.