3s beat Edinburgh South and the elements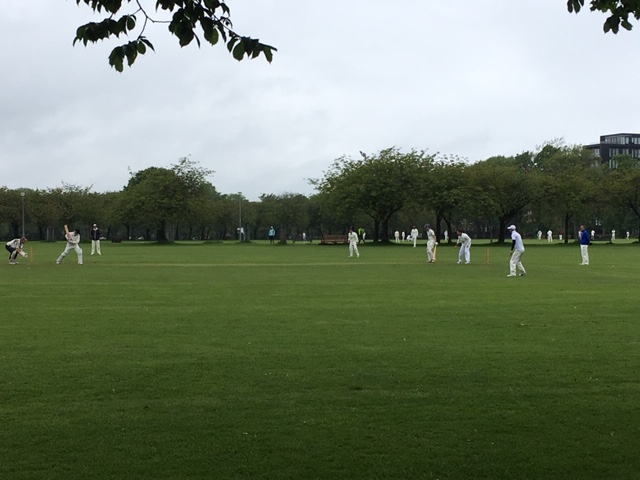 Saturday 25th May – Carlton 3s beat Edinburgh South by 9 wickets
The 3s returned to action after the previous week's washout with a home game against Edinburgh South at the home of cricket, the Meadows, a venue your correspondent had managed to avoid in fifteen years of cricket in Edinburgh.
With a dire forecast and no shelter, both captains agreed to play a twenty over match. Winning the toss, Carlton bowled first. Edinburgh South got off to a flyer and were 50 in the 7th over. However, the introduction of spin bought the necessary wickets and the scoring rate slowed. It was then spin all the way through and pairs of wickets for Liam, Ben and Mo restricted Edinburgh South to 122/7 off 20 overs.
A quick changeover and Ben and Zaki got us off to a good start before Zaki was bowled for 16. Then it was the Ben and George masterclass with some quality batting in increasingly poor weather. Together they put on 100 unbroken for the second wicket, timing the chase to perfection, securing the win in the second last over before a quality tea was had under the trees. Excellent win in trying conditions.
Brad McKay