Weather helps to end 2s run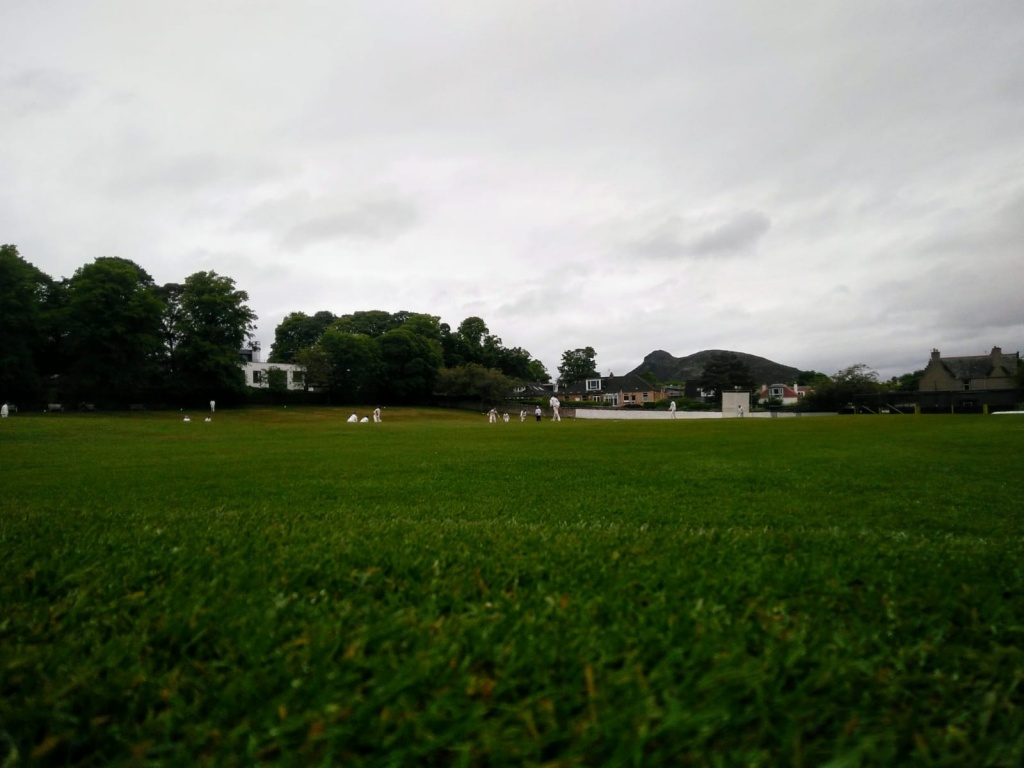 Saturday 25th May 2019 – a day destined, by the Met Office, to be one of little cricket, but by the cricketing gods, one of excitement.
Both Edinburgh and the Two's came unbeaten into this game and with the forecast scheduling heavy rain from 3 o'clock it was no surprise that Edinburgh chose to bat first having won the toss. RuMac and Rory bowled tightly up front, Edinburgh sitting at 18-2 after the first 5 overs, Simmo managing to hold onto a ball that came off the top edge of Mateen Butt's bat, that also brought him and Pete crashing together. The rain continued to fall, making conditions difficult for Carlton and allowing a good Edinburgh partnership to build throughout the middle. GMac and Simmo bowled to no avail before a good caught and bowled from Rory brought a well needed breakthrough. Intensity phased throughout and large partnerships often followed the fall of a few wickets. Nick White bowled 10 overs of pure, unadulterated leg-spin very well, with two-wickets to his name, before RuMac came back on at the death to pick up two more wickets to finish with 4-50 from his 10 overs. Edinburgh finished their 50 overs on 263-8, a total which would pressure the Two's throughout the second innings.
A long tea was taken whilst the persistently heavy rain continued to fall; a revised total of 201 off 43 overs now required by Carlton. Pete and Charlie set off well before Pete was unfortunate to be mankaded by Edinburgh on 43, Carlton 71-1 off 21. 130 more to win; 20 overs to go. Charlie continued to keep his cool despite some elaborate appeals from the opposition and the quick loss of partners before the rain began to get heavier. The covers came back on with Carlton on 116-5 after 31 overs, needing 85 from 12.  However, the rain eased and the teams returned with another revised total.  This time, five overs had been lost and the target was reduced by 13 runs.  72 runs from 7 overs to win!  Seven an over had turned to 10 an over.  A tall order, especially in the fading light and under perilously dark clouds.
Nick White smashed 16 off the first over, with the help of couple of head height no-balls, to make a Carlton victory, and a Ben D'Ullisse and, disheartened Hearts fan, Callum Sibley sing-song more likely. However, with 56 needed off 6 and 5 wickets in hand, the umpires called the game off for bad light at 7.50pm, with ambiguity over who had actually won – the League will provide an answer to this in the coming days.
A difficult and challenging game for the Two's, who on the whole played very good cricket. Fielding and bowling were strong, especially given a sodden ball and outfield. Our opening batsmen played well and kept cool under some challenging periods of the game and some profound pressure from the opposition.  Credit to them for playing well and creating an exciting game for all. Credit should be given too to the umpires who let the game continue in difficult weather, where most would have abandoned the game at 2pm.
GMac