Performance of the Month – May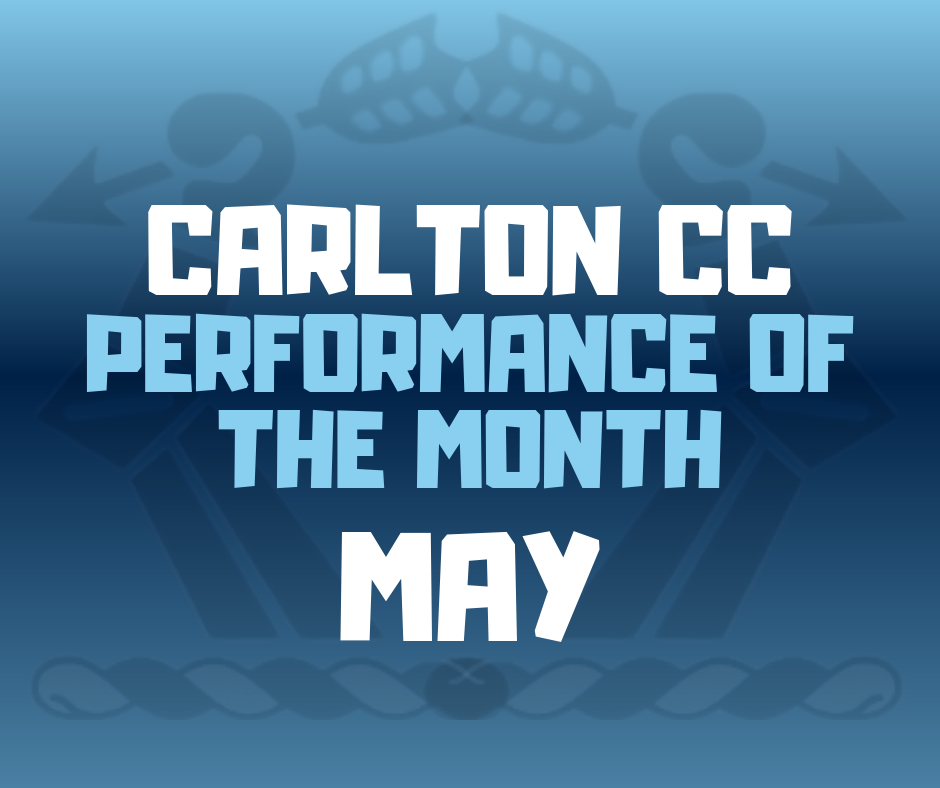 VOTING IS OPEN UNTIL 19:30 SATURDAY 1ST JUNE. VOTE VIA TWITTER @CARLTONCRICKET OR EMAIL WEBSITE@CARLTONCC.CO.UK .
The 4 Nominees are Tom Simpson, Charles Stronach, Charlie Kentish and Chris McAllister.
Honourable Mentions: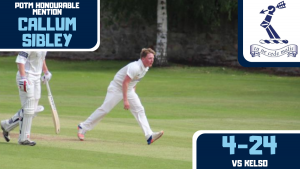 Callum Sibley 4-24
Sibley picked up 4 wickets against a strong Kelso side in the first game of the season. Birthday boy Sibley got a crucial wicket first up and came back on to ably hoover up the Kelso's middle and lower order. He finished up with fine figures of 9.5-1-24-4 and helped restrict Kelso to just 151. The 2s went on to win the game comfortably and ended up going unbeaten in the following 3 games.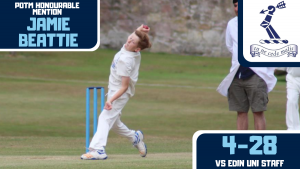 Jamie Beattie 4-28
Jamie claimed 4 wickets against Edinburgh Uni Staff on the 11th of May. Having arrived late from football, Beattie picked up the dangerous opener in his first spell. Similarly to Sibley, he came back on and cleaned up the Uni Staff tail, including two wickets in two balls. Beattie again similarly to Sibley helped restrict the opposition to 151. Unfortunately, the 4s were unable to chase down the target despite Jamie's fine performance with the ball.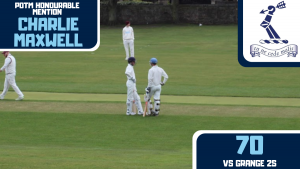 Charlie Maxwell 70
Charlie made his maiden Carlton half-century against local rival Grange 2s. Australian 16-year-old overseas amateur Maxwell hit a fine 70 and lead Carlton to victory having helped set Grange the target of 272. Charlie opened up cautiously before letting loose later in his innings. The big total Charlie helped set put pressure on Grange and they succumbed to 171 all out, 100 runs short. This meant the 2s secured maximum points from their first four games.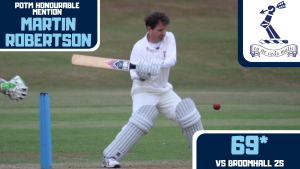 Martin Robertson 69*
Martin hit an excellent 69* against Broomhall in Fife. Chasing 139, Martin joined opener Keith, with 2 wickets down for not very many. After a watchful start, Martin returned to his usual game, a slight contrast to Keith's, but it panned out beautifully. He counter-attacked and smashed some lusty blows including a handful of sixes and lead the fives to a superb 6 wicket win.
Maisie Maceira 4-15
Maisie collected 4 wickets against Dumfries & Galloway in the women's first game of the season. Maisie bowled excellent line and length which resulted in her 4 wicket haul. She also contributed a run out and helped restrict Dumfries & Galloway to just 83. This stellar performance from Maisie helped set up a 5 wicket win for the Women.
Performance of the Month Nominees: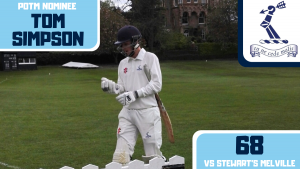 Tom Simpson 68
Tom Simpson hit an outstanding 68 against Stewart's Melville to set up the win for the 1s. Having come in with a rebuilding job to do, he did so well before applying pressure to the opposition bowlers. Both he and Will Hardie looked to hit out as the end of the innings neared. Tom hit a huge six out of the ground before being caught for a healthy 68. Carlton amassed 284 and opened their 2019 league account as they defended it with 186 runs to spare.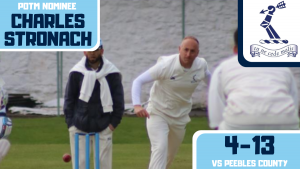 Charlie Stronach 4-13
Charles took a magnificent 4 wicket haul against Peebles opening the bowling for the 4s. He bowled his 8 through, dismantling the Peebles top order with his pace and line and length. He sent the middle stump cartwheeling three times and got his other wicket L.B.W. He finished with figures of 8-3-13-4 and ensured Peebles total was chase-able. The 4s batsmen duly chased down Peebles total with 4 wickets in hand and claimed their first 20 points of 2019.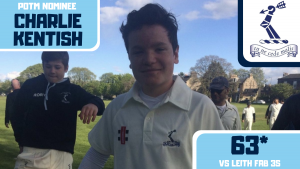 Charlie Kentish 63*
Charlie hit his maiden senior half century for Carlton against Leith FAB 3s at Leith Links. Charlie came in at No.3 chasing Leith FAB's 174 and set about his work. Running well with U14 counterpart Euan Keatinge, they upped the rate and ensured the 5s were well on course. Charlie stuck around till the end and hit many a moonball to the fence to see the 5s home. His 63* helped the Carlton 5s claim their 2nd win from 3 games, their best ever start.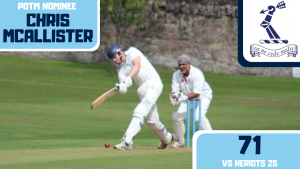 Chris McAllister 71
Chris hit a sublime 71 up top against Heriot 2s in the ESCA Championship chasing the home side's 213. He batted magnificently, acting as the glue in the side, enabling people to bat around him. Chris set up the chase well, still hitting the boundary when it was available, and eventually departed with only a few runs required. His innings meant the 2s reached their target of 214 and were 2 from 2 in the league at this stage.