Fives cooked in the 'Cuik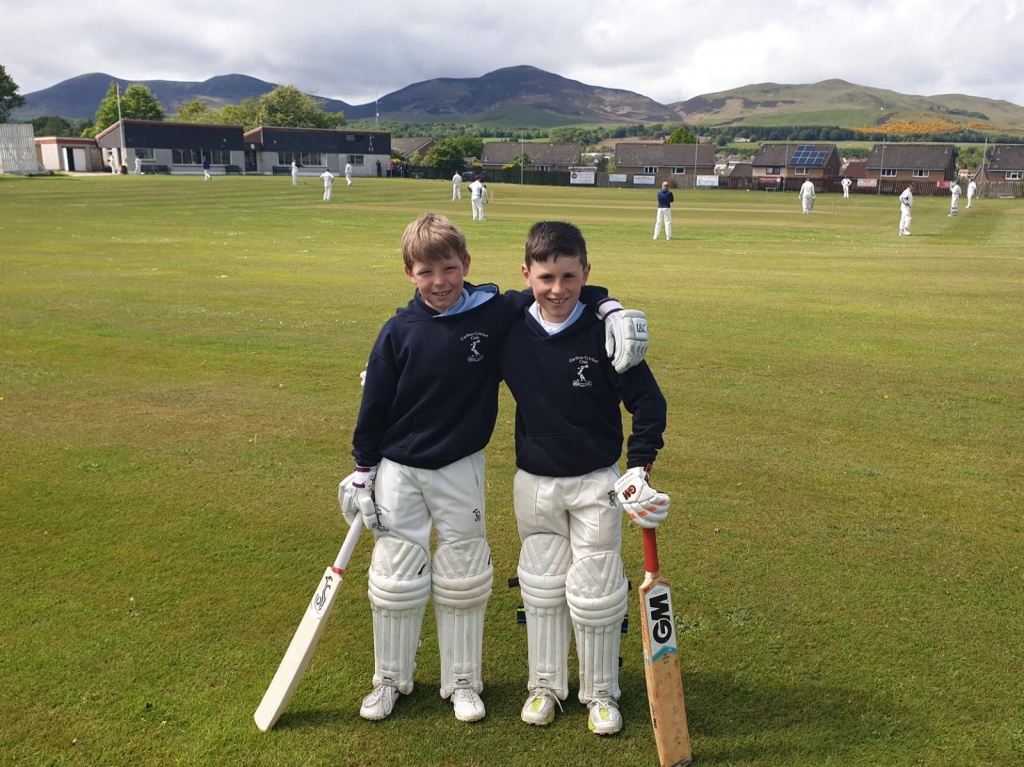 The Famous Fives' latest venture in the all-but-pro-level ESCA Division 7 was a tough-looking away trip to Penicuik 2s.  Before any cricket could be played, though, the small matter of dealing with the glorious late-May Bank Holiday weather.  Many phone calls and WhatsApp messages were exchanged by the captains, and countless weather websites consulted and continuously refreshed.  Come 1pm on Sunday, however, there was enough of a break in the roiling grey clouds for play to start bang on time – a howling gale and the occasional squall driving across the ground not nearly enough to disrupt a match of this magnitude.
A number of the recent roster of Fives juniors had been deservedly promoted up the ranks thanks to their scintillating early-season form.  This left space for a veritable profusion of debuts – Nahum Appleton, Robbie Murray, and James Stronach all winning their first senior cap, joining young Kyle Burgess and relatively more experienced juniors Ivan Dawson and Rory Ledingham – and another feather in the Fives' cap, again fielding a majority of junior players.  Penicuik – perhaps remembering last season's demolition at the hands of Finn Gibb, Billy Bertram and Ewan Hutchinson – were taking no such chances and elected to field a rather more experienced line-up from 1 to 11.
With such an inexperienced side it would be vastly preferable for the Fives to field first – so no pressure on skipper Keith, as he was cheerfully reminded on his way out to the toss.  Alas, a return to more usual form for the skipper, breaking his unprecedented run of two wins in a row with a rock-solid second place.  Penicuik had no hesitation in asking the Fives to have a bat.  John Beattie and the skipper himself – knee physio'd back into fighting shape – headed out.  It was immediately clear that this was not going to be an easy afternoon for batting – the pitch low and slow, with some variable bounce and also a bit of movement on offer.  Keith had a nibble at one which lifted and left him, the feather safely gathered by the 'Cuik keeper (K Murray 0).  Paul Stones joined John in the middle, and the pair had no choice but to dig in against consistently good opening bowling – runs very difficult to come by.  After 10 overs, the Fives were toiling on 7-1, four of those from an edge through the slips.  Paul eventually tickled one off his pad and back onto middle stump (P Stones 0), Nahum coming out on debut and into a pretty difficult situation.  Possibly with the score playing on their minds the batsmen immediately attempted a sharp single, John unable to make his ground at the non-striker's end (J Beattie 6) and Stuart Dawson walking out to replace him.
The new pair looked to have settled a little and managed to find a few gaps, but unfortunately a second run-out brought their nascent partnership to a shuddering halt – Stuart looking for a third to the long-off boundary but couldn't beat a good, hard throw (S Dawson 4).  Ivan the Younger Dawson sought to outdo his dad and crunched a trademark straight drive for four, but was snaffled at mid-on trying to repeat the medicine (I Dawson 6).  At the halfway mark the Fives were really struggling at 25-5 and in danger of subsiding.  And if that wasn't bad enough, your correspondent was in at No.7 to join Nahum.  And if that wasn't bad enough, 'Cuik had turned to the sort of darty, fire-it-into-the pitch spinners that are veritable Kryptonite to a batsman as uncultured as your correspondent.  In any event, after a long conversation about their relative running speeds the young debutant and rather less young specialist match-report writer took a couple of deep breaths and did their best to get some sort of total on the board.
By the time Nahum holed out to point looking to hit out (N Appleton 16, a really good effort in the match situation) the score had been eked along to 48/6 in the 28th.  Rory Ledingham came out at No.8 and whacked a rare poor ball for 4 before misjudging the flight of one that was darted in and losing his leg stump (R Ledingham 7).  This brought the second debutant of the day to the crease in the form of Robbie Murray, the youngster belying his slight stature and looking absolutely at home in the middle.  Robbie's enthusiasm to take a single to a nicely-timed nudge hit directly at the short square leg fielder was admirable but resulted in what might be the loudest "NO" in history from the non-striker.  However, Robbie successfully opened his senior account next ball, cutting behind square for a single.  "I've scored more than my dad!" came the inevitable observation – sorry Keith.  Robbie was bowled next over trying to turn another into the leg-side (R Murray 1), and James Stronach came out to make his own debut.  James looked every bit as comfortable in the middle as Robbie had, immediately timing the ball beautifully in defence (and certainly far better than anything that had come clunking from your correspondent's tortured blade) and racking up his own first runs in senior cricket with a nudge behind square for 2.  James fell next over, chipping up into the ring (J Stronach 2), leaving Kyle Burgess to come in at No.11, with three overs left and the score 61/9.  Kyle batted very sensibly, immaculately blocking anything straight, finding a gap for his own runs, and running hard in support of his more senior partner.  Your correspondent finally departed (to the great joy of anyone unfortunate enough to have been spectating), only able to smear into the clutches of mid-on from the first ball of the last over (E Murray 20; K Burgess 2*).  The Fives had managed to accumulate 75, not a great total by any measure but possibly better than could have been expected at 25-5 from 20 with three very inexperienced batsmen to come.
Penicuik were kind enough to provide a very good tea (also a nice opportunity to get out of the wind and warm up a bit), and the Fives steeled themselves to try and defend not very many.  Young James would be taking the gloves on debut, and skipper Keith was determined to get as many of the juniors as possible a bowl.  Rory and Nahum limbered up to open.  Rory immediately beat the bat with good pace and carry, and Nahum started with a fine maiden.  Not without cost, however, as Stuart dived full length to try and secure a catch from midwicket, but incurred a really nasty injury by jamming his pinkie backwards against the turf (we now know that this was bad enough to need a pinning operation to fix – everyone's best wishes to Stuart for a quick recovery).  Stuart didn't even have the consolation of the catch being awarded – after discussion between the fielder, umpire and captain it was agreed that the benefit of the doubt would go to the batsman.  Stuart's absence from the field did, however, let the Fives showcase yet more of Carlton's impressive conveyor belt of junior talent, U12 regulars Hector Murray and Oli Stones coming on in turns as sub-fielders for their first taste of senior cricket.
After the lengthy injury delay, Nahum's second over was even better – two crackerjack, swinging balls crashing into the stumps.  Rory gave way to your correspondent in the hope of getting rid of Penicuik's stroke-making No.3 (R Ledingham 3-0-22-0) but no joy (E Murray 2-0-10-0).  Nahum secured his third wicket, a mistimed cut scooped brilliantly off the turf by Ivan, who got down to it really well and then immediately came on for his own spell.  Good wheels as ever from Ivan and some steepling bounce from a good length, but he couldn't find any way through either (I Dawson 2-0-13-0).  Robbie took over for his first bowl in senior cricket and could so easily have taken a debut wicket – the batsman misjudging the pace and spooning it up, but straight into the howling wind which held it just out the reach of John, coming in from mid-off (R Murray 1-0-3-0).  Kyle also had an over but despite giving it a good go couldn't do much against the set Penicuik No.3 who was happy to hit out (K Burgess 1-0-10-0).  Last rites came from Nahum's returning over (N Appleton 4.2-1-16-3), Penicuik securing a comfortable win by 7 wickets.
So, a loss for the Fives but, as ever, one with a lot of junior-based positives.  Fantastic to have three more juniors making their debuts (and two more on as subs, as an extra bonus) – all of them did really well with bat, ball and in the field – and James did an exceptional job with the gloves, very tidy work throughout.  First games are never easy and this one was particularly difficult given the match situation, but everyone kept their heads up and gave it everything.  Ivan, Rory and Kyle gained more experience and continue on their cricketing journeys, learning to improve their consistency with every match.  And of course a standout debut from Nahum, runs & wickets and very well played indeed – although with Bob watching this match from the side-lines, eagle-eyed, it is possible that the Fives might not benefit from his presence for that much longer…
Euan Murray