Three from three for the twos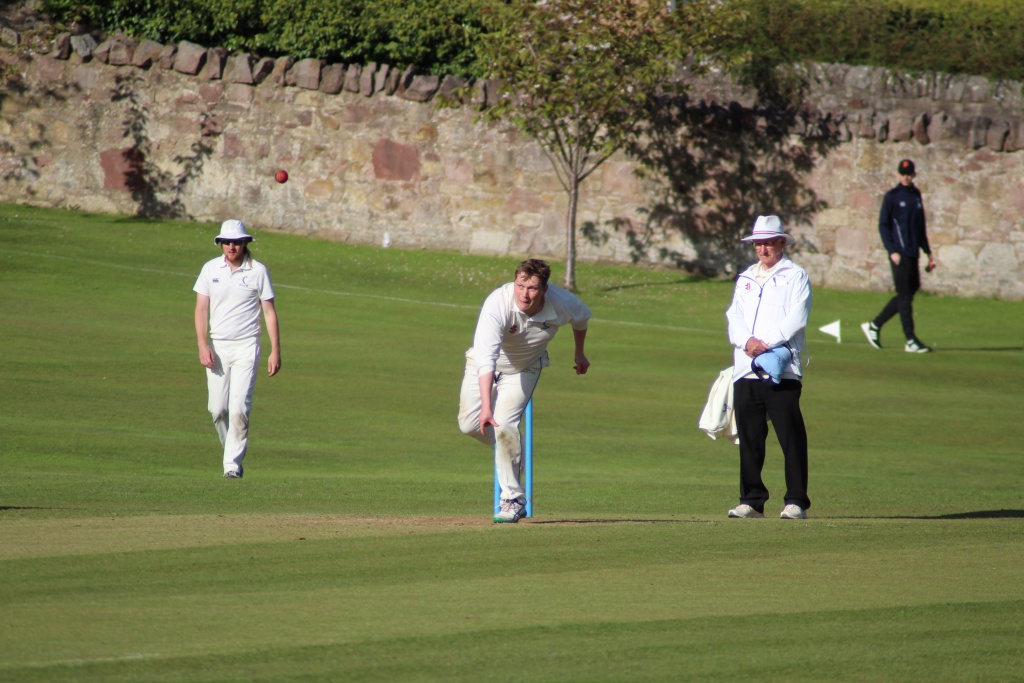 OHHHHHHH the scooby-doos are magic, they wear the sky-blue caps. Yes, it was another fantastic week for the Carlton Scooby-Doos (two's) who secured their third straight win of the season with a narrowly won contest against Edinburgh Accies.
The day started with the 2's arriving at the ground in plenty of time for the game, this was due to the confusion between the players and umpires between the start time and it eventually turned out the game was a 1pm start and not the 12 that the players of both sides and one of the umpires initially thought the same. So, after a strenuous game of football that saw the young guns take the W home it was time for some breakfast for the team as there was a big surge to Empire café for their excellent filled rolls. After this tasty breakfast a few of the main big guns went for nap in the changing room to begin the recovery from their Friday night antics.
The stand in captain Nick Martin somehow managed to win the toss and decided that he was on for a century and wanted to have a bat. This saw young Charlie Maxwell and senior Chris McAllister open the batting as they had done on every other occasion this season and looked in good touch with some good rotation early doors and some excellent boundary hitting from Chris, who employed the tactic of when anything was bowled remotely in the arch it was going the red. The first wicket fell with Charlie receiving a good delivery from A Ali and caught by Accies keeper and captain Cosh. This brought Parker to the crease for his first 2's game of the year. It didn't take long for him to hit the ground running and began to take a liking to the first change bowlers sending them to all parts. However just as him and Chris began to take a real charge on the game Chris was struck LBW by M Banks for a well made 27. This period left us requiring a cool and calm head to the restart our innings unfortunately we had Parker and Ru Main at the crease. As usual Parker hitting 4's and 6's to all parts and Ru Main flashing hard and they looked to strike their way out of trouble. However, Ru Main was struck on the pad and a big appeal brought another wicket to LBW. El Captino walked to the crease with the team in strife and looked to feel bat on ball early, however this didn't last long as he was departed for 8 by a good catch from O Altaf. Parker then soon after was victim to going for one shot too many and was also out to a good catch for a well-made 36. The Scooby-Doos looked in real trouble for the first time this season. It was the job of our other Melbourne raised cricketer, Nick White to build some sort of resurgence, he played uncharacteristically looking to avoid the big shots and maintain good rotation. Him and Liam Jenkins looked to build their usual partnerships in the middle overs as they had done for most of the season. However, after Liam hitting 3 of the sweetest defensive shots that the team had ever laid eyes on he was dealt a horrible in swinging Yorker that ripped out leg stump, to make the best looking 3 that has ever been seen at the Loan. Our hopes relied on Nick White keeping his cool and batting with the lower order to see us to a reasonable total, however Ben and Harry both came and went in quick succession and could not reproduce their lower order batting like the previous game at Heriots which saw us over the line. The scooby-Doos began to look at a total that was not par for what seemed like a good batting surface and needed some tail wagging at the end, alas the tail wagging took a hit as Nick White was caught for 16 and left it up to the Master Blaster Omar Ahmad and Sibs to get the lads up to some sort of total. Up stepped Omar for what many believed to be his top ever score for Carlton but we were later informed that it was in fact more than double that of the fantastic 17 that he made in a 20+ partnership at the end with Sibs to see the lads make 142 all out after Omz chopped on to his stumps going for a flashy drive outside off.
This would require some defending for the Scoobies to make sure that they continued their 100% record, this was also an even more daunting task after they were dealt their first home teas of the year and they didn't disappoint. Leaving Omz and Sibs 2 stone heavier than they were pre-tea in the hope of being able to bowl a "heavy Ball". The first over down the Hill was taken by Omar who was instantly on song with his line and length, testing the batsmen with the first couple of balls and brought the nick with the 5th ball of the game but unfortunately it was dropped by Ben and Omz was left without a wicket for his exceptional start. Sibs coming up the hill was bowling full and outside off the Captain Cosh who was leaving it well but began to play and miss at a few and then was surprised by a short quicker ball by sibs and could only chip it to Ru Main at Mid-wicket for 0. The current batsmen looked nervous and uneasy at the crease but began to accumulate runs to the frustration of the team. Omz was again unlucky to have 2 more catches dropped which left him frustrated and angry, however this frustration may have got the best of Omz and he too also dropped a catch at square leg to leave the 2's feeling lacklustre in the field and struggling to feel as if this game was winnable. It took a bit of magic from Nick White to break this now growing partnership with an excellent run out from Mid-wicket to dismiss M Banks for 24 who had been dropped 3 times alone. At drinks Accies were 70-2 requiring only another 72 with 8 wickets in hand and 25 overs to get there, less than 3 runs an over was required to make this what seemed an easy chase for Accies. However, this new look, new culture scooby-doos side don't die easily and an inspired team talk from Ru Main who said very little other than swear words managed to rally the lads together. This inspired team talk brought about a wicket with the first ball after drinks from Nick Martin with a full toss that was pouched by Parker at cover and the game was on. There suddenly felt a buzz in the air and this was none more so evident than from Nick White who walked into to start a spell of 10 overs straight, this saw him get an instant LBW for O Altaf who departed for 42, this would end up to be their top score of the game. The momentum quickly shifted and wickets were falling at regular intervals due to Martin and White who were working in tandem. Nick Martins seam bowling however was being out paced by his opposite number Nick White who was bowling leg spin. This partnership seamed to rumble the batsmen and they seemed confused as what to do other than chip the ball up to the fielders. This saw 6 of the next 7 batters failing to reach double figures and this game then suddenly looked as if it was Carlton's to lose. A resilient 15 made by J Thornton batting at 7 was the only innings of substance to hold together the crumbling Accies. However even he fell short to the growing pressure that had been created by the Carlton bowling attack and pulled a short ball from Simmo to Charlie Maxwell at Midwicket to seal the innings and prove once again why the Carlton Scooby-Doos are the best team in the league. They ended the game bowling out Accies for 130 and successfully defending their 142 for a win of 12 runs. A special mention has to go to Omar Ahmad who bowled 10-6-11-1 in an unbelievable spell of bowling and Nick Martin for his 10-1-33-3 to help create the pressure that led to the crumble.
The Scooby-Doos continue the run…
Callum Sibley