Cup Success For The U15s and U16s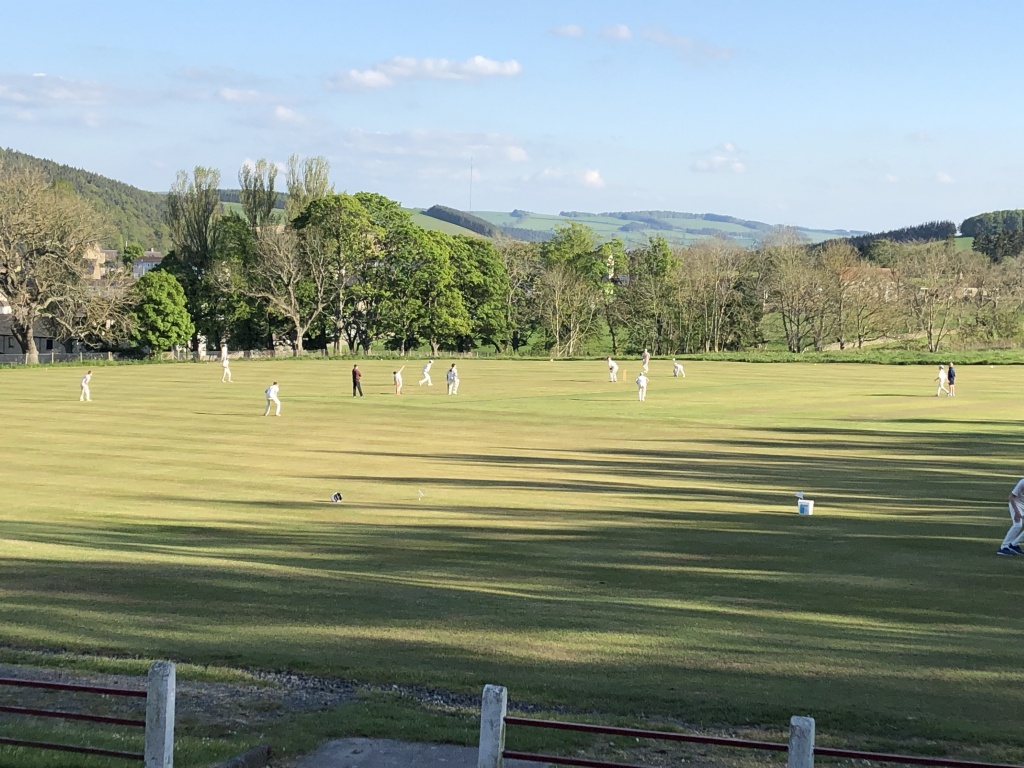 Ferguslie 53 ao in 14.4 overs (R McIntyre 4-12) lost to Carlton 55-1 in 7 overs (G Murray 30no / E Hutchinson 23no)
After a delayed start, due to an M8 accident, play started at a sun-drenched Grange Loan on Tuesday 14th May. Rua opened up in tandem with Mark and both helped the u15s get off to a good start. In the 5th over of the reduced 16 over game Rua claimed two important wickets. The first sent the off stump cartwheeling, the second resulted in Gav taking a comfortable catch behind the stumps, Ferguslie 26-2 after 5 overs. Jamie Beattie and Ewan Hutchinson replaced the opening bowlers and tightened things up nicely. Jamie got his reward in his second over bowling the resilient opener and finished with figures of 3-1-3-1. Skipper Hutchie also got his reward in his second over, again clean bowled. Charlie, Isaac and Rudy all had good one over spells, going for very little runs, and the latter picked up a wicket, coincidentally clean bowled yet again. Rua came back on and picked up a further two wickets and cleaned up the tail of the 9 men Ferguslie side, Matthew Restall also had an excellent runout and Fraser provided an excellent fielding performance. Ferguslie 53 ao in 14.4 overs.
A good bowling performance with reward coming from line and length, the highlight was Rua and his figures of 3.4-1-12-4.
A familiar opening pair of Gav Murray and Rua McIntyre strode to the crease and set about their work. Rua looked to start off positively but ended up being dismissed for 1 in the second over having missed a dipping ball from dangerous opening spinner Uzair. This brought skipper Hutchie to the crease who started off with a few dots but got going nicely. Gav stayed solid at one end knocking around the ball for singles and doubles, and Hutchie hit a few bombs down the hill towards the 1st XI's slipping drill. Gav joined in on Hutchie's gambit and looked to go over the top and did so successfully. In the seventh over the u15s comfortably reached the total with 9 wickets on hand.
Good performance with the bat from Gav 30no and Hutchie 23no who secured the victory but the credit has to go to the bowlers for putting in a great performance in the first innings.
Thanks to Ferguslie for making the long journey through, to the groundsman, umpires/coaches/scorers and to the parents for the pizza. Hopefully an enjoyable experience for all!
Gala U16 74-9 in 20 overs (E Hutchinson 5-2 / J Beattie 2-14) lost to Carlton U16 76-3 in 9.3 overs ( G Murray 35no / R McIntyre 21)
Having warmed up with a standard game of football the U16s were ready to go and were invited to field first. Cam Keatinge and Rua McIntyre got the u16s off to a tight start with the ball in hand. The first Gala wicket fell in the 4th over to Rua, clean bowling the opener, Gala 13-1 off 4. Billy and Jamie came on and both bowled 4 overs straight through, conceding only 12 and 14 runs respectively. Beattie picked up two wickets in his spell, both bowled. One of those wickets was Charis Scott who plays for the Carlton Women's side and unfortunately chopped on. Billy also claimed a wicket in his spell, well caught at cover by Cam Keatinge. The spin twins of Ewan Hutchinson and Euan Keatinge came on and spun their leggys well. Hutchie bowled excellently picking up 5 wickets including the wicket of dangerous batsmen Ballantyne, who was dismissed for a well made 17. Fraser, Ivan and Mark bowled out the remaining overs well albeit a little wild.
Beforehand the U16s talked about cutting out singles in the ring as the boundary was small and did so well, conceding only 8 in the Gala innings. An all round an excellent bowling performance restricted Gala to just 74 off their 20 overs.
Rua McIntyre and Gav Murray headed out to bat, slightly wary of the track, and looking to have a better opening stand than on Tuesday for the U15s. Rua set off like a train and hit a quickfire 21 (13), including a big six, before chipping one up to mid-off off the bowling of H Rutherford, Carlton 35-1 off 4. Cam joined Gav 10* and got going straight away. Gav cut nicely and hit some boundaries through the offside. Cam sliced one to cover and was caught for a useful 12 (9). Hutch was dismissed three balls later attempting to attack the accurate bowling of H Rutherford. Gav Murray and Euan Keatinge saw the U16s home and finished on 35no (27) and 3no (5) respectively.
A very good performance overall for the U16s and was great fun to play at such a beautiful ground. Thanks to the groundsman at Gala and to Gala themselves for such great hospitality. On to Watsonians in the next round!
Gav Murray