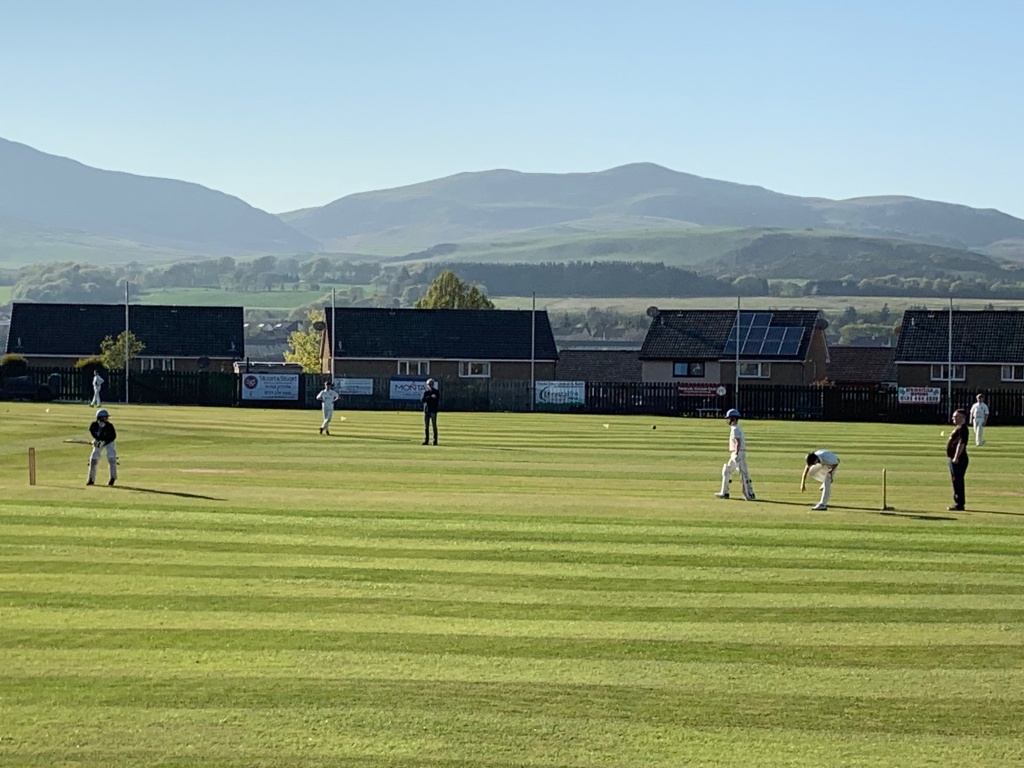 Carlton U14 Falcons 135-6 (E Keatinge 40no, R Adair 28no) bt Penicuik U14 41ao (R Adair 3-3, M d'Ulisse 2-4, A Paul 2-5)
Captain Dougie's summary: "We played against Penicuik in Penicuik against a team who were just starting out. The batting was good but still a few technical problems  that need to be worked on and the bowling was better, everyone bowled extremely well especially Rudy with 3 wickets, we bowled the team out for 41 runs and then nearly bowled them out again for 20 runs. We scored 135 runs with 3 retirements from Rudy, Euan and Caitlin. The fielding was perfect, everyone was on their toes expecting the ball, everyone took their catches, everyone listened to the captain and the bowler and some people made very good run outs."
At last, the start of the cricket season!  Fuelled by a winter of indoor nets, an Easter cricket camp, and Thursday's training session in the rain, the anticipation levels reached fever pitch over the weekend, and an excited U14 Falcons team assembled at Penicuik's picturesque Kirkhill Road ground.  This is a new venue for many of us – Penicuik have hosted Kwik Cricket in the past, but I've certainly never visited for junior hardball.  As we arrived, the ground was bathed in bright evening sunshine, making dire warnings of freezing cold seem somewhat overblown.  As the game wore on though, a damp chill descended on the ground: players were kept warm by the exertions of the game, but spectators gradually become more and more cocooned in additional layers.
It was Penicuik's first foray into U14 cricket, whereas the Falcons boasted several returning veterans from last year's campaign, bolstered by Caitlin and Max on loan from the U12s, and Euan, descending from the rarefied reaches of the U16s.  Captain Dougie looked around at his team, and realised that in the absence of most of last year's Dickensian sports lawyers' practice Kentish, Kentish, Keatinge and Restall, a new generation of leaders would have to emerge.  In another intriguing development since last year, I was actually present at the toss.  I can therefore confidently report that the Penicuik captain threw the coin aloft, and Captain Dougie called heads.  At that precise moment, a mischievous zephyr crept across the ground and blew the coin imperceptibly off-course, with the result that it landed on its head.  The Penicuik captain, who clearly hadn't foreseen this outcome, hesitated, then invited the Falcons to bat.  Captain Dougie confided later that he would have chosen to bat anyway.
Euan and Ally strode out to open the innings.  They began brightly, exchanging singles and a four (readers will recall that scoring in singles and fours is a regular pattern of U14 cricket, with its relatively small boundaries); but then disaster: Ally was struck on the thigh, the umpire's finger shot up, and Ally trudged disconsolately back to the pavilion.  Sam joined Euan and they motored along happily for a couple of overs.  Euan scored the lion's share of the runs, but Sam played a strong supporting role, running alertly, stealing runs and byes.  Sam was unlucky to be bowled by one which kept low, and was replaced by Rudy, who'd clearly been watching intently, and looked determined to catch and keep up with Euan.  These two fairly raced along, scoring at a healthy rate, until Euan retired with 38 runs off his 20 balls.  Calum came in, faced two balls … and was bowled (spoiler alert: don't worry, he gets another shot later).  Dougie, batting in his favoured number 6 position, picked up the pace with Rudy.  They exchanged singles, then bang, Dougie hit a four which bounced inches short of the boundary, followed immediately by a towering six.  The bowlers had clearly had enough, in the next over the variable bounce struck again, a low one thudded into his pad, and the umpire sent Dougie on his way.
The pace changed: Rudy kept hitting the ball hard, but Max dropped anchor in an attempt to consolidate the innings.  Rudy retired on 25 from his 20 balls, and Freddie joined Max.  Alas, after doughtily defending his first four balls, Freddie was bowled by his own classmate Sam on the Penicuik team!  Caitlin came out to join Max.  In some circumstances, being the last batsman coming in to bat in the 13th over is a daunting prospect, but in this case it wasn't all bad: we had 104 runs already posted, and the considerable insurance of Euan and Rudy to return if necessary.  So Caitlin set about patiently building her innings, in company with Max.  Max was the more aggressive of the two, but they exchanged singles, and ran wisely, looking quite serene until quite against the run of play Max inadvertently chipped a return catch to the bowler and disappointedly returned to the pavilion.  Penicuik had 10 players, so we agreed that we'd send Calum back for a second shot, in return for which all their players would get a bat.  His second knock went better, he defended a few, and hit a handful of runs before the returning opening bowler surprised him with some extra pace and rearranged his stumps.  Euan returned for a cameo five balls; Caitlin quietly reached 20 balls and retired – a very good innings in the context of the game – and Rudy returned for the last ball, off which we were treated to a sighting of the critically endangered lesser spotted three.  The Falcons had posted a challenging 135-6.  The chat at the interval: was 135 enough?  Would the sun last?  Would any spectators succumb to frostbite?  Where did I put my hat?
Penicuik's openers walked out to face Rudy.  A dot ball … then Rudy clean-bowled Penicuik's number 1.  The very next ball, he repeated the trick on number 3.  Number 4 blocked the fourth ball, and set off for an utterly improbably run.  His partner, who would have been wiser to have stood his ground, jogged disconsolately half way down the pitch, while Euan shot out from behind the stumps, collected the ball, and whipped the bails off.  Penicuik's innings was four balls old, and they were three wickets down.  Caitlin replaced Rudy and bowled tidily, without a breakthrough, unlucky to have a terrific catch by Sam in the covers chalked off as a no-ball.  Rudy continued with his second over, and castled number 5 with his first ball.  Number 6 dug out the remainder of the over, and Rudy's mini-spell ended with the remarkable figures of 3-3.  Caitlin bowled another good over, then Max took over from Rudy and took the wickets of numbers 4 (bowled) and 7 (lbw).  The reader can be forgiven for finding it hard to keep up with this breathless start: after 5 overs, Penicuik are 24-6, and in a spot of bother.  The tumbling of wickets paused for a moment: Ally bowled a miserly over for 1 run; as if in echo, Max repeated the feat.  Ally took up the echoing challenge, and repeated Max's first-over trick of taking a wicket at either end of the over (numbers 6 & 8, both bowled), to leave Penicuik's last pair with the unenviable task of chasing 104 runs – albeit with 12 overs in which to do so.  They battled well, seeing off an over from Dougie, and most of one from Freddie, but off Freddie's penultimate ball, number 9 was bowled, stranding Penicuik on 41 all out off 9.5 overs.
We agreed for Penicuik's batsmen to have a second knock, and our remaining bowlers to each bowl their minimum 2 overs.  We won't make a habit of that (the intensity drops once the formal match has completed), but since our players had gone all the way to Penicuik, and it was the first match of the season, it seemed like a good idea.  Dougie, Freddie, Calum & Sam continued to bowl well and to take wickets: Freddie bowled the returning number 1 with the very first ball of added time; Dougie and Calum bowled one each (both top of off stump – classy); and Dougie took a fine catch off Sam.  The fielding had been excellent throughout, but reached new levels in this second half of the game, both Ally & Sam scoring direct hits to run batsmen out.  At the end of the additional 6.1 overs, Penicuik had scored another 19 runs for the loss of 6 wickets.
Captain Dougie's summary is spot on: the Falcons batted well, but with plenty of coaching points to work on.  The bowling was excellent throughout; Rudy takes the plaudits with his 3 wickets, but in truth everyone bowled well.  Even the bowling however was outshone by the fielding: focused and accurate throughout.  Players chased energetically, threw well, and backed-up the throws.  The other pleasing aspect for me was how well they supported each other: plenty of shouts of encouragement, plenty of energy in the field.  All in all, that's a good start to the season.
Many thanks indeed to Penicuik for being welcoming hosts, and well done to both teams for playing the game in an excellent spirit.  Penicuik too bowled and fielded well, and they'll have better batting days; they won't often face an opening bowler as quick and relentlessly accurate as Rudy.  Thank you too to Stevie for coaching the team to a very impressive early-season level, to coach Murray for dishing out valuable advice throughout, to Murray & Brian for umpiring an innings each, and to the loyal legion of supporters who made the trip out to Penicuik armed with coats, blankets, hats gloves etc.  See you all next week!